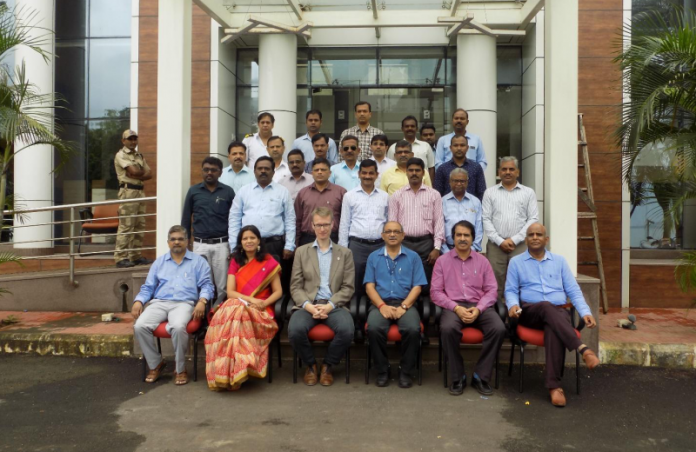 JNPT Antwerp Port Training and Consultancy Foundation organised a seminar on 'Dredging strategy and technology' between August 7th – 11th, 2017 at the newly inaugurated Training Centre at Sheva. Since its inception, this was the 12th seminar conducted, in which participants from various Govt and Private Port across India participated.
Mr. Stefaan Jozef Ides, a trainer from Belgian Port conducted the training workshop. The aim of the workshop was to understand the current dredging scenario at the port, its environmental impact, new techniques and preparation of the dredging projects. As part of the seminar, the participants also visited JNPT to see the Port operation.
JNPT Antwerp Port Training and Consultancy Foundation initiates workshops on several topics in which Indian port and terminal professionals take part. The Training program involves the participants on a journey from concept to optimisation with a special focus on advanced planning strategies needed to enhance the terminal operations. The next training program planned is on 'Master Planning from A To Z' scheduled from September 4, 2017.
This training center is the path breaking initiative of Hon'ble Union Minister Shipping Minister Shri Nitin Gadkari, who had invited APEC Antwerp/Flanders Training Centre, a renowned Centre of the Port of Antwerp to set up a world-class training facility in India for training of port executives from India and neighboring countries. To formalize the MoU signed in February 2015, a 'Not for Profit' company with name, JNPT Antwerp Port Training and Consultancy Foundation was incorporated on February 9, 2016.
Participants expressed their gratitude to faculty and JN Port officials for organising such training programs which is very helpful in improving their performance and the in-depth coverage of various topics in the training program. They also appreciated the infrastructural support at the at the Training Centre and Guest House.