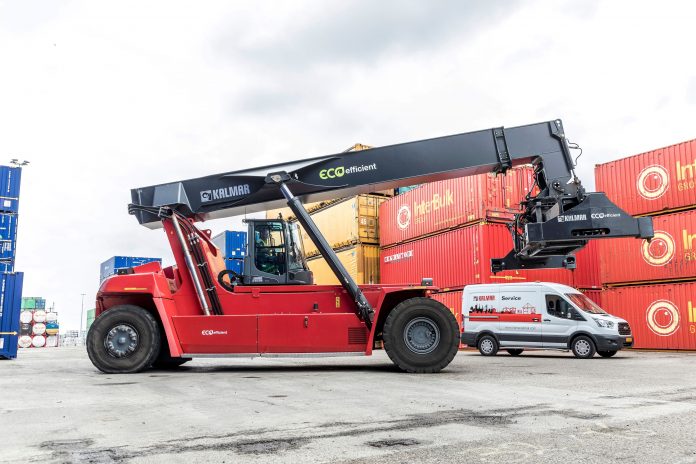 Increasing fuel costs and tougher emissions standards means you need a solution that is leaner and greener, while still maintaining the highest levels of operational productivity. The Kalmar Eco Reachstacker provides you with an eco-efficient solution that is guaranteed to use significantly less fuel than other reachstackers, cutting your costs and reducing your emissions while enhancing your environmental reputation.
Guaranteed to cut cost
In comparison to older machines, this eco-efficient solution can reduce your fuel consumption by up to 40 per cent, and by up to 25 per cent compared to more recent machines, cutting your fuel costs and emissions while matching the productivity levels of machines with much larger engines.
Fuel saving guarantee
Knowing exactly what your fuel costs are going to be each month gives you a greater level of financial predictability, which is why Kalmar is offering a Fuel Saving Guarantee with each of its Eco Reachstackers. Up to 40 per cent reduction in fuel costs and consumption. Up to 40 per cent reduction in CO2, NoX, SoX and particulate emissions.
With an agreed and fixed level of fuel consumption, based on a set of agreed metrics on your cargo handling drive cycle, you'll have complete control over your fuel costs. Fuel saving guarantee also includes driver training, and your machine will be connected to Kalmar Insight, a versatile fleet performance management tool for cargo handling operations.
Enhanced driver experience
Improving the working environment and safety of your drivers is extremely important, as it will improve their productivity and reduce accidents. An ergonomically designed cabin for operational ease makes the user feel more in control with smoother acceleration and safer with less cabin noise and emissions. More responsive braking and steering systems, combined with improved joystick control, will together speed up spreader operations.
Quicker and safer to service
Keeping in mind maintaining high levels of availability is important to users, we have focused on speeding up regular service tasks. You can now take quicker oil samples, get easier access to transmission electrics and your transmission is faster to service as it can be calibrated at higher temperatures.
Increased safety and efficiency
The Kalmar Eco Reachstacker uses a continuous variable transmission which provides smoother transition in shifts, drive stops and direction changes. This allows the operator to drive more precisely, resulting in increased safety levels.
Easier to operate
Kalmar Eco Reachstackers are much easier to drive than other machines, as their smart programming does a lot of the work for you. Your drivers will no longer need to rev their engines to get the lifting and handling speeds they want, nor will they need to hold the brake pedal continually while lifting, lowering and while stationary. This will dramatically reduce the strain and stress on their bodies.
Increased comfort
Kalmar Eco Reachstackers come fitted with our ergonomically designed EGO cabin. With slim line b-pillars, adjustable seating, steering wheel and control panel, your drivers will benefit from a superior operating environment and visibility. The Kalmar Eco Reachstacker, with its unique driveline, is quieter inside and outside the cabin, and vibrates less than traditional reachstackers, further enhancing driver comfort.
 All the support you need
Kalmar lifetime services ensures that your operations work at an optimal level with a high degree of financial predictability. Our dedicated service teams, in over 100 countries, will help support and maintain your business.
Specifications
Driveline emission standards
EU stage 3A / EPA Tier 3
EU stage 4 / EPA Tier 4 Final
EU stage 5
Available 2019/2020
Kalmar Eco Reachstacker is available in the following models:
Container Handling:
Up to 45 tonnes
Upt to 6 containers high
Up to 4 rows deep
Intermodal Handling:
Up to 45 tonnes
Up to 5 containers high
Up to 3 rows deep
Industrial Handling:
Up to 57 tonnes for lifting hook
Up to 54 tonnes for tool carrier