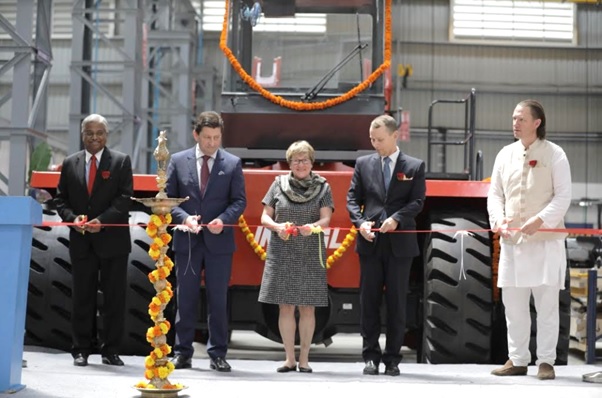 Kalmar, part of Cargotec, celebrated the inauguration of its new Multi-Assembly Unit (MAU) in Bangalore, India on 25 October 2017. This date also marked the completion of 10 years of Kalmar presence in India.
Kalmar India is responsible for the production of Reachstackers, Forklifts and other mobile equipment's under the Indital brand for the Indian market.
The new state of art facility has two lines for assembly, as well as ware-house section, painting booth and a test track with a ramp to test all equipment before delivering them to the customers. In addition is an open office area where everyone sits and works together as a team.
In her inaugural address H. E. Ambassador of Finland to India, Ms. Nina Vaskunlahti said, "I am honoured and happy to participate at the inauguration event today. Kalmar is representing smart, modern solutions. I was impressed by the premises and to hear that Indian traditions have been taken into account in the layout. This facility is a good example of Finnish and Indian skills and expertise put together. Kalmar is indeed contributing to "Make in India" in a real FinIndian way."
Antti Kaunonen, President of Kalmar said: "One size does not fit all – especially in India.  This is why we in Kalmar have invested into a new Multi Assembly Unit here in Bangalore, India. We cherish to develop mobile equipment solutions fitted to the very needs of the Indian customers while being able to copy with pride the best features of our global solutions.  Simultaneously, we want to further improve our service offering locally to support our customers."
"Our greatest strength is our employees. The experienced workforce at our factory and sales and service organisation have contributed immensely to the success of the Kalmar and Indital brands in India", MC Sureshkumar, MD, Cargotec India Pvt Ltd.
Anders Svensson, Head India Product Line said; "A Prerequisite of putting a Kalmar logo on the walls of this factory is that we fulfil the standards defined in the Kalmar Production System (KPS). We can proudly say that we follow the system in true sense and produce quality products for our customers."
During the event- Kalmar released to the Indian market a10 ton Forklift and a 5-high Empty Container Handler. Kalmar will be producing forklifts in the range of 10, 12, 16, 25, 28, 32 tons in India. In addition, the portfolio includes-Empty Container Handlers of 3 and 5 high as well as Reach stackers for handling 5-high empty and loaded containers.