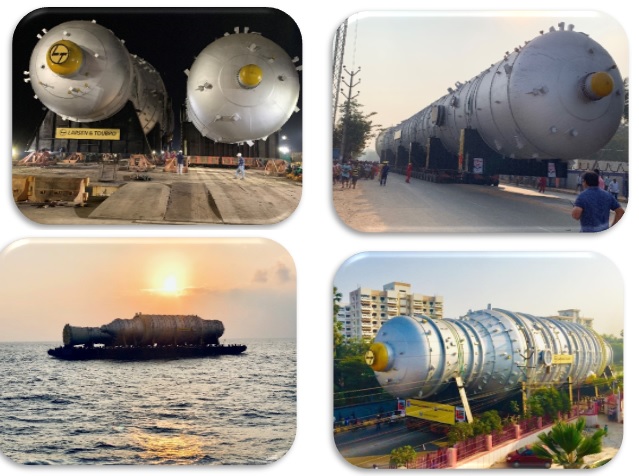 As part of HPCL's Visakh refinery modernisation project (VRMP) of 9 MMTPA CDU & VDU project, Lift & Shift has delivered 2 columns which are the heaviest and widest columns to have been transported on Indian roads.
Equipment details :
The Vacuum Column having dimensions of 63.3 x 13.1 x 14.3 m – 990 tons
the Crude Column having dimensions of 76 x 9.3 X9.93 m – 728 tons
The columns were manufactured/fabricated by Larsen and Toubro Limited, at their Hazira Yard and transported by multimodal route to Visakh.
Lift & Shift who were awarded this contract involved from conception of fabrication of the equipment to make this transport a Reality.
The transport involved loading the column at L&T Hazira which was done using 64 SPMT axles of LSPL having 512 tyres / 2 heavy duty remote control operated power pack units of 440 horse power hydraulically operated trailers.
The columns were shifted from yard to L&T 'L' jetty over 2.5 kms. and then rolled onto the barge during high tide on LSPL ocean-going barge AF 281 towed by LSPL tugs.
The tow took 30 days to reach Visakh outer anchorage on 3 Feb it left from L&T Jetty Hazira on 4 Jan. The planning was made so that the tow did not need to stop for refuelling and reached safely. LSPL team monitored daily weather and was constantly in touch with the tug crew.
Both columns were rolled-off on 14-15 February, and thereafter transported on 17 February and 24 February respectively from HSL to HPCL site over 4.5 km on the roads of Visakh in 5 hrs. of time.
LSPL delivered the equipment safely to HPCL and there was overall appreciation all around.