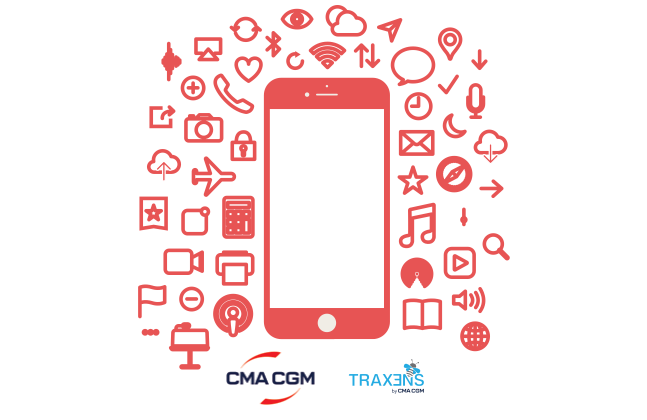 TRAXENS by CMA CGM keeps you connected with your container throughout its end-to-end journey while transmitting vital data which can be used to further improve the safety and quality of cargo as well as logistical efficiency.
The CMA CGM Group is a worldwide leading shipping group with a wide global presence in more than 160 countries. As part of its "Customer Centricity" strategy, the Group is constantly innovating and launching new services designed to put its customers' needs at the heart of its development.
TRAXENS by CMA CGM: a breakthrough technology
Founded in 2012, the French start-up TRAXENS has been developing unique solutions for the cargo logistics arena and has created an innovative container monitoring and coordination system. The CMA CGM Group was the first company to invest in TRAXENS.
Launched commercially in June 2018, TRAXENS by CMA CGM is a breakthrough technology, enabling end-to-end visibility and supply chain operational excellence on land and at sea. TRAXENS is an electronic high-tech device designed to generate near real-time data and notifications about movement and condition of your cargo at any given point in time, be it:
Geographic position
Status in shipping process
External and internal temperature variation (internal temperature soon available) • Humidity variation (soon available)
Shocks
Door opening
How TRAXENS transforms your business
TRAXENS makes your logistics clearer and more efficient, helping you make the right decision on time, like initiating exception management and emergency sourcing plans if needed, or generate cost reductions thanks to global supply chain optimisation.
Optimise your logistics with supply chain analytics
Supply chain analytics delivered by TRAXENS offer a large volume of information to help identify and implement concrete operational improvements:
Achieve higher cargo quality management with shocks tracking data
Set up a cargo security strategy by using the door opening notifications
Identify lead time and operate root cause analysis through an exhaustive report
Enhance inventory management
Determine door-to-door key performance indicators per trade by analysing average lead time and idles, and implement decisive improvement actions. Data obtained from TRAXENS helps to comply with processes, supplies decisive data for insurance procedures, allows cargo quality optimisation, eases trade finance, and enhances customs clearance practices as well as cargo security monitoring. Whichever carrier a shipper may use, TRAXENS containers are fully integrated in CMA CGM processes, making the technology a new shipping standard. At the time of booking, upon request, CMA CGM will supply empty containers with TRAXENS technology.
Convenient deployment options
The benefits of TRAXENS by CMA CGM can be tested by first opting for a supply chain diagnostic on a limited scale. The diagnostic will focus on selected trade routes and identify immediate costsavings while assessing the full potential of TRAXENS for the activity. Once you have seen how it works, you can implement it on a larger scale, or choose from the advanced data offer on selected flows.
Thanks to its global coverage, TRAXENS is available at numerous sources for destinations anywhere throughout the world. For more information on TRAXENS by CMA CGM, please visit:
http://www.cma-cgm.com/services/ smart-containers