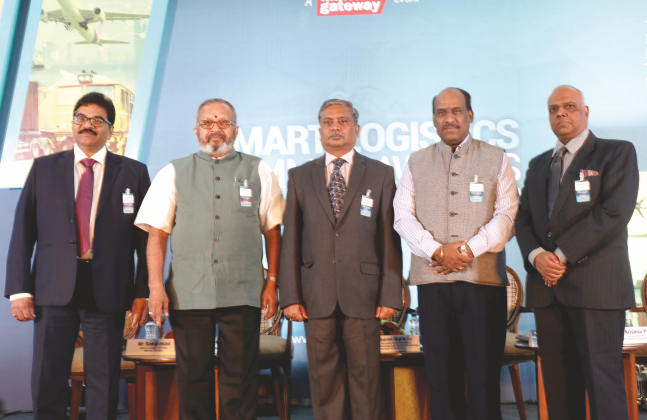 Issues with hinterland connectivity and infrastructure availability were flagged in this session. Port operators detailed on plans to ease out congestion and measures to enable quick cargo movement
The Smart Logistics Summit series has now become a bench mark event for facilitating dialogue between shippers and service providers in an endeavour to find solutions to some of the most compelling issues of the trade. Following on these lines, the third edition of SLS Bengaluru organised on November 2 at Le Meridien Hotel saw a congregation of shippers, service providers – CHAs, freight forwarders, chief executives of major and private ports serving the hinterland, all geared up to take a note of the issues raised by the exim community and resolve them in the interest of the trade.
Ramprasad, Editor-in-Chief and Publisher, Maritime Gateway, set the conference in context, by quickly touching upon key aspects including the exim cargo movement, key industrial sectors contributing to the state's cargo, seaports and CFSs serving the shippers with prompt logistics services and he concluded summing up the requirements of the trade community in terms of more warehouses, cold storages, MMLPs and better logistics infrastructure.
Karnataka's exim trade witnessed about 15 per cent growth during FY2017-18 by clocking about 260,000 teus. Looking at the port-wise share, New Mangalore Port contributes 10- 15 per cent of the volume, Chennai takes the major share with 70-80 per cent, Krishnapatnam Port is about 12-15 per cent and Kattupalli being a recent development bags 10 per cent, followed by Tuticorin with a share of 3-5 per cent.
Connectivity-wise, Chennai Port terminals are connected with daily two rakes from Concor ICD Whitefield. Kattupalli Port has twice weekly connection, Krishnapatnam Port connects to the state thrice a week through rail, Vallarpadam Port provides a weekly service, Mumbai and Tuticorin Ports are connected through only road as there is no rail service operational yet and Mangalore Port handles mostly domestic cargo movement.
Karnataka is served by four CFS and ICD, sharing the 260,000 teus with a distribution share of approximately 8 per cent going to CWC CFS that has posted a cargo growth of 20-30 per cent annually. Marigold CFS has 4 per cent share, growing by about 10-15 per cent, ICD Whitefield takes the major share of 50 per cent with exports and imports growing roughly by about 13 per cent. The HAL Cargo Complex has 3 per cent share of the total cargo and it has grown last year by 10-20 per cent.
Highlighting the infrastructure gaps Ramprasad pinpointed at: More cold chain facilities needed by the Pharma industry, engineering goods need technology enabled warehouses to be developed, liquid storage trailers are required for the chemical industry and textile processing zones need to be developed for the cotton industry. Improved road connectivity needs to be provided for CFSs. Temperature controlled warehouses are required by food and perishable commodities.
Logistics parks need to be strategically located to decongest this growing city. While Karnataka has been a fore-runner in announcing a truck terminal policy, but only one truck terminal has come up so far and more such facilities are needed, in addition to MMLPs, cold storages and warehouses.
"Karnataka has been the foremost state in exporting granite for the past 40 years," highlighted S Krishna Prasad, General Secretary, Federation of Indian Granite and Stone Industry. The state has been leading in terms of production as well, but in the past few years the state has stepped down to the fifth position. Taking a note of the export scenario he said, granite exports have been down for the past few years due to competition from other countries like Brazil, China and Africa. Artificial stones made from alternate material like Quartz, ceramic and glass have taken over the market. International markets like US and Australia which used to be the major markets for granite are now finding more demand for artificial stones. Lack of policy support from the governments further adds to the woes of the industry.
Rajasthan and Gujarat are now leading in granite production with a lot of new varieties coming up. Quarries are located in remote locations with poor infrastructure and connectivity. The last 10-20 km of road is mostly very damaged and is sometimes developed by the miner themselves. Railways can be used as an alternative but they are not available easily and a miner needs to move about 100km by road before connecting to a railway rake.
"One of the constraints for the mining-based industries in Karnataka has been the severe regulatory regime that has come into play," remarked Gaurav Gupta, IAS, Principal Secretary to the Government, Dept of IT, Biotechnology and Science & Technology, Government of Karnataka. The issue is not limited to granite as iron ore, cement and tiles industries are also facing similar problems. The defence, aerospace and machine tools industries have flourished in the state very well. Karnataka has more than 160 industrial areas and providing logistics services to them are cargo airports in Bangalore and Mangalore, cool port recently developed in Bangalore International Airport, ICD facilities in Bangalore and Belagavi, CFS facilities in seven locations, cold storage facilities at 11 places and 191 private cold storages. A MMLP is being developed in Dabaspet that will provide seamless connectivity to Chennai Port.
"A problem Karnataka faces is lastmile connectivity. The connectivity from the point of production to the highways is something we have requested the government, railways and the ports to address," shared K. Shiva Shanmugam, Former President, FKCCI. Flagging the logistics issues faced by members of FKCCI, Shanmugam said, congestion at Chennai port and lack of proper logistics facilities between Bengaluru and Mangalore were the biggest logistics issues. But the opening of Jollarpettai terminal which is just 140km away from Bengaluru and connects Chennai Port in just 2 hours, is a relief for cargo movement. Addition of another gate at Chennai Port will also ease congestion. FKCCI has requested the railways to provide container movement from Whitefield to Mangalore.
"Bangalore region hinterland is the most lucky in terms of logistics infrastructure connectivity, as there are 8 ports ready to serve," commented P Raveendran, IRTS, Chairman, Chennai Port Trust. Chennai Port can handle 130 million tonnes, Kamarajar Port has 60 million tonnes capacity and in another four years it will reach 150 million tonnes, Krishnapatnam has huge capacity, Adani is expanding and Bangalore, Cochin and VOC port, each have excellent marine facilities. Road development is in progress, especially in the Chennai- Bengaluru corridor connecting Chennai and Ennore Ports. The Ennore Port for northern and southern connectivity is initiating road projects. A dedicated railway line is coming to Krishnapatnam Port connecting interior Karnataka and Bangalore.
Addressing the congestion issues at the port, Raveendran said, "While additional roads connecting the port and rail connectivity from Jolarpettai junction are long-term plans, a shortterm solution is the DPA facility enroute to Chennai Port managed by CWC which has a capacity to take 300-400 trucks. The duration of entry from CFS or Madhavaram point has come down from 14 hours to 7 hours. Some reorganisation has been done within Chennai Port to provide truck parking area within the port. Cargo trucks arriving with incomplete documentation will be diverted to this truck parking area, so that waiting time for trucks is shortened. By January 2019 the port plans to ease out congestion completely.