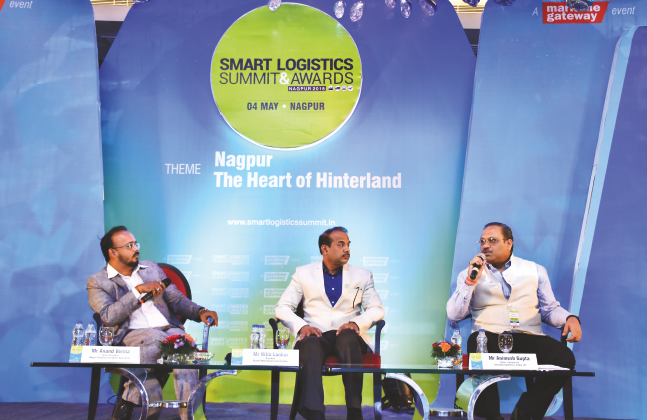 In a competitive market the focus has shifted to ensure assured cargo delivery in the fastest possible timeline. The session focussed on the innovations taking place in the industry to create an efficient logistics system
The concluding session for the day started with a presentation by Harsh Kumar, Co-Founder, Cogoport. Kumar touched upon the digitalization trends in shipping and logistics industry, and how Cogoport is acting as a freight facilitator with the use of technology to provide end-to-end solutions for exporters and importers with the support of forwarders, truckers, CHAs, among others by using real time pricing algorithm.
Lauding the platform provided by SLS Nagpur, Animesh Gupta, Head – Commercial, Indo Rama Synthetics India said: Logistics is not confined to only transportation of goods and it covers many aspects, and there are many areas where the cost could be brought down. The summit offered a platform where industry leaders from various verticals of logistics network came together to discuss the issues faced by the trade, and how shippers and service providers could collaboratively do business. As a shipper, there have been times when shipping lines have to be pursued intensely to maintain steady flow of raw material inventory to keep the factory running uninterruptedly. The service providers should look into the needs of clients. Exporters also need to find couple of areas where they could save on logistics cost such as automation of processes. In fact by introducing reverse auction of containers Indo Rama has been able to save in excess of US$ 70,000 over a period of 6 months. Exporters should chalk out the lanes through which their cargo moves, and could save in logistics cost by innovative ideas like carrying out reverse auction or consolidate transporters for specific routes.
Nitin Lonkar, President, Butibori Manufacturers Association: The industry is facing lot of problems in bringing down the transportation cost because there are many external factors which is governing this cost. There are many components of logistics such as services, information system which empowers tracking of containers, and infrastructure. There is scope to reduce logistics cost both for empties and full load boxes. Since the cost of fuel is increasing there is a need to look at alternate fuels as well such as vehicles running on electricity or ethanol. If these areas could be addressed it would improve bottom-line of a company. Maintaining efficiency is the most critical area in modern day logistics operation. If companies don't implement new technologies and fail to adapt new market conditions the logistics cost is not going to come down. In a globalised market, there is very stiff competition all around and at a time when expense on logistics is a vital component, companies need to look into it to remain competitive in the market.
The session was moderated by Anand Verma, Senior Manager, Transworld Global Logistics Solutions India. Putting across his observation on the discussion, he said that there is a need to reduce rail freight costs and other charges levied by Concor, and they need to improve upon various areas. Shipping lines have their own challenges to keep control of the turnaround time. It is very unfair to accuse shipping lines that despite having the inventory they don't allocate the empties to clients. There are various issues due to which lines at times are unable to re-position boxes. The trade needs to support the lines to offer better service. There are other challenges like lack of repair facility for damaged containers.
The session came to a closure with some optimist times for Nagpur region as Nitin Lonkar highlighted some of the major investments like investment of `1,600 crore by Vedanta group including plan for two captive power plants. Such industrial activities will fuel cargo growth in the region and better business for all stakeholders including logistics service providers.