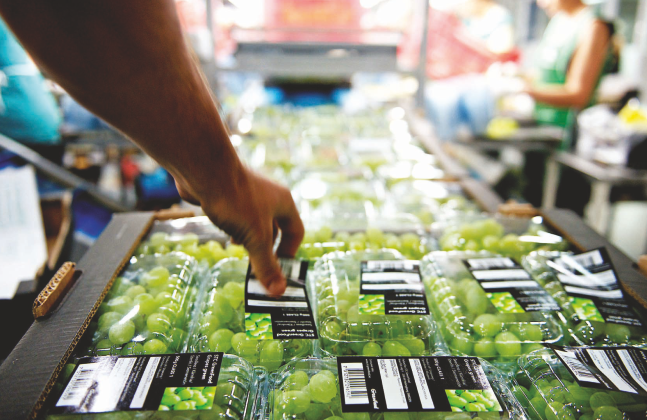 Nashik district tops the list when it comes to grape export from India but lack of a dry port and unavailability of horticulture and reefer train service leaves exporters at the mercy of truckers. Rail connectivity and entry at ports without any time lag can provide a much needed thrust to the growth of grape exports from the region
Farm products of Nashik have a special mention in India's agro economy. It would not be wrong that more than the index of Bombay Stock Exchange, onion production figures from Nashik give more anxious nights to political establishment of the country. The illustrious farm land is also unique for growing number of wineries and vineyards. Sweet and sour taste of the exotic fruit has a strong overseas market as well, especially in the Europe. Nashik tops in grape exports from India and even the district has earned a unique geographical indicator for its crop. The topography of the region is ideal for grape farming. For export purpose, grapes are graded based on size and color. Most of the farmers do the initial post-harvest operations such as sorting, cleaning and grading before sale of the produce. Grape growers have direct linkages with traders and exporters in Mumbai and Pune. Despite Nashik being a major export oriented horticulture produce centre, the district has no dry port, hence grapes are moved by road in reefer containers. Though JN Port has plans to develop a dry port at Nashik.
Since export markets fetch better rate, almost two to three times more than domestic market price, grape export has lured many large corporate houses, and table variety grape is one of the most sought after ones. One such example is Mahindra Group, one of the largest exporters of grape in the country and a majority of the produce is sourced from Nashik. The company had exported 842 containers with a volume of 11,000 metric tonnes in 2016 season. The growth of the company can be a yard stick of growing export of grapes which is a big jump from about 101 containers that it exported in 2007.
According to Mangesh Khandekar of Mahindra Logistics, the group is likely to export around 1,000 containers of grapes from Nashik in the current season. "A total of around 12,000-14,000 containers per annum are moved from Nashik for export. The standard operating procedure for grape export is that empty reefer containers are moved from JN Port to grape pack houses in Nashik and after loading the trucks again move back to the port," said Khandekar.
Agriculture Processed Food Products Export Development Authority (Apeda) has brought export oriented orchards under GrapeNet which assures pesticide and other harmful residue free produce, and the system is developed as per the farm product quality parameters of Europe and other export markets, and the GrapeNet is also approved by the European Union. Export oriented grapes need to be certified with Agmark and phytosanitary certification. Govind Hande, Technical Officer (Exports), Agriculture Department, Govt. of Maharashtra said, "Among 40,000 grape growers registered with Maharashtra Agriculture Department, 30,000 grape growers are from Nashik. During 2015-16 crop season about 84,000 metric tonnes of grape was exported from Maharashtra to the European Union, out of which Nashik contributed 70,000 metric tonne. From December, 2016 till first week of March, 2017 about 60,000 metric tonnes of grape has been exported to the EU, and 55,000 metric tone was from Nashik alone."
The demand from EU for grapes goes up from April onwards. Earlier grape production was only for 3 months but now production season starts from December and it lasts till May. Most of the cold storages and pack houses are located in Nashik and nearby areas, and are certified by various agencies for quality purpose, and these are used for sorting, packaging and storage of grapes. One of the major issues faced by exporters is that truckers do not maintain required temperature inside reefers. The ideal temperature that should be maintained inside reefers are 1-2 degree Celsius but many times, truckers switch off generators during transit which affects the product quality.
Jagannath Lukaram Khapre, President, Grape Exporters Association of India, says, "Colder climate is harmful for the crop. Since Nashik experienced a colder season this year, sugar level in grapes was lower and the crop was also affected. Any change of temperature can adversely affect the shelf life of grapes."
Despite Nashik's proximity to major ports like JN Port, it is never a smooth onward journey for the fruit. Earlier reefer containers used to get direct entry into the port but now all paper work and other formalities, especially phytosanitary certification is needed to be submitted first following which the container can get an entry. It takes 3-4 hrs to transport a container from Nashik to JN Port, but many times phytosanitary certificate is issued the next day, hence the consignment has to wait outside the port. The truckers switch off the genset when a container laden truck waits for more than 12hrs as a result products get damaged. Because of the long queue, even entry of the consignments with phytosanitary certificates get delayed.
"We have raised the issue with officials of JN Port and plant quarantine to allow entry of reefer trucks first as the containers needed to be plugged to power sources. The implementation of APEDA's Grapenet System details related to the fulfillment of all statutory requirements from plantation to shipment can be tracked online but still officials at the port insist for a printed hard copy," rues Khapre. Girish Jain, a star grape export house owner, who also operates Priyadarshini Forwarders which provides freight forwarding service from Nashik, believes that since exporters are not willing to pay the higher freight cost for uninterrupted running of gensets, many times the truckers do not run generator throughout the transit due to which required cooling inside containers could not be maintained.
"Majority of the grape export consignments go to the Europe, and most of the Europe sailing vessels berth at NSICT and NSIGT terminals. Customs clearance process at JN Port is tedious. Moreover, there are four gates to enter into the port terminal area, and containers cannot get entry round the clock. Reefer containers can be gated 48 hrs prior to berthing due to which cargo piles up at the pack house back in Nashik. Hence, exporters find it difficult to manage their inventory. Even exporters cannot use CFS at Nhava Sheva as the cost is high." said Jain.
In recent times, Indian currency has strengthened due to which export rates have suffered. While exporters used to pay grape growers in three digits but now they are paying as low as `50. In 2016, 85,000 metric tonnes of Europe bound grape was exported from Maharashtra, and about 75 per cent is sourced from Nashik and nearby regions. But Nashik is yet to get reefer rail service. It requires `4-5 crore to develop a pack house of 500 metric tone cold storage capacity. Quality norms and statutory
DURING 2015-16 CROP SEASON ABOUT 84,000 METRIC TONNES OF GRAPE WAS EXPORTED FROM MAHARASHTRA TO THE EU, OUT OF WHICH NASHIK CONTRIBUTED 70,000 METRIC TONNE. FROM DECEMBER, 2016 TILL FIRST WEEK OF MARCH ABOUT 60,000 METRIC TONNES OF GRAPE HAS BEEN EXPORTED TO THE EU, AND 55,000 METRIC TONE WAS FROM NASHIK ALONE."
requirements for export of farm and edible products is getting stringent, while new pack houses in Nashik meet the latest requirements but the old ones which were built before 2010 need to upgrade.
Another concern is the rising road freight cost which is linked to fluctuation in diesel price. Currently, freight cost for a 40' refeer container from Nashik to JN Port is about `40,000-45,000. Stressing on the need for a dry port and rail connectivity, Jagannath Lukaram Khapre, President, Grape Exporters Association of India, said "We have approached the authorities to develop a dry port at Nashik, and to run a train facility to transport reefers from Nashik to JN Port. During peak season there is a requirement for 100- 150 rakes per day. The advantage to transport by rail is that shelf life of products remain stable as the reefers get uninterrupted power supply."
There are also significant volume of domestic shipment of grapes from Nashik. Around 200 trucks are dispatched to Delhi and other parts of north India and a similar quantity is dispatched to Kolkata, of which 30,000-40,000 metric tonnes goes to Bangladesh. Hence there could be significant savings in terms of transport cost and time if the cargo could be moved by horticulture train.