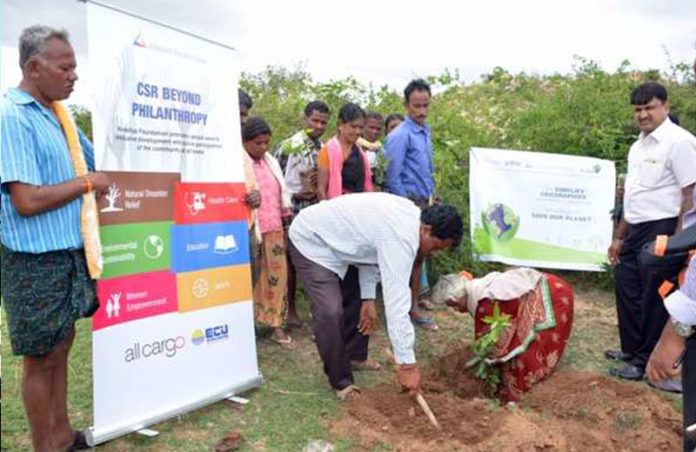 Do we remember the last time we had a heart-to-heart connect with Mother Nature?  When was the last time we planted a sapling and reiterated out commitment to environmental sustainability? These were some questions sought to be answered by 29 employees and partners associated with Allcargo Logistics when they embarked on a trek in the remote tribal town of Mokhada in Palghar district. Nestled between the Ghats, the tribal town is resplendent with natural beauty and abundant greenery.
The agenda of the group was not to enjoy the green scenery and have a picnic. As part of their commitment to environmental sustainability, the group was in the natural habitat to plant 100 saplings of fruit-bearing trees under the aegis of their environmental initiative MAITREE. The sapling plantation drive resonates with the broader objectives of MAITREE which seek to empower rural communities with a sustainable source of livelihood.
The saplings in Mokhada, in due course, are aimed to grow into fruit-bearing trees and provide a sustainable livelihood to farmers who struggle to make a decent living on account of poor economic conditions. It is also hoped that income generated from the sale of the fruits would create educational pathways for Maitrees (girl-children) from neighboring villages. The trees would also serve the larger purpose of reducing carbon footprint and help in the creation of a sustainable and healthy environment.
"The underlying concept of MAITREE is to nurture our fragile environment while improving the socio-economic conditions of rural and farming communities. The tree plantation drive was a small contribution from us for the larger purpose of environmental protection and sustainability, an exercise that gave us immense satisfaction and happiness," stated Shashi Kiran Shetty, Chairman, Allcargo Logistics Ltd
The core principle of MAITREE is to empower rural families and create an inclusive environment for communities to make them active participants in the growth and development of society. The initiative also aims to create sustainable livelihood roadmaps for communities and enhance their socio-economic position in society. The manifold objectives of MAITREE are to create income generation opportunities, increase green cover and promote environmental protection and reduce carbon footprint. It seeks to achieve the dual objectives of environment sustainability and emancipation from economic drudgery for rural communities.
There are plans to expand the natural green cover and protect local bio-diversity by planting 1 million trees in 5 years.
Avashya Foundation, the CSR arm of Allcargo Logistics has planted over 398000 fruit-bearing trees in Mumbai and Karnataka in the past years.