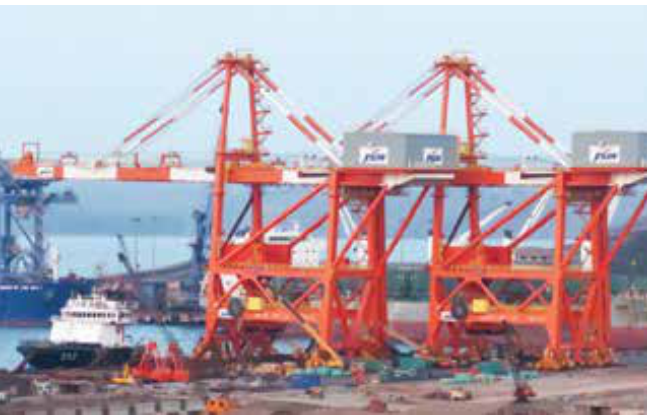 Don't be surprised to see vale max and similar giant vessels heading to the west coast of India, for Jaigarh port is putting in place the infrastructure bit-by-bit to handle bigger vessels and the bulk cargo they carry
We are developing the Jaigarh Port for the future. We are now working to receive the vale max, the largest ever 400,000 tonnes iron ore carrier and also 350,000 tonnes very large crude carriers in the county. We have already done the master planning," revealed Sajjan Jindal, Chairman, JSW Group, hinting at the expansion planned at their flagship port to make it future proof. The valte max carriers call only at 10 ports around the world and Jaigarh Port will be the eleventh and the first in India.
The port's readiness to welcome giant vessels can be gauged by the recent call of MV China Enterprise that brought over 2,00,000 MT of coking coal from Australia. This marks a major milestone as it is the largest dry bulk parcel ever serviced by an Indian Port. A mechanised coastal berth has been inaugurated for facilitating movement of coastal cargo through capsize vessels.
Liquid bulk
The port is being developed for dual purpose – to berth very large crude carriers for captive use and also to export refined petroleum products. JSW Infrastructure has also tied up with the Hiranandani Group, which is investing around `4,000 crore to construct an LNG terminal at Jaigarh port.
A master plan has been prepared to make Jaigarh one of India's biggest ports that could receive big bulk carriers, LNG, LPG and oil tankers. The port is bound to witness more activity as its capacity will be increased from 15 MTPA currently to 80 MTPA by 2020. A total investment of `4000 crore is planned which includes providing seamless road and rail connectivity. A 42km long road connects the port to Nivali for cargo evacuation.
Jaigarh Digni rail project
Being implemented on a PPP mode in collaboration with the Indian Railways, on the Konkan Railway network, the Jaigarh Digni railway line project involves an investment of `777 crore. Currently, the nearest railway link to the port is at Ratnagiri, a distance of 55 km on the Konkan Railway network. Cargo such as oil and iron ore that were brought by trucks will be carried through rail, once the project is complete. The railway line is expected to handle 12 million tonnes per annum of cargo from the port to Konkan Railways. Jaigarh Port plans to increase this capacity to 65 million tonnes per annum by 2020.
A captive jetty in Maharashtra A greenfield multi-cargo captive jetty is being developed in Nandgaon village in Thane district, which will handle 8.4 million tonnes of cargo in the next five years and about 16.7 million tonnes in the next 10 years. The project cost is estimated at 1,175 crore. The jetty is being designed to initially handle panamax sized vessels and in the final stage even cape size carriers can be berthed.
In addition to captive use, the jetty will also cater to local demands of Maharashtra Industrial Development Corporation and the container traffic that will arise after the dedicated freight corridor is operational.