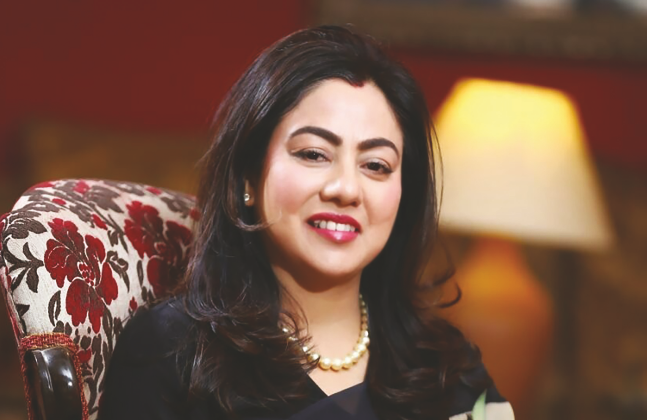 Steering Nepal's economic progress from the front is Federation of Nepalese Chambers of Commerce and Industry. Mrs Bhawani Rana, President of the organisation, points at the logistics gaps and details on the infrastructure developments needed to make Nepal trade globally competitive
As the head of FNCCI what is the agenda before you?
Infrastructure is a key development indicator for doing business reforms in Nepal. It is always given high importance by FNCCI whether it is ICD or port facilitation, Customs procedural simplification, road development, ICT reform, among others.
FNCCI acts as a catalyst in the business and industrial development, while establishing sound industrial relations in the country; provides advisory services to government, lobbies for formulation of business and industry related policies; fosters cooperation with related Nepali and foreign organizations; provides upto- date information to the businesses, government and the country at large.
In the recent World Bank's Logistics Performance Index, Nepal has moved up from 2.38 in 2016 to 2.51 in 2018. How has Nepal been able to improve its logistics efficiency?
Connectivity and infrastructure development are the top most priority areas of the Nepal government and there has been a lot of improvement in transport system. Improvement in Customs clearance procedures and development of a number of transit related infrastructures are the major factors that improved the logistics performance. The other most important factor is online clearing system applicable at Indian Ports through (ECTS) electronic container tracking system device. It has minimised the transit hassles for Nepal-bound cargo at Kolkata Port from March 2019.
How has been the growth in Indo-Nepal trade during the past five years? What is the status of trade deficit?
Nepal's total trade with India has increased by 59.3 per cent in fiscal year 2017/18 as compared to the fiscal year 2013/14. In the Fiscal year 2017/18, the total trade with India was about NPR 856.4 billion, which is 64.7 per cent of the total trade of the Nepal. In fiscal year 2017/18, Nepal exported goods amount NPR 81.2 billion to foreign countries including India. While India accounts for 57.4 per cent of total export. Export to India declined by 21.8 per cent in 2017/18 as compared to fiscal year 2013/14.
Likewise, Imports from India increased by 69.4 per cent during the last five years. In fiscal year 2017/18, Nepal imported goods amounting to NPR 809.8 billion while this amount was only NPR 477.9 billion in fiscal year 2013/14. Trade deficit with India has increased by 1.7 times during the period of 2013/14-2017/18. India's share on trade balance (deficit) was NPR 763.2 billion (65.7 per cent) in 2017/18.
How can Nepal increase its exports?
Nepal needs to diversify its export markets (not only in Europe, US, India and China, but in the growing markets of Asia), get quality and standard accreditations for its major exports to access developed markets, increase its bulk exports, develop and boost crossborder trade with India and China and use cross-border e-commerce as a tool for export. China has recently agreed to give Nepal transit facility for third country trade from its 7 ports (4 sea ports, and 3 land ports). These ports can be utilized to promote export to third country markets, especially to Central Asia, Eurasia, and even Europe, through the Belt and Road Initiative.
Which are the promising sectors in Nepal that offer huge investment potential?
Energy (including hydropower), infrastructure, tourism, manufacturing, agribusiness, and mining. Already, we have witnessed an increment in investment from both local and foreign investors in these sectors. There are other promising sectors such as information technology, service industry, agro/food processing, packaging, livestock, herbal industry, tea-coffee, herbs and herbal products and handicrafts. There is ample scope for cooperation in high-tech agro processing industries. The Investment Board of Nepal is coming up with the potential investment profiles which will help investors to choose suitable projects.
Do you see any improvement in cost and time of logistics for cargo moving from Indian ports to Nepal?
In my opinion, a lot of improvement can be done to save cost and time in Nepal bound cargo as follows:
Currently we are providing two documents at Indian ports to clear the cargo. It should be zero documentation for smooth operation.
Service providers like CONCOR, shipping lines, ECTS doesn't have customer service office in Nepal. There are no meeting points between service providers and importers.
Need more ports for Nepal operations like Dharma, Paradeep, Mudra etc.
Need more rail operators to handle Nepal cargo? One is not sufficient.
Need to start Nepal's own railways.
Need to start Nepal's own feeder vessels from Singapore to Kolkata, Haldia.
Need to start Private Custom bound CFS in Nepal, connected via rail.
Need to activate NTWCL.
What are the logistics challenges that remain to be resolved?
Increasing traffic at Indian ports, unavailability of adequate number of railway rakes, congestion at Birgunj ICD and excessive documentation process are the main problems. Due to monopoly of CONCOR cargo movement is getting delayed. Still, transportation cost is a significant part in overall logistics budget of Nepalese companies.
Last year, the volume of imports into Nepal was over 90,000 teus, while this year, it is expected to be more than 100,000 teus. We propose to permit private Container Train Operators in India to run container trains from Indian ports to various ICDs in Nepal. Government of India is setting up ICPs in Biratnagar, Bhairawaha, Nepalgunj and Mahendranagar, while an ICP in Birgunj is already operational.
Currently, Birgunj ICD is handling over 60,000 containers per annum and over 3 million tonnes of Bulk cargo i.e. bagged cargo and iron and steel consignments. The current regime in Nepal is interested in opening up the participation of Private Rail Operators and organizations having experience in operating terminals and owning railway wagons and containers into this sector. Nepal railways network is being expanded and in the near future, trains will be connected to East West and in the long run the trains will be connected to Kathmandu as well.
Tell us about the infrastructure development happening in Nepal?
Nepal government plans to build 4,000 kilometres of railways, including tracks from the northern Tibetan plateau in China to the flood plains of Ganga in India. On the northside of the border, Nepalese and Chinese governments have recently announced to reopen the Tatopani Customs points, and the dry port near Tatopani. This dry port will be directly linked with the Xigatse in Tibetan Autonomous Region of China. Cargo trains from mainland China have already been linked with Xigatse. Through Xigatse there are two routes from where goods from and via China can arrive to Nepal, i.e, through Keyrung customs points west of Kathmandu and Tatopani Customs Point north of Kathamandu.
What needs to be done to improve logistics infrastructure for smooth Nepal-India trade movement?
Introduction of container train movement for all rail terminals at Bathnaha, Raxaul/Ramgarwha and Nautanwa. This will be in addition to the existing movement at ICD Birgunj.
Reduction in transit times between Indian gateway ports and Nepal: Improved customer service, better coordination with shipping lines, reduction in logistics cost.
Shipping lines are operating globally and they facilitate every
country as per their rules and regulations, but in the case of Nepal they still operate from India and are not interested in following Nepalese nomos. Shipping lines need to open offices in Nepal.
Nepalese cargo train between India and Nepal needs to be started.