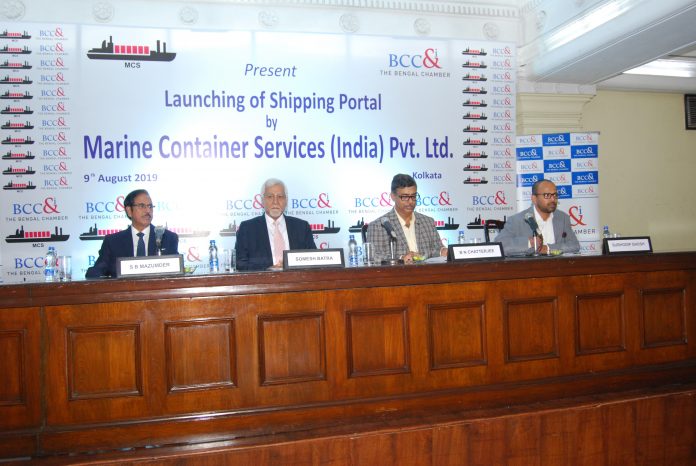 Marine Container Services (India) Pvt. Ltd (MCS) having its head quarter in Mumbai, had launched a Shipping Portal "www.onlinefrt.com" on in Kolkata on 9thb August, 2019, at Williamson Magor hall of The Bengal Chamber of Commerce & Industry. The launching program was organized by MCS in association with The Bengal Chamber. The portal was launched by Capt. Somesh Batra, Chairman of Marine Container Services (India) Pvt. Ltd and vice Chairman of World Trade Centre, Mumbai. The welcome Address was given by Capt. Sujit Basu Mazumder, Executive Director of the company and Chairman of Shipping Committee of The Bengal Chamber.
Director General of The Bengal Chamber, Mr. Subhodip Ghosh had addressed the gathering and told about the interest of the chamber to support the MSME exporters/importers to ease and smooth international transportation handling. Mr. B. N. Chatterjee, Sr. General Manager of the company had mentioned about the advantage of the Portal. Onlinefrt.com is a logistic portal and all logistic solutions are at one click. Mr. Chatterjee discussed about the coverage of the portal such as ocean freight, air freight, total logistics, leasing of container domestic and international.
Mr. Anjan Sarkar, Manager IT of the company had presented live demo of the portal. The program was attended by large crowd of importers and exporters and eminent personalities and Senior members of MCS from all over India.