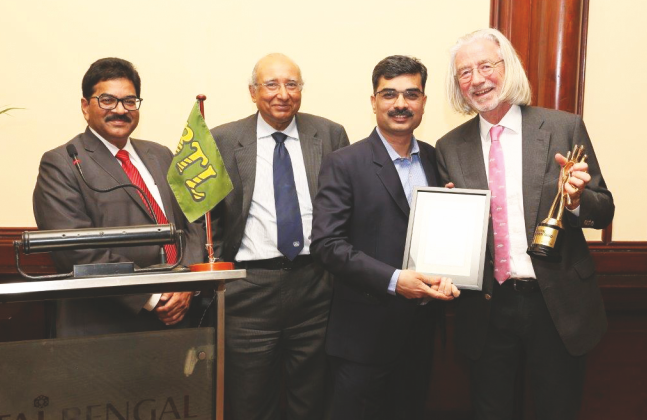 Maritime fraternity honours Joachim von der Heydt for his contributions of 56 years in the Shipping industry and 33 years as BTL's Founder and Leader.
Bengal Tiger Lines or BTL as it is called, today commands the movement of cargo between transhipment hubs and Indian ports. Started in 1986 this common carrier feeder operator was the brain child of Joachim von der Heydt as he recognised the potential in the shuttle concept which became a big hit as evident from the levels of support it received from mainline operators in Bay of Bengal. Today as Joachim retires having rendered yeoman services to the maritime sector for more than 6 decades, he looks back at his journey with immense satisfaction.
Born on 26th January 1942, a German national Joachim survived the difficult post World War II years as a child. He completed his boarding School at High Timmendorfer Strand before doing a Master Shipping Apprenticeship with Axel Dahlstroem in Hamburg. This set him on his marine career where some early postings to Spain allowed him to control the Spanish speaking Cubin trades as Line Manager for Moseto Pineiro and as General Manager for Richard Wolff – traditional Shipping Agency Houses in Hamburg.
However his entrepreneurial desire to be his own boss quickly witnessed the establishment of Transnaval Schiffahrtsgesellschaft mbH & co KG as early as 1974 – a company still existing today some 45 years on…. for which he remains the Founder and Managing Director. After some initial forwarding and trading project years, forays into Liner business from Europe to the USA and West Africa and then later to Paraguay in South America cemented his expertise in niche developing trades and it was therefore no surprise that in 1986, whilst inspecting one of his container ships on charter to SCI, he established Bengal Tiger Line as one of the pioneering Feeder Operators in India. Today some 33 years later, and having moved in excess of 22 million containers to/from Indian shores, BTL is a renowned operator in the region with HQ in Singapore – it being Joachim's foresight to move the company from Cyprus to Asia's hub.
It was Mr Heydt's concept to develop ''shuttle'' connections rather than lump together too many Indian port calls and this allowed schedule integrity thereby guaranteeing connectivity at the hub ports of Colombo, Port Kelang or Singapore. As a result business flourished and a great indebtedness is owed by EXIM to BTL and their service efficiencies.
In 2002 Joachim recommenced his container shipbuilding program with 3 x 2700 teu Interasia/Feeder class vessels which his Passat Ship Management company maintained immaculately setting new GL standards and achieving several bunker efficiency accolades. However it is his leadership skills and devotion to business that have delivered Joachim's targets over the years.
Today as Joachim hands over reigns but remains a non-Executive Board Member, we honour his contributions of 56 years in the Shipping industry and 33 years as BTL's Founder and Leader.