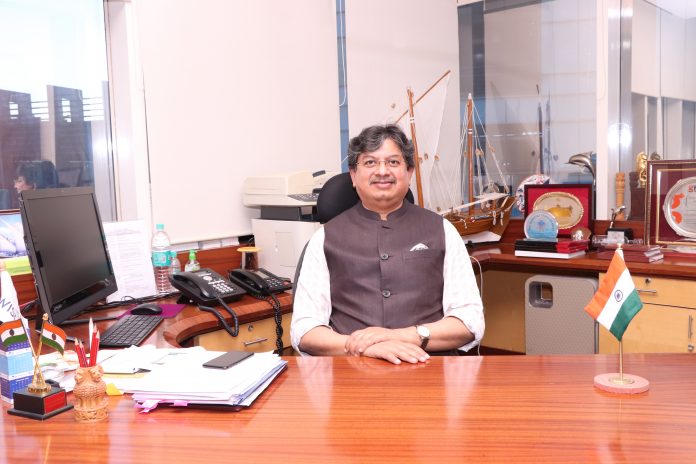 Amitabh Kumar, IRS, (Director General) Shipping, Ministry of Shipping: In the past 3 months, technology induction has been very fast in the Indian maritime administration.
We have passed 3 months of COVID-19 which has disrupted a lot of services. What is your assessment of the challenges and way forward?
COVID-19 has affected the shipping industry in various ways – the first impact was on various segments of shipping itself, particularly the cruise shipping industry suffered heavily and all the cruise ships as of now are grounded. The tanker segment continued to do very well because of the falling oil prices and shortage of storage space in various countries. The tankers served as floating storage for cheap oil. The bulk segment has been doing fairly alright because of increase in export of steel from India. All other offshore and port vessels are continued to be employed and there has been no report of disengaging of any vessel at Indian ports.
By and large, other than the cruise ships, the performance of the shipping industry has been fairly positive during this COVID-19 period. The most important segment in the shipping industry that has got impacted is the seafarer community.  Since most of our seafarers work on foreign flagged ships and the ports at which they were operating were closed due to the pandemic and sign-offs were not allowed, they were finding it difficult to continue post completion of their contract. There was an issue initially of travel post sign-off also, the matter was taken seriously by the government and all our proposals submitted were accepted. We were the first country in the world to have devised our own SOP for sign-on and sign-off of Indian crew at Indian ports and that was extended to the anchorages, so that the ships don't have to incur any expenditure at port-call only for change of seafarers.
Then Vande Bharat flights started and seafarers were the rare category allowed to use these flights for moving in and out of India. Keeping in view the requirement for repatriation of Indian seafarers and their requirement to join ships at foreign ports, we also allowed them to travel through chartered flights. As of now, seafarers are utilising all the four avenues opened for them. In this period travel industry took a major beating, but we have managed to transport more than 60,000 seafarers in and out of the country. I would say the performance of Indian government in respect of crew change has been much better than any other country.
Recently you have extended the validity of certificates to seafarers. What is its significance?
Ships need to carry certificate certifying their safety and seaworthiness. Similarly the seafarers need to carry certificates indicating that they are capable of handling the functions that they perform onboard ships. These certificates are issued for a limited period and its validity needs to be extended after undergoing training. Due to COVID-19 all the maritime training institutes were closed and certificates of many seafarers that were expiring during this period needed to be renewed to enable them to continue to work on the vessel they were working or to join a ship. IMO has requested the maritime nations to take a pragmatic approach in renewal of these certificates. Given our assessment of the training institutes and the requirement of the seafarers, we decided that in case of active seafarers who have been onboard ships for the past few years, their certificates can be extended for a limited period, subject to them undertaking training subsequently.
Any other administrative challenge you are facing today?
Our challenges are rising on day-to-day basis because the support services that ships require from land side are still not operating at 100% efficiency. The ROs are still unable to board the vessels, there are many ports that are still closed. Most of the airports are closed and commercial flights are still not operating. So the kind of attendance, attention that a ship requires, the minor repairs that they require have all got delayed. Based on our assessment in each and every case we are giving dispensation to the vessels, to ROs if they are requesting for any dispensation and of course to the seafarers.
But these dispensations are not being given blindly and some kind of control measure is still being put in place to make sure that the safety is not compromised.
COVID-19 has changed a lot of ways in which we conduct our business today. Is remote audit and inspection of ships possible? Any thinking on those lines?
We are now exploring the possibility of using technology in multiple areas. To start with, the DG Office itself became completely online. During the peak of COVID-19 period when the entire country was in lockdown, we developed an online system to issue e-passes for all seafarers to enable them to undertake inter-state and intra-state travel. We developed a utility for verification of all seafarers who wanted to travel using chartered flights. DG Shipping had to issue them certificates that they were indeed seafarers. Online entry and verification of about 200 to 300 entries is done in a minute.
We started the process of virtual classes for maritime training institutes, we increased our e-learning capability and introduced many new subjects in our e-learning module. We are in the process of launching an online exit examination for all modular classes. Thus in the past 3 months, technology induction has been very fast in the Indian maritime administration.
The extensions being given to ships are not without any monitoring and the ROs are utilising the virtual inspection, given the technology is available currently onboard ships and with the ROs, to ensure that atleast the basic safety requirements are met onboard ships. IX has already given a statement that they would be going ahead with virtual inspection of ships. We have collaborated with Portall to ensure most of the services that ships require are available at Indian ports, especially with respect to FAL convention  is completely moved online and the commercials that ships deal with have also moved online. India has started accepting e-DOs at Indian ports. So, a lot of technology induction has also started to ensure the interaction between the ship and the port is also online and the physical intervention is minimised.
Maritime nations have built up a lot of ecosystems with lot of startups now giving out of the box solutions for the shipping industry. Do you see any such kind of environment around you?
India has created one of the best ecosystems in the world for startups. We have a lot of potential in terms of training and expertise in both computer systems and maritime domain. It is just a matter of time that more startups will start coming up with relevant solutions for the maritime industry. A lot of work is being done by established players as well such as Convoke in Bangalore and ARI in Delhi are among the best e-solution providers for the maritime industry.
What's happening on the coastal shipping front?
The government has given its biggest focus on coastal shipping. It has various components, 2 of which I have already discussed – offshore and port crafts. There has not been any cancellation of charters of offshore vessels or port crafts, even though the oil industry itself is reeling under pressure. The movement of goods between Indian ports had suffered initially around 15-20%, but this has been resumed as the factories in the hinterland became operational. Coastal shipping by and large has now come back to normalcy around 90% as far as cargo vessels are concerned. The remaining vessels are also doing farely well and in tankers the demand has only increased.