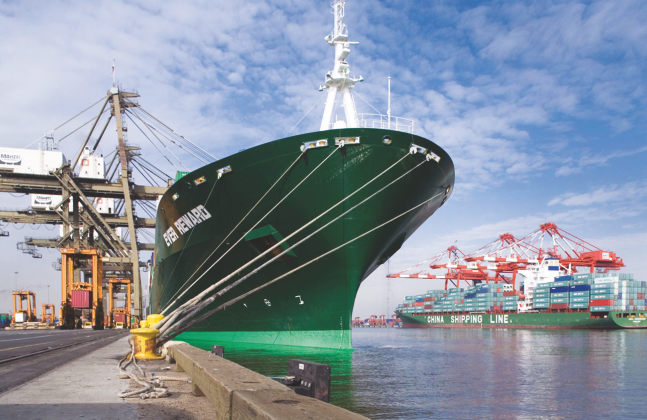 The port capacity upgrades will result in making Mongla a highly income-generating port in the country and will also substantially reduce the excessive load on Chattogram Port
Mongla, the second largest seaport in Bangladesh became functional in December 1950. The port contributed to the economic uplift of the country over the decades, but later it became a losing concern.The southern region of the country is now witnessing massive development activities with the ongoing implementation of the Dhaka-Mawa-Mongla upgradation, Padma Multipurpose Bridge Project, Construction of Khanjahan Ali Airport, coal-based power plant in Rampal, Special Economic Zone near Mongla Port, extension of Mongla EPZ and the construction of Rooppur Nuclear Power Plant.
But currently the port has lower draft, lacks a container jetty and connectivity to rest of the country, which is affecting the export and import business. Therefore, capacity upgradation of Mongla Port has become a demand of time, as the port continues to remain underutilized due to its poor facilities and lower draft.
The port currently operates through six own jetties alongside seven private jetties which enable it to conveniently handle 35 ships at a time through 22 anchorages.
Mongla port upgrade
After 2009 the new government in Bangladesh has initiated many steps to develop the port and gradually it became a profitable one. In October 2017, Bangladesh and China signed a memorandum of understanding (MoU) to develop Mongla Port at a cost of approximately Tk 3000 crore. The projects includes construction of four jetties and two yards, a large multistoried garage for car parking, four lane roads, procurement of 11 survey and tug boats and modern machineries for handling cargo and containers.
In July 2018, the government initiated construction of an economic zone near the port and railway lines connecting Mongla to Kolkata via Nepal and Bhutan and necessary link roads for enhancing regional connectivity are being laid.
In order to improve the navigability of Pashur channel upto 9 to 10 meters draft, to be able to berth all kinds of vessels, the government has taken up another project in January 2019 to excavate the Mongla channel from the Bay of Bengal to make the port an effective transportation hub.
The Bangladesh government's agenda is to have additional cargo handling capacity of 15 lakh metric tons per year by developing Mongla Port. In March 2019, the state-owned Mongla Port Authority (MPA) under the shipping ministry has undertaken the Tk 60.14 billion port upgrading project. According to the port authority, the Indian 3rd line of credit will provide loans worth about Tk 44.59 billion while the rest will be borne by the Bangladesh government from its own coffers. The Mongla port upgrades work is expected to begin soon and scheduled to be completed by fiscal year 2022-2023.
The upgrade project will comprise of 12 components including construction of container terminal jetty 1 and 2, construction of container handling yard, container delivery yard, shade, security wall automation and other infrastructures, including extension of the port, service vessel jetty shade and office.
Construction of container terminal and container handling yard is expected to be completed with an investment of Tk 2,391 crore, and construction of MPA tower, port residential complex and community facilities with Tk 2,507 crore. Besides, there will be construction of container delivery yard with Tk 845 crore, construction of infrastructures with safety measures and automation with Tk 24 crore, extension of the port building with Tk 96 crore, construction of pool including mechanical workshop, equipment yard, shed and necessary machineries with Tk 87 crore, construction of overpass over Digraj rail crossing with Tk 143 crore, and construction of embankment with Taka 213 crore. According to

Rear Admiral M Mozammel Haque, NUP, ndc, psc, Chairman, Mongla Port Authority (MPA) capacity of the port will be enhanced further upon completion of these projects.
Benefits of capacity enhancement at Mongla port
Mongla Port is the second largest port in Bangladesh with good inland connections to the business hub Khulna by road and the facilities will act as a backup to the country's principal seaport Chattogram. Its connectivity with the Padma Bridge has the potential to provide port transportation or maritime access to the capital city Dhaka, with lower cost and lesser time compared to Chattogram Port.
Once the Padma Bridge is completed, scopes will be created for transportation of import and export products including RMG items through the port. The port can also play an important role for transportation of goods to and from Nepal and Bhutan through transit facilities.
The upgradation will enhance the potential at the port to provide transit facilities through maritime access to India, Nepal and Bhutan as well as to China. However, the role of India is very significant for creating enabling environment and to utilise transit facilities by using Mongla Port as a 'win-win' situation for India and Bangladesh.
The Mongla Port upgrades are being aimed at encouraging rapid economic development and to generate more employment opportunities. In line with the "Vision-2021" envisaged by the government, the project is being implemented to attract foreign companies to develop and operate economic zones as well as ensure balanced development of every region of the country. The port capacity upgrades will result in making Mongla highly income-generating port, while substantially reducing the excessive load on Chattogram Port.