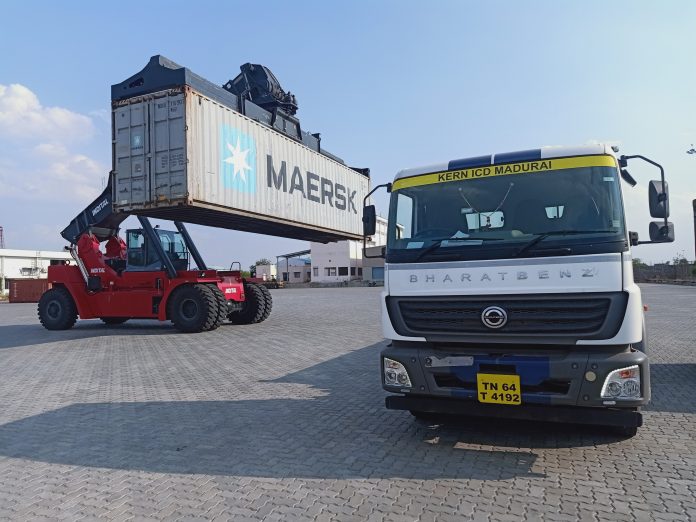 The new acceptance point will enable ease of doing business in the region by coming closer to the customers and thus reducing the overall logistics costs by up to 30%.
Maersk, a global integrator of container logistics, is taking concrete steps towards bringing down the cost of logistics with simple yet effective measures. With the announcement of Inland Container Depot (ICD) Madurai as a new acceptance point, Maersk is getting closer to its customers in the hinterland of Tamil Nadu in the southern part of India. An infrastructure spread over a total area of about 70 acres, the state-of-art ICD is one of the largest in the country and will serve as a major infrastructural hub for South India. Equipped with a warehouse to support faster cargo clearance, the ICD will help reduce the overall logistics costs by up to 30%, while also providing operational transparency to customers.
Until recently, importers shipped their cargo to Tuticorin Port where it was cleared by Customs, destuffed and kept at a warehouse. As per the customer requirements, the cargo was then being moved by trucks from Tuticorin to its final delivery point in and around Madurai. Exporters too had to pick up empty containers from Tuticorin and bring them all the way to their factories. With ICD Madurai as a new acceptance point, Maersk will help move the cargo directly to Madurai, speed up the clearance process and manage de-stuffing and storage at the warehouse at Madurai. The new ICD also provides customers with a choice of taking the container and delivering it at the final delivery point, and return containers back in Madurai. With operations at the new ICD, Maersk has managed to cut down significantly on the transport time to and from Tuticorin Port and effectively brought down the cost of logistics for its customers by up to 30% for the inland logistics leg of transport.
Steve Felder, Managing Director – Maersk South Asia, said "As the global integrator of container logistics, our aim is to simplify trade processes for our customers by facilitating end-to-end logistics, reducing the transit time & cost to make logistics more accessible and efficient for everyone. Our operations at ICD Madurai are aimed at reducing logistics costs for our customers by cutting the cargo transport journey by up to 150 km. We are also tapping into the hinterlands' potential by opening up new trade possibilities and enabling ease of doing business for the trading community in the region."
The key infrastructure offerings at ICD Madurai include 24×7 operations, ample storage including bonded warehousing facilities, faster claim rate of duty drawback & GST refund, and capability to handle air cargo connecting Chennai & Bangalore. Customers are expected to benefit from faster clearance of their cargo in Madurai as compared to Tuticorin. They will also have the advantage of same day clearance and gate-in at the terminal.