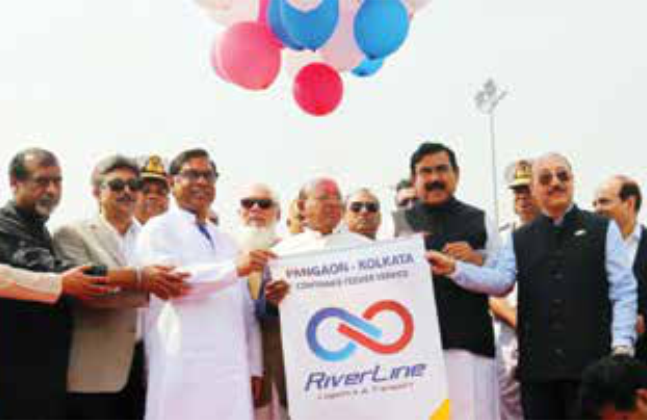 Shonartori Nou Kalyan-1 revives hopes to boost coastal trade between India and Bangladesh
India and Bangladesh had signed the coastal shipping treaty in 2015 and just one year later the first ship MV Harbour-1 had sailed amidst much hope and fanfare from Chittagong Port and reached Krishnapatnam Port in just five days. But later on not much activity was observed on the route due to various issues including profitability and return cargo that restrained the vessel operators. Again almost one year later the coastal movement seems to have got another lease of life last month as the first container ship from Kolkata Port arrived at Pangaon Terminal at Keraniganj. In her debut sailing the 'Shonartori Nou Kalyan-1' carried 65 containers. The cargo mostly comprised of fabrics, cycle parts and pen. A grand function was organised to welcome the maiden vessel call where Commerce Minister of Bangladesh, Tofail Ahmed announced that cargo ships will now reach and depart from Pangaon to India every 15 days. The service will call both Pangaon and Chittagong Ports alternatively. The Shipping Ministry of Bangladesh is in the process of procuring 36 more ships to boost movement of vessels on this network.
Another vessel M V Sri Joy will sail under the India-Bangladesh river protocol and the route will be: Kolkata-Mongla-Pangaon- Narayanganj. The ship will carry 35 box containers and few steel coil as Neo bulk together. Containers will be discharged at Pangaon and steel coil will be discharged at Narayanganj. Usually the journey from Indian ports to Pangaon doesn't take more than 4days but if there is different cargo for different destinations and needed custom formalities then the travel duration may get a bit prolonged. The consistent availability of return cargo from Bangladesh to India is a major concern that impacts the viability of coastal shipping.
India-Bangladesh trade on an annual basis is valued at around $7 billion, of which, imports from India to Bangladesh is valued at around $6 billion. Half of these imports are coming through the Benapole- Petrapole route and comprise of various commodities such as; raw cotton, fabrics, iron and steel, sugar and cereal, glass and glassware, aluminium, plastic and copper articles, vehicle and agricultural equipment, medical and surgical equipment and utensils of base materials, tyres and lubricating oils.
Raw cotton is exported to Bangladesh from (Adilabad) Hyderabad and Gujarat. The cargo moves basically through east coast ports and Mumbai Port. In return Bangladesh can repo empty 20′ boxes that are in surplus there, while the east coast ports are running short of 20′ boxes. However, the Bangladesh government is also striving hard to increase the return cargo to India via the coastal route.
The trade community can significantly save on time through direct shipping service as it takes only 3.5 days for a ship to reach from Kolkata to Pangaon. Virtually no cargo losses happen at Pangaon Terminal, moreover it has a locational advantage as it is in close proximity to industrial clusters in Bangladesh.
The cost of shipping is determined by the competition and the number of ships moving boxes on the route. Right now few Indian NVOCCs are participating that's why transportation costs might be an issue, but still they are reasonably charging, informs Ahamedul Karim Chowdhury, Terminal Manager (CEO) ICT, Pangaon. If it is made an established and scheduled route then definitely cost will be competitive and might be brought down below the road transport cost.
Another concern are the technical barriers to trade that hinder the movement of imports into India from Bangladesh. Removing these barriers can boost trade between the nations and also promote interest and awareness among the trade community to move via coastal route.