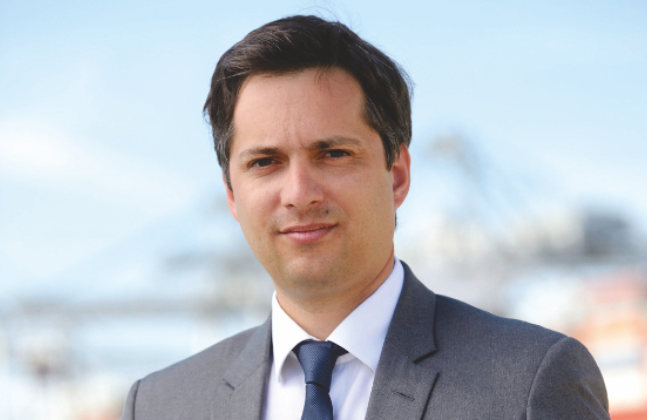 The HAROPA Alliance has the most excellent shipping services for the Asia region with the most competitive transit times among the ports on the North European range. Laurent Foloppe, Director Commercial & Marketing, Haropa Ports and Baptiste Maurand, Chairman of the Executive Board, Port of Le Havre, detail on the infrastructure development, digital initiatives and growing trade and connectivity between the French and Indian ports
How has business been for HAROPA ports this year?
Laurent Foloppe: 2019 promises to be a good year for the ports on the Seine Corridor. At the end of October, seaborne traffic amounted to 77 million tonnes. The container industry is doing well (2.4 M TEU). In February, Mrs. Catherine Rivoallon was appointed by the Minister of Transport "integrator for the future single port facility," which, from January 2021 onwards, will combine the ports of Le Havre, Rouen and Paris. The objective of the integration of the 3 ports is to create a single-establishment enterprise and a powerful shipping hub, allowing them to play their full role in the competitive global marketplace.
Good news include the construction in Le Havre of the Siemens-Gamesa Renewable Energy offshore wind turbine plant, which is entering its build phase. Over and above trade and new set-ups onsite, the HAROPA ports have also ramped up their work as a Smart Corridor.
Q How is HAROPA positioned among European ports in terms of size, geographical location and freight volume?
Laurent Foloppe: Our geographical situation on the North European range is exceptional. HAROPA is the first port of call for imports and the last for exports. We are currently in fifth place in this range, but we have many assets that will enable us to continue to gain market share. The ports of the Seine Corridor deliver goods to a consumer marketplace that is among the largest in Europe. HAROPA is the leading container port for France's foreign trade, the largest exporter of grain in Western Europe and the leading French agroindustrial hub. Our strategy is designed to help gain market share in every sector, containers, of course, but also bulk, energy, vehicles and heavy-lift cargo.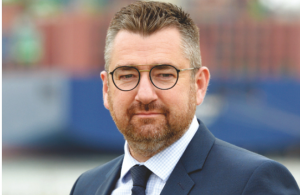 Q Indo-French trade is expected to reach €15 billion by 2020. Which products will stimulate trade?
LFP: Trade between France and India is dominated by aeronautics (€2634m), nuclear machinery and reactors (€700m), and electrical machinery (€547m). In the other direction, from India to France, trade is dominated by hydrocarbons and refined products (€1080m), textiles and clothing (€980m) and the nuclear industry (€437m).
Certain categories of these products and others are included in the trade between HAROPA and Indian ports. Cargo exchanged between HAROPA and India represents around 1.850 million tonnes of goods, 35% of which were bulk cargo (solid bulk, crude oil, and liquid bulk), 64% of which were shipped by container.
For container trades, the top commodities shipped from HAROPA to India are synthetic rubber and latex, paper & carton for recycling, unmanufactured paper & carton, vehicles & transport material (complete knock-down kits (CKD), chassis, parts), used clothes, textiles and baggage.
And major goods shipped from India to HAROPA include textiles, clothes and baggage, vehicles & transport material (CKDs, chassis, parts), chemicals (pharmaceuticals, medicines, etc.), machinery & accessories, tiles, bricks and slates.
Nearly all the French groups listed on the CAC40 have a subsidiary in India (examples: Sanofi, Arkema, Total, L'Oréal, Airbus, Safran, Thales, Dassault, Lactalis, Danone, Pernod Ricard, Alsthom, Schneider Electric, Legrand, Renault, Faurecia, Bolloré Logistics, EDF and Suez, to name but those companies). More than 1,000 subsidiaries of French companies (representing 300,000 employees) have set up in India with a boom in investment (4 times more since 2005).
Q Can you tell us more about the digital initiatives implemented in HAROPA ports?
Baptiste Maurand: We are continuously multiplying the number of digital initiatives, including the "Le Havre Smart Port City" project, which has become a reality since the government decided to support us last October. The project is backed by HAROPA – Port of Le Havre and 80 partners of national and global scope and scale. We are all taking action to build the "innovative region" consisting of our Smart Port combined with our Smart City. Together, this has resulted in an investment plan of some €241 million, focusing on 21 projects for equipment and demonstrators. As part of the project we signed an agreement with Siemens, Nokia and EDF on fifth-generation cellular network technology (5G): the objective is to test the contributions of 5G in order to control an energy system at the local scale, be it for renewable energies, electric vehicles or the performance of port gantry cranes.
Q The Indian shipping sector is also catching up in terms of digitization. Could there be a knowledge-sharing initiative between the two countries?
Port information systems have considerably developed in recent years and we have everything to gain from interacting with India as our preferred partner. As such, HAROPA is part of the Protect group: this European interport group specializing in the standardization of electronic exchanges, recently decided to integrate the IPCSA (International Port Community Systems Association), specialized in the standardization of electronic exchanges and which is highly active within the IMO. This integration broadens our horizons, hitherto highly European, and allows us to imagine real knowledge sharing with India.
Q As more and more stakeholders move to digital platforms to share data, the security of those data is a major concern. Could you describe in detail the measures taken for shipping and port cyber-security at HAROPA?
Baptiste Maurand: On October 25, we signed an agreement with Airbus and SOGET to come together to combine our technological and human resources in order to strengthen cyber-security in the port. As part of an experiment, we are in the process of defining a technical, legal, administrative and financial framework to provide the services of a Security Operations Center (SOC); these services, made available to the port economy in Le Havre, will provide a solution that will help businesses innovate, while making cybersecurity an asset for development and not just a constraint.
This new partnership therefore means our existing solutions can more easily integrate major areas of innovation such as blockchains; it will also improve confidence in the quality of digital data and the traceability of upgrades.
Q HAROPA is working in partnership with ORANGE & CISCO to develop a platform for intelligent data services. How does it benefit the port users?
Baptiste Maurand: On October 25, we signed an agreement for the implementation of a Smart Data Services platform. It testifies the high level of cooperation between two public partners (the Port of Le Havre and Le Havre Metropolitan Authority) and three private partners: Orange, Cisco and Soget. This partnership enables cross-cutting exploitation of data, brings forth new services to the customers of interfaces at sea and on shore alike, to citizens and to all the economic operators on the Seine Corridor. This approach anchors the digital strategy of HAROPA and supports the competitiveness of tomorrow.
Q What are the infrastructure development plans for HAROPA ports?
Laurent Foloppe: "HAROPA – Port of Le Havre has launched an investment program worth €600 million. The Port of Rouen has confirmed an investment plan amounting to €290 million. Among the future infrastructures, I might underline the fact that the two last berths of Port 2000 have just been allocated. At the end of June, the Port of Le Havre approved a €125m program for the creation of a swing gate enabling direct access for river shipping to Port 2000. The Port of Rouen has begun upgrading work on its main terminals. On its side, Ports of Paris has taken a new step towards the construction of the Paris Seine Métropole Ouest river platform dedicated to building and civil engineering. We are working to improve shipping services with further development of the Le Havre Multimodal Terminal.