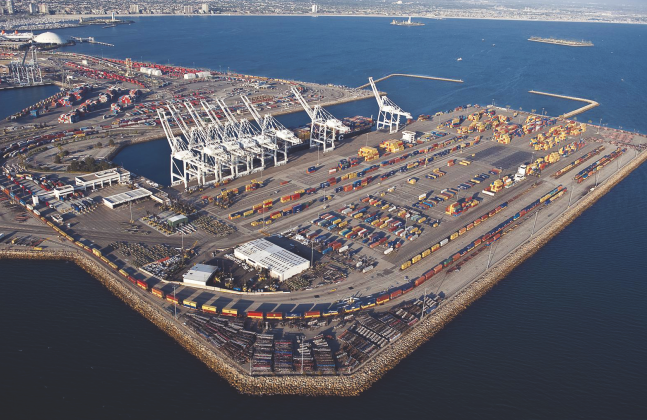 The traffic recorded at Chabahar Port during the first year of operations actually exceeded the minimum guaranteed traffic stated for 3rd year of operations in the main contract
India and Iran have always been close allies through thick and thin, both before and after the Iranian revolution in 1979. Of great significance to both the nations has been the Chabahar Port project which also happens to be India's first overseas port project. Recently, diplomats from India, Iran and Afghanistan took stock of the activities at the Chabahar Port in South-Eastern Iran one year after its inauguration. "The Chabahar Port commenced operations in December 2018, since then, we have had as many as 4,846 teus of containers moving from India through Chabahar. Almost half a million tonne of cargo has transited through the port," said Raveesh Kumar, spokesperson, Ministry of External Affairs.
Though Iran has 29 operational ports, Shaheed Rajaee (Bandar Abbas) & Imam Khomeini are the 2 ports which handle around 77 per cent of Iran's non-oil traffic. Other ports like Khorramshahr and Bushehr handle around 1 per cent and 3 per cent of Iranian maritime traffic respectively.
Chabahar port, which is located in Sistan & Baluchistan province (South – East) of Iran is located outside the Persian Gulf and is close to mainline shipping routes to Asia, Europe and Africa and has a share of only 0.38 per cent which is very less looking over to the location potential it offers. Out of annual throughput of 50,000 teus at Chabahar Port, Shahid Beheshti handles only 4,844 teus (about 10 per cent).
In fact, India Ports Global Chabahar Free Zone (IPGCFZ), the Iranian subsidiary of India Ports Global Ltd that handles terminal operations at the port has recorded calls by 46 vessels and handled 5.09 lakh tons of bulk and general cargo like corn, maize, barely, raw sugar, wheat, except coal. A key highlight has been the immense success achieved during this one year of operations – the traffic recorded at the port during the first year of operations actually exceeded the minimum guaranteed traffic stated for 3rd year of operations in the main contract. This feat has been achieved despite of not having dedicated container handling equipment. In February last year the port started handling transit cargo and in September refrigerated containers began moving through the port.
A major chunk of the containerised cargo (about 75 per cent) moving through the port has been the transhipment cargo moving to and from Jebel Ali. About 15 per cent of the cargo was to Mundra and about 8.3 per cent of the containerised cargo was destined to and from JNPT. A very miniscule volume of cargo (2.2 per cent) arrived at the port from Bandar Abbas. The current movement of containerised cargo at Chabahar Port is skewed and dominated by imports (mostly one way traffic). It has been reported that 83.4 per cent of the cargo movement at Chabahar Port is imports into Iran which is mostly home appliances, 14 per cent of the containers arriving at the port are empties being repositioned, 1.6 per cent of the cargo is for transit to Afghanistan which mostly includes dry & refrigerated fresh fruits, beans, talc stone, caraway seeds, Sasola etc. only 1 per cent of the containerised traffic at the port is exports mainly consisting of dates, kiwi fruit and apples.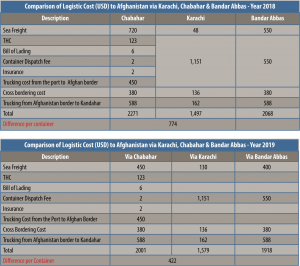 Considering the prevailing tensions between US and Iran, banks are discouraging transit of cargo via Iran. Outstanding revenue collections, in particular from Iranian government entities and war risk premium and bunker surcharge levied wef 1st January 2020 are some of the major issues facing growing cargo movement at Chabahar Port. The port also faces competition from Shahid Kalantari Port which is within 5 kms of distance. About 75 per cent of the cargo (mostly rice) being handled at Shahid Kalantari is from India. This advantage of Kalantari Port may go once full Chabahar Port is integrated with the Free Zone.
Another issue is the high logistics cost especially for Indian cargo going to Afghanistan through Karachi, which is an established route, under Afghanistan- Pakistan Transit Trade Agreement 2010. In October last year JNPT and Dhamra Ports had announced discounts for attracting transit cargo traffic to Afghanistan moving via Karachi, but the announcement did not result in significant cargo diversion to the Indian west coast. There is need to frame better strategies to attract the Afghanistan transit cargo and break the Karachi route. Further Indian government has decided to open Mormugoa and New Mangalore Ports in addition to JNPT, Mundra, Kandla and Cochin as part of the designated route under the Chabahar Agreement.
As cargo volumes grow Chabahar Port has laid out infrastructure development plans as well. Capacity expansion will involve procurement of equipment worth $85 million, of which, equipment worth $72 million has been finalised. A credit line worth $8.4 million has been opened and another credit line worth $13.6 million will be opened by February 2020. Equipment suppliers ZPMC and Cargotec have been supplied with approvals received from the US mission in Delhi towards waiver to Chabahar Port for procurement of equipment.
Chabahar port also forms an important element of the INSTC. Earlier, the trade between India and Russia was carried out through conventional or standard ocean route i.e. freight is loaded/unloaded at JNPT port and moved along the Suez canal route and gets unloaded /loaded at Saint Petersburg Port at Russia. The total voyage time is close to 40 – 60 days. But post implementation of INSTC, the freight will be moved via this 7200 km long multimodal network corridor of sea, rail and road route.
The typical movement from India to Russia through INSTC is as discussed below:
Freight is loaded / unloaded at JNPT port and through ocean route it will be handled at Iranian ports (Bandar Abbas / Chabahar port).
From Iranian port, the freight will be transported via road to the rail head at Astara in Azerbaijan for forward journey up north, touching upon the Azeri capital of Baku on the Caspian Sea and Port Olya in the Volga delta. The transit time via INSTC is estimated to be around 25-30 days which is 40 per cent shorter and 30 per cent cheaper than conventional or standard route.