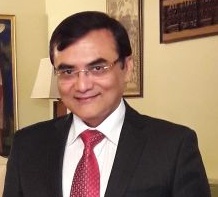 • CM Shri Naveen Patnaik lays stone for 'Make in Odisha' projects to commence
The Government of Odisha has green-signalled the next phase of expansion in Adventz Group's Paradeep Phosphates Limited (PPL) life span. Hon'ble Chief Minister Shri Naveen Patnaik today laid the foundation stone via video conferencing conducted from the CM office, with PPL, along with 14 other companies, getting a formal go-ahead and full support from the government to commence their projects.
Under the aegis of the 'Make in Odisha' initiative, PPL committed in December 2016 to invest around   Rs.9459.17 crore for the expansion of the fertiliser manufacturing facility at Paradeep seaport town. As per the proposal approved by the state government's High-Level Clearing Authority (HLCA) in July, PPL will enhance its manufacturing capacities across its products' range, marketed under the popular 'Navratna' brand and catering to almost all agricultural applications.
Dr. Damodar Rout, State Minister of Agriculture & Farmers' Empowerment, Fisheries & Animal Resources Development, Public Enterprises, and Dr. Kulamani Samal,  MP, Jagatsinghpur (Lok Sabha) led the State and administration dignitaries present at the high-level event at Paradeep.
Speaking about the milestone moment, Mr V. K. Sinha, COO, Paradeep Phosphates Limited, said: "15 years back Adventz Group has taken over PPL, which was at that time nearly sick and perpetually loss making with huge liability. PPL has not only been emerged as profit making company, but it is now on significant growth trajectory. PPL has been a catalyst driving development not just within Odisha but also among farmers across India. The support from the state machinery has always encouraged and enabled us to increase overall productivity and profitability.
The people of Odisha have been the primary contributor as they have been most willing and cooperative stakeholders in the PPL growth story, even as we constantly invigorate the facility with innovation and technology. PPL has always been a good Corporate Citizen of Paradeep and contributed significantly towards the local economics and facilitated noticeably in enhancing the life style of peripheral community clubbed with CSR activities."
A seminal fertiliser company, PPL manufactures and markets complex and intermediary products such as phosphoric acid and sulphuric acid, crucial in the manufacture of Phosphatic fertilisers. Incorporated in 1981, PPL is a joint venture between the Adventz Group company, Zuari Agro Chemicals Ltd. and Maroc Phosphore S.A., a wholly owned subsidiary of OCP, Morocco. Today, PPL has strong, ever-expanding presence across India and is recognised as a key entity within Adventz — one of the country's largest fertiliser conglomerates.
PPL strengths included in the expansion plans are the DAP Plant 1300-MTPD, GSSP Plant 1650-MTPD, Ammonia Plant 2200-MTPD, Urea Fertiliser Plant 3850-MTPD, Nitric Acid Plant 1000 MTPD, Ammonium Nitrate Plant 1100 MTPD, Aluminium Fluoride Plant 9500 MTPA Coal Handling Plant, The Plant expansion will generate employment for more than 2500 people in the category of engineering, technicians and skilled labourers.