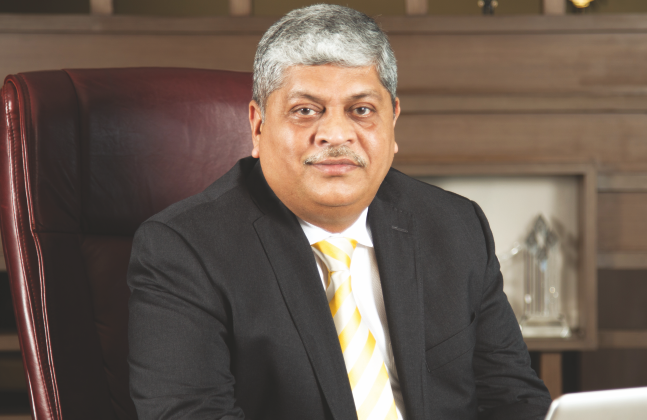 "Cargo consolidation business has been my passion and over the years it has evolved drastically. Offering direct services gives us a distinct advantage over competition, both in terms of transit times, efficient and seamless handling of cargoes and cost benefits," says Makrand Prabhakar Pradhan, MD, Total Transport Systems, revealing his mantra for success.
Q  Total Transport systems has been into business for the past two and a half decades. How have the consumer requirements changed over the years?
We have been amongst the first 5 companies, who operated the consolidation business and have been very lucky to witness how this business has evolved over the years. We can definitely say that the consolidation activity in India is in a matured stage. The activity matures when there is tough competition and the businesses work hard to devise an innovative service or product at the best possible price. A similar thing happened in the consolidation industry in India and the service levels improved drastically and the LCL freight levels dropped drastically. The customers became more demanding in service, freight levels and credit terms.
Q  Established in 1994, how has been the growth of your company?
We started off with 8 employees in 1994 and today we are a team of 432 across India. We listed our company in NSE emerge category in 2017 and that was one of our biggest achievements. Most of us are aware about the current market scenario and the drop in the EXIM trade. We have however managed to increase our volumes and revenues by 20%, year on year since 2017.
Q  A major focus of the government is on improving trade and connectivity with Nepal and Bangladesh. How has been the movement of trade to these neighbouring economies?
You probably missed out on Bhutan. They depend a lot on India as well. The India trade with Nepal and Bangladesh is increasing. We have been operating our own offices in Nepal and Bhutan for over a decade and play a major part in their LCL transshipments. Our role in providing services for Indian origin cargoes into Bangladesh, through road transport is very small, but this is a growing business. We are one of the major players for LCL shipments moving into Bangladesh through sea transport. For the shipments moving into Nepal and Bhutan by road transport, the procedures are now simplified and working well, but the road conditions need to be improved. For transportation by road into Bangladesh, there are procedural delays which need to be simplified and again the road conditions need improvement. The trucks are detained at Benapole and Petrapole borders. The facilities at turn over points for loading and unloading have to be improved a lot. Even the costs are on a higher side. If the government is able to take care of the above the transport costs can come down.
Q  Tell us about your cargo consolidation and deconsolidation business? How has it grown over the years? What are the challenges?
The cargo consolidation business has been my passion and over the years has evolved drastically. When we started the business way back in 1994, consolidation was carried out using 4 transhipment hubs namely Singapore, Dubai and Antwerp or Rotterdam. Any consolidator operating in these 3 to 4 ports was considered as a global consolidator. We started off with our services to Singapore and Dubai and opened up Colombo as a new transshipment hub. Later on we added Rotterdam and Antwerp, thus enjoying the status of a global consolidator. We have always been working on new direct services and as of date we operate 58 direct services out of Nhava Sheva port. When we started imports deconsolidation, all the shipments used to be routed over Singapore. Today we operate direct services from 27 locations globally. The direct services give us a distinct advantage over our competitors, both in terms of transit times, efficient and seamless handling of cargoes and cost benefits.
Q  Since you are an expert in moving FCL shipments to inland Africa and CIS region, tell us about these markets? How is the trade growing there? What are the opportunities and challenges?
We are always on a look out for new trade lanes, as our niche market. We identified inland Africa and CIS region, where the competition is less as it is necessary to have in depth knowledge of the region and it is very difficult to have a reliable agency network. Both these markets have shown a significant growth of 18 to 20 percent year on year. The biggest challenge in doing trade into inland Africa has been to build a reliable agency network, who can keep up to the commitment of transport and procedural requirements at the borders. With our own offices in Mombasa and Dar e Salam, we are in absolute control of our shipments at every stage. Our transportation is undertaken under adequate security and hence we did not have a single problem on this trade lane. CIS is a very personalized trade lane and in majority of the cases, the buyers decide on the service provider. With our regular marketing campaigns in the region, we have established a steady business growth in this region. Weather conditions, sanctions, procedural changes and fluctuating transport costs are the big challenges in this trade. With our continuously increasing volumes, strict selection of transport contractors, personal relationships and timely payments to the transporters, we now have a very well set transport network, who have always kept their commitments. We are now targeting business from local companies in the CIS region.
Q  What is driving the growth in the warehousing sector? Tell us about your warehousing operations?
Warehousing is booming and in my opinion, this boom will continue for at least the next 10 years. The business is getting more centralized and organized. Because of inadequate warehousing facilities, the warehousing cost is very high. Once we have the required warehousing facilities, the cost of warehousing will come down. This will also help to regulate the transport costs, as there is a clear imbalance of transport loads between various regions. With the growth of E commerce, the warehousing requirements have increased drastically. Going into professional warehousing, is very capital intensive and we have always believed in an asset light model. At this point of time, we have not given a serious thought for this activity. Whatever our warehousing requirements are being met through third party warehouses.
Q You provide the last mile delivery service to Amazon. What are the challenges unique to this service?
As mentioned earlier, we started off with providing last mile delivery services to Amazon about one and a half year back. Today apart from Amazon, we also have contracts with Flipkart, Fedex and Spice Jet. Working with most of these customers is quite interesting, because they have fantastic systems to rate our performance and that helps us to make amends in our service patterns and look out for ways and means to improve our service levels. For amazon we are rated at 96%, which is amongst the best in all their vendors. Since we are still new with Flipkart and Fedex, these scores are not established yet. We are quite sure about our service performance with them also. The biggest challenge in this business is to generate and propel the delivery network at a very short notice, notice as short as 72 hours is given to establish our services in a particular region. We have been able to do it, because of the great and resourceful team that we have put in place. The systems of each customer are different and we have to ensure that every system is followed to the core. We have a separate department to train our resources, to ensure that they follow the requirements meticulously.
The E commerce industry is growing rapidly and we expect our volumes to double up every year for the next 3 years. My business partner Mr Shrikant Nibandhe is heading this project.
Q Tell us about the I Cargo Alliance? What is the value proposition it offers to the customers?
I Cargo Alliance was started in 2012 by C P World Group and Eurasia Group, to offer consolidation services to the top 50 global freight forwarders under a single contract. We set up regional sales teams to solicit business with the global freight forwarders and a global pricing team under the able leadership of Franky Van Doren. Since we started we have been able to get the support of 18 global freight forwarders. We have I Cargo Alliance members in 95 countries which takes care of more than 85 percent of the global marine trade. In the last 3 years, we have seen that support to us from global freight forwarders has increased by nearly 18 per cent every year.
Q How is the service of C P World logistics in India? Which cargo clusters does it serve? To which global markets does it connect?
The services of C P World are amongst the top 3 in the industry. C P World Group operates 77 offices in 36 countries. The strong areas of C P World Group are Indian subcontinent, Middle East and South East Asia. C P World Group, being one of the founders of I Cargo Alliance, compliments the activities of I Cargo Alliance.
Q Your plans for the year 2020? We are planning 3 new direct services for our consolidation business. Though the overall market is down, we have targeted a 10 percent growth in our revenues. Looking at the projected growth of our customers in E commerce, we are sure of doubling our volumes in this year. We are also working on an a new project, which will be of great assistance to small importers and traders who trade in goods imported from china.