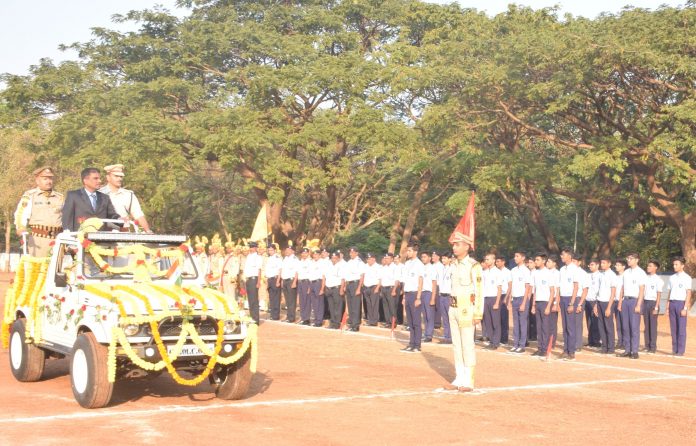 Mormugao Port is one of the oldest port in the country and it has been serving the state and the nation for 130 years. The Port supports 6000 families directly and ten times more families of the trade indirectly. The well being of these families depends on the well being of the port. During the current financial year the port has undertaken a lot of infrastructure projects, and notable among them is the 4 land highway, which will be completed soon and will ease the congestion on the roads in Vasco' said Shri I. Jeyakumar IRTS Chairman/MPT, while addressing an impressive gathering of Trustees of the Board, Head of Departments, Officers, staff, employees, parents, invitees, students and teachers at the 69th Republic Day celebrations  at the Deepvihar School grounds,at Headland Sada.
The Chairman complimented the services rendered by the Port Fire Brigade and Medical department in timely management and mitigation of the situation during the recent road accident. The CISF and the Marine department personnel also came in for praise for their various activities in the port.
Shri Jeyakumar, earlier   unfurled the National Flag, inspected the Ceremonial parade and took the salute at the Republic Day celebrations at the port.  The March Past was held by the CISF Contingent of the Port, followed by the students of  Deepvihar Primary, Secondary and Higher Secondary schools,  and the Port Fire Brigade. School students rendered patriotic songs on the occasion. Officers and staff of the Marine Department, the Fire Brigade section and CISF personnel were honoured at the Republic Day function and presented with certificates and cash prizes for the commendable service rendered to the Port.
An impressive and colourful cultural pageantry was presented by the students of the educational institutions run by the Mormugao Port Trust Education Society as well as Asha Deep New Dawn School, to mark the Republic Day celebrations in Port. The CISF contingent of the Port presented self defense techniques.
The Chairman later along with the HODs visited the Mormugao Port Hospital accompanied by the First Lady Madam J. Jayalakshmi where they were welcomed by Dr. Nimish Pillai, Chief Medical Officer MPT Hospital, and the senior Medical Officers and staff.   The Chairman and First Lady interacted with the inpatients at the port hospital inquiring about their health, well being and distributed fruits to all.