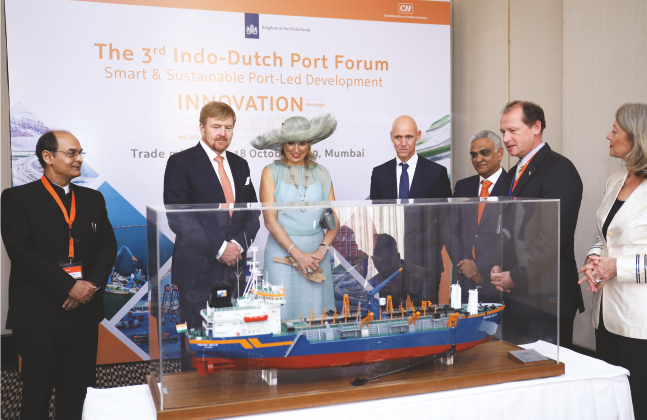 Exchange of knowledge and expertise is the way forward for India and the Netherlands to nurture shared growth in the maritime and logistics sector
Some of the most contemporary issues pertaining to the maritime sector – Smart and sustainable port development, EcoShape (dredging and building with nature), maritime education, hinterland connectivity and maritime policy, were discussed at the 3rd edition of the Indo-Dutch Port Forum organised in Mumbai. His Majesty King Willem-Alexander and Her Majesty Queen Máxima of the Netherlands graced the forum and the Royal Couple took part in the plenary session with a special focus on Maritime Education. They also participated in table dialogues with representatives from the maritime industry from India & the Netherlands and had active discussions on themes like building/dredging with nature; smart port development, digitization in ports, dockyard development, and port-led development.
The Royal Couple witnessed the signing of two agreements:
Letter of Intent (LOI) on Maritime Education
A Letter of Intent was signed on Maritime Education between four parties – 2 parties from the Dutch side and 2 parties from the Indian side. On the Dutch side, it was signed by STC International and Erasmus Centre for Urban Port and Transport Economics (Erasmus UPT). On the Indian side, the signatory parties were the Indian Maritime University & the Indian Ports Association. The LOI is set to establish a starting point for joint collaboration between India & the Netherlands to further develop education in the sectors of port and maritime, where skills and training will be provided at all levels starting from vocational, to middle, to managerial level.
MoU between Maharashtra Maritime Board and Port of Rotterdam
A MoU was signed between the Port of Rotterdam and Maharashtra Maritime Board, under which the Port of Rotterdam will share its best practices with the Maharashtra Maritime Board that will support their pursuit to further develop their port facilities and hinterland connectivity.
"India and the Netherlands have immense potential for cooperation in maritime development," said Ms. Ineke Dezentjé Hamming, Vice President of VNO-NCW – the Confederation of Netherlands Industry and Employers. "The Port Forum was an excellent example of this where participants from the industry across government bodies and private organizations from both sides came together to build on the scope of partnerships. Dutch expertise in the maritime sector goes back centuries and continues to be one of the strongest in the world.
India has also similarly embarked on a strategy of large-scale investment in its port sector under its 'SagarMala' programme. Given this background, we feel India and the Netherlands have ample potential for shared growth."
Sanjay Bhatia, Chairman, Mumbai Port Trust & Indian Ports Authority, IAS, said, "The collaboration in the area of maritime education, dredging technologies, sustainable maritime operations will help the ports in achieving the ambitious objectives of Sagarmala."