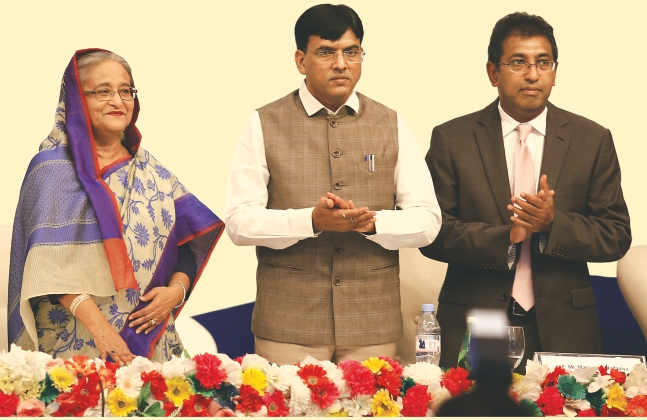 Political leaders, diplomats and industry experts from India, Bangladesh and Sri Lanka reiterated the need to improve regional trade, remove trade barriers and promote regional integration
The second South Asia Maritime and Logistics Forum brings together governments, trade association and industries in South Asian region in contact with leading businesses from Europe, Middle East and South East Asia. It will help in technology transfer, development of logistics, maritime relations and green shipping, announced Md. Abdus Samad, Secretary, Ministry of Shipping, Government of the People's Republic of Bangladesh, giving the audience a fair idea of what the proceedings and discussions of the two day event will fructify.
 Going back into the memory lane, Abdus Samad recalled the significance given by Father of the Nation, Bangla Bandhu Sheikh Mujibur Rahman, to the maritime sector, as he remembered the famous quote by Bangla Bandhu – "The importance of endless sea resources." Among the several contributions of Sheikh Mujibur Rahman to his mother land is the Territorial Water and Maritime Zones Act 1974 enacted for the first time in the history of Bangladesh, which also established the country's sovereign right over the sea and its resources. Bangla Bandhu also procured 19 ocean going ships almost free of cost from various friendly nations of Bangladesh, to improve the maritime prowess.
On behalf of the maritime fraternity of Bangladesh, Abdus Samad expressed gratitude to the Honourable Prime Minister, H.E. Sheikh Hasina, MP, for her kind guidance, direction, advice and support. Under her able guidance Bangladesh has been able to establish its legitimate rights over the sea, ports have been developed with modern facilities and inland waterways have been made sustainable by carrying out 1500 km of dredging in the past five years. With her kind assistance, Bangladesh has been able to procure six ocean going ships and infrastructure at Chittagong and Mongla Ports has been upgraded by building new jetties and terminals. The addition of Payra deep seaport and Matarbari commercial port will further add to the maritime excellence of the nation.
Bangladesh is a maritime country due to its geographical location as the country not only connects to South Asia but also to South East Asia, Asia Pacific, Europe and Africa through sea. As he concluded, Abdus Samad said, the conference will explore opportunities and find solutions to existing challenges, share best practices and identify ways to collaborate in new business and investment opportunities in the region and respective countries can be promoted to a global audience.
R Ramprasad, Editor-in-Chief and Publisher, Maritime Gateway, India recalled the first edition of SAMLF organised last year that brought together for the first time stakeholders of South Asian maritime nations to discuss key issues related to intra-regional trade and maritime connectivity. "The second edition of this summit builds on this foundation to continue the discussions started a year ago." Bangladesh has been the most remarkable growth story in the recent years with GDP growth of more than 7 per cent for FY2017-18. The country is strengthening its maritime and logistics infrastructure to emerge as a connectivity hub between Asia and South East Asia. He pointed at the under-utilised trade potential of South Asian region, while highlighting the need for business and economic integration which can propel south Asian trade volumes from the existing $23 billion to $67 billion. Another potential opportunity lies in coastal shipping and transhipment through Indian ports that can reduce long delays and additional shipping costs. Concluding his address, Ramprasad listed the challenges: An urgent need to increase port capacities, connectivity improvement, simplified Customs regulations and use of technology.
Guest of Honour, H.E. Dr. Harsha De Silva, Hon'ble State Minister for National Policies and Economic Affairs, Government of the Democratic Socialist Republic of Sri Lanka shared few excerpts from the World Bank's recent report on South Asia – "A glass half-full – The promise of regional trade in South Asia." "South Asian nations should be trading among themselves three times more than the current levels," emphasised De Silva. The cost of trade in this region is disproportionately high within the region, as opposed to ASEAN and three times more than the countries in NAFTA. Most of us have lower tariffs but also opaque para-tariffs contributing to SAFTA's under performance. Port restrictions and tough VISA regimes have added to the sub-optimal outcome. De Silva gave a clarion call for removing barriers to promotion of regional trade which include border tax distortion, rationalisation of para-tariffs and sensitive commodities list, removal of non-tariff barriers and the need to improve trust among the nations. India and Sri Lanka have moved ahead to deepen trade ties through Economic and Technology Cooperation Agreement and such initiatives need to be replicated across the region. "While Sri Lanka is identified as a South Asian nation, it is more an Indian Ocean nation. Our government has set target to place the Port of Colombo among the top 20 container ports by 2020 and to more than double the maritime contribution to GDP by 2030." Embarking on this journey Sri Lanka has listed out initiatives to improve trade with neighbours which include BIMSTEC coastal shipping agreement, Sri Lanka and Bangladesh have also finalised a coastal shipping agreement to boost trade, investment and maritime connectivity. These agreements will improve connectivity between both the nations, cutting on transhipment time and cost. It will particularly help the RMG sector as shipping via Colombo saves three days to the trade, as compared to sailing via Singapore. Concluding his address, De Silva averred that South Asian trade can grow 200 per cent if major barriers such as border tax distortions, nontariff barriers, high connectivity cost and trust deficit are addressed.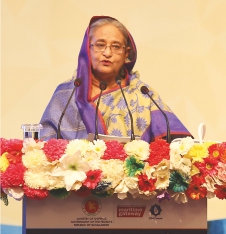 "Bangladesh is our biggest development partner today. Maritime relations between the countries began in 1972 with the signing of protocol on Inland water transit," exclaimed Guest of Honour, H.E. Mansukh Mandaviya, Hon'ble Minister of State for Road Transport & Highways, Shipping and Chemical & Fertilisers, Govt. of India. Over the last few years India has extended three lines of credit worth $8 billion for various socio-economic and infrastructure projects in Bangladesh. Improving connectivity between the two countries, Prime Ministers of both the countries inaugurated five different projects in areas of connectivity and integration of energy network. Mandaviya listed out Indian initiatives to strengthen maritime sector including Sagarmala programme, inland waterway development and plans to develop new ports and ship repair facilities on the east coast which will be helpful to Bangladesh as well.
"SAMLF is very important from our national and regional perspective as it offers an excellent platform to boost shipping and logistics capabilities of countries in South Asia," remarked H.E. Shajahan Khan, MP, Hon'ble Minister, Ministry of Shipping, Government of the People's Republic of Bangladesh. The event will help explore opportunities and find solutions to existing challenges, share best practices and identify ways to promote collaboration among maritime nations. South Asia has recently posted outstanding growth and has a significant share in the international trade, but intra-regional trade has been lagging behind due to lack of integration among member nations. The integration largely depends on the political will and connectivity. In this context the government is developing logistics infrastructure, deep seaports and high-speed rail connectivity to link ports to hinterland and neighbouring nations. South Asia is an emerging market which offers ample opportunities for expanding maritime capabilities in the region and such platforms can play a vital role in bringing together such regional countries and promote greater interest of the region.
"Like father, like daughter," Father of the nation Bangla Bandhu, Sheikh Mujibur Rahman was a visionary leader and his daughter, H.E. Sheikh Hasina, MP, Hon'ble Prime Minister, Government of the People's Republic of Bangladesh and Chief Guest of the event is no less. She shared the vision to register Bangladesh into the league of middle income countries by 202l and to join the developed and prosperous ones by 2041. But this journey will not be lonely, as she believes in the collaborative development of the entire South Asian region. "There is a huge potential in maritime sector in South Asia and utilizing the sector it is possible to make a big lead into the socioeconomic development of the people of this region," she declared.