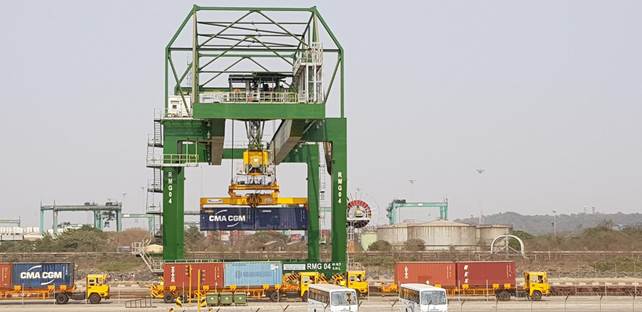 Ocean carriers calling at Jawaharlal Nehru Port Trust (JNPT) appear to have generated increased interest in PSA International's Bharat Mumbai Container Terminals (BMCT), which began full-fledged operations in February.
Although the number of regular, weekly services at BMCT remains static at two — including the Swahili Express (SWAX) jointly operated by CMA CGM and Emirates Shipping in the India-Africa trade, and the Europe-Pakistan-India Consortium 2 (EPIC2) under a vessel-sharing agreement between Hapag-Lloyd, CMA CGM, and Hamburg Süd – the new concessionaire had a flurry of temporary/ad-hoc calls last month.
Port statistics show BMCT processed 17 ship calls in June, compared with 10 calls a month since March, after the new terminal settled into a steady/seamless operation.
Volume surge at BMCT
As a result, BMCT's volume surged in June — up 47 percent to 35,882 TEUs, from 28,474 TEU in May.
In a fiercely competitive market burdened by excess capacity and prolonged, weak freight demand, efficiency has become a key factor influencing ocean carriers' terminal choices, as they seek sustained profitability, largely on cost optimization and scalability business models. Sensing that trend, BMCT has lately emphasized productivity improvements, and greater carrier interest/more calls may have stemmed from those efforts.
New statistics also shows that BMCT handled 2,595 TEUs of railed containers in June, up from 1,060 TEUs in May, and just 180 TEU in April.
In addition, its quayside performance has exhibited strong momentum, with gross crane rates averaging 41.6 moves per hour during May, versus 35.6 moves per hour in April, when measured in TEU liftings. Also, ship turn times averaged no more than a day per call in the same month.
First phase of major capacity increase
BMCT's first phase features 1,000 meters (3,281 feet) of quay, a 90-hectare (222-acre) storage yard with 9,336 ground slots, 12 quay cranes, four rail-mounted gantry cranes, 36 rubber-tire gantry cranes, and 324 reefer slots. A second phase of the same capacity is targeted for completion by 2022.
Terminals at JNPT together handle the majority of Indian containerized freight. Given that important role, a BMCT addition that will enable it to handle 4.8 million TEUs per year, when ready, combined with its sophisticated on-dock rail infrastructure — designed to synchronize operations with Indian Railways' flagship Dedicated Freight Corridor project under construction — and other advanced operating systems, can go a long way toward improving/streamlining the emerging market economy's supply chains.
PSA also has operations at India's East coast ports of Chennai, Tuticorin (V.O. Chidambaranar), Kolkata, and Kakinada, but a larger portion of the West coast market representing the majority of Indian container trade is the key not only to expanding its footprint in the fast-growing economy, but also to combating competition from other international markets.