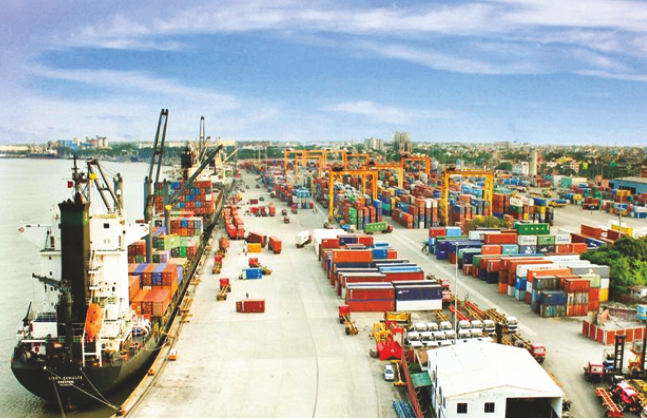 The new Patenga Container Terminal (PCT) will enable quick berthing of ships, easing vessel congestion at the outer anchorage of Chattogram port
Chattogram Port, located on the bay of Karnaphuli River handles about 90 per cent of Bangladesh's exports and imports. The port handled 8.52 crore tonnes of cargo and 26.67 lakh teus of containers in 2017. In 2018, the numbers stood at 9.63 crore tonnes and 29.03 lakh teus respectively. The cargo and container handling registered a rise by 13 and nine per cent respectively.
Currently a ship has to wait seven to ten days at the outer-anchorage of the seaport for berthing and for everyday a ship has to count $8,000 to $12,000 in demurrage for waiting at the outer-anchorage.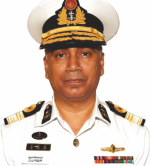 According to the Chattogram Port Authority (CPA) Chairman, Rear Admiral Zulfiqar Aziz, "A new jetty is a must to cope with the ever increasing volume of cargo and vessel traffic. However, our port has been experiencing 16 to 17 per cent growth in cargo and container handling over the last few years."
In order to meet the growing volume of cargo at the port, CPA has initiated the construction of Patenga Container Terminal (PCT). Construction of the terminal was inaugurated on September 8, 2017, by then-Shipping Minister, Shajahan Khan.
The 600m terminal is being built on 32 acres of land located between Chittagong Dry Dock and the Boat Club in Patenga of which 16 acres of land will be used for a specialised dolphin oil back-up jetty where 4500 teus of containers can be accommodated. The terminal will also include back yards, road and rail links, plus other facilities. The terminal can accommodate three container vessels of 180m length, with 9.5m draft and one oil tanker in Dolpin Jetty to take berth at a time.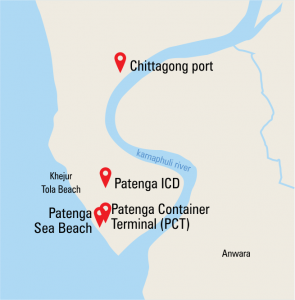 A total of Tk.1,869 crores will be spent for PCT funded by Chattogram Port Authority and about Tk.650 crores have been advanced to Army Engineering Core against the works. Seven contractors under the supervision of Engineering Core of Bangladesh Army are implementing the project.
The project will involve construction of about 1,12,000 cft RCC pavement, a 2,128cft freight station and a 1,750m long bonded customs wall. The ground improvement works involve the construction of 420m long flyover, 1000 concrete piles with a length of 38m and 0.09m in diameter. The concrete piles construction contract was given to a Chinese construction firm based in Malaysia, which will bring the piles in six shipments to Chattogram port. CPA already procured over 60 equipment including six quay gantry cranes (QGC) for use at the terminal. It will also be equipped with Rubber gantry cranes.
PCT may be partially opened for operations in June 2020, and it is expected to be fully operational by the end of 2020. Once the new terminal is completed, berthing will be faster, as vessels will no longer need to cross a lengthy bend on the Karnaphuli channel to reach the port.