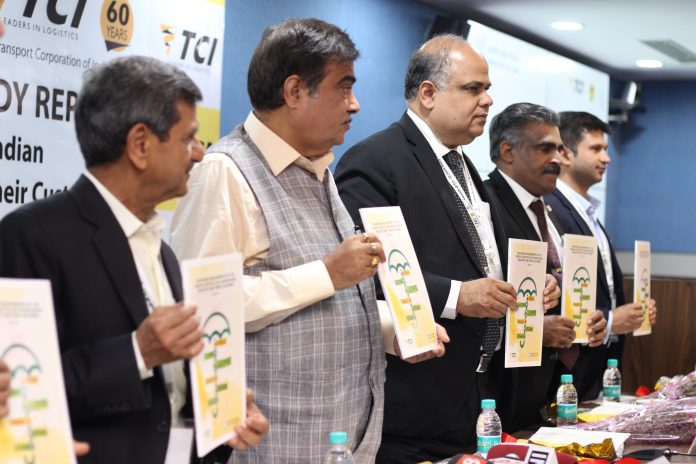 Exploratory study recommends mandatory insurance of cargo by shipper & a comprehensive risk management policy for logistics service providers
TCI, India's leading multimodal integrated logistics provider, released an exploratory study, conducted jointly with the Insurance Institute of India (III), that explored the need for insurance in India's logistics sector. The report, titled 'Insurance Requirements of the Indian Logistics and Warehousing Industry and their Customers", was launched by the Honourable Minister for Road Transport & Highways, Shipping and Water Resources, Shri Nitin Gadkari at a gala event held at the Transport Bhawan in New Delhi on 17th of April, 2018.
The joint exploratory study found that Logistics Service Providers (LSPs) continue to be highly vulnerable due to the often; unfair allocation of risk between them and shippers. Shippers are sometimes absolved of liability even where they are at fault, and these costs are borne by the LSPs.
With this in mind, the study recommended that LSPs appeal to the government to mandate the insurance of goods in freight by the cargo owner. It also suggested that the sector build internal capacity to understand insurance needs, evaluate its own risk capacity, and make informed decisions with respect to insurance purchases in the future.
Commenting on the launch, Mr. Vineet Agarwal, MD-TCI Group said, "The logistics and transport industry in India is faced with some unique challenges. Unlike more developed economies, all goods being transported are not insured. In fact, LSPs and Warehouse Service Providers (WSPs), and Transporters end up taking insurance on behalf of their customers for 'direct cash debits' for significantly high amounts. This is a huge cost and the risk impact is not only on large organized players but on the small transporters it is an unbearable risk. Hence, this study was instituted by TCI and III to highlight the various issues and factors which we would want our clients, as well as insurers and surveyors to be aware of."