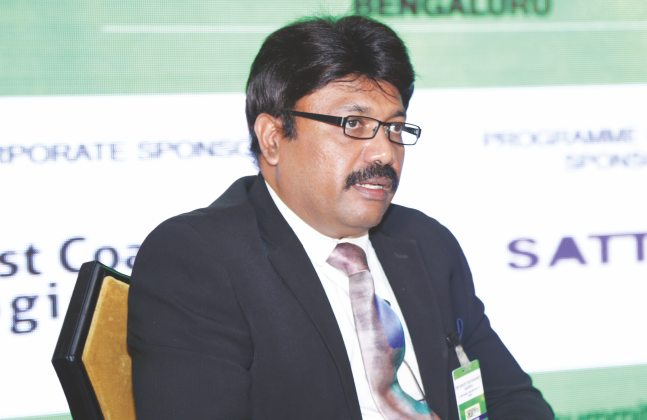 CARGO ICD Whitefield is the largest contributor to Concor's revenues. It accounts for 30 per cent of the Group's total volumes, handling about 1.35 lakh teus. Anup Dayanand Sadhu, Group General Manager, Concor Karnataka speaks on new services and growth prospects for the coming year.
Q What commodities have contributed for Concor Karnataka's stellar performance?
 A surge in EXIM cargo has been the biggest contributor to the growth in volumes from this region. Imports account for 60 per cent of goods moved. The commodities that have done well in the exports section are gherkins and granite slab exports. In the imports division, a spurt in radiator parts and furniture added to the increase in teus. Personal goods of people who are moving from cities have chosen rail containers over roadways has been a pleasant surprise for us.
Q Has domestic traffic improved as well?
 Our marketing efforts are being focussed on converting break bulk cargo in to containerised cargo. We see there is great demand for cargo moving towards and from Mumbai to Bengaluru. Machinery and spares that were earlier moving as break bulk cargo now move in 25 boxes every month. We are also trying to containerise cargo moving to Mangalore. A lot of cargo from the coastal region moves to the New Mangalore Port Trust by road. With a dynamic pricing model and aggressive marketing, we expect to capture much of it.
Q A new service to Kochi was introduced in partnership with DP World. How is it faring?
We were running a connection between Bengaluru and Kochi that we are planning to extend till Tuticorin now. The idea is to tap a number of garment customers who want a service to Kochi from where there is a LIMO service to Europe. There is a lot of coastal cargo that is moving from Gujarat to NMPT. We intend to run a service to capture the chemicals and tiles that move Southward from Mangalore onwards by train. Our Bangalore- Mangalore service has already started from 01 October onwards.
 Q How are these new services going to be supported by commensurate infrastructure expansion? We are adding three terminals in Karnataka. A new terminal will also be coming up in Mysore. Companies such as ITC, JK Cements, Asian Paints, TVS Motors and Nestle have cargo to be exported from this region. These areas will have a mix of CFS and ICDs. The ICD coming up at Mangalore Port will tap inflow of cargo from Gujarat and Maharashtra moving to Tamil Nadu and Kerala through Karnataka.
Q How has Concor kept up with the changes in the logistics industry with the introduction of GST? Post GST, truckers save 30 per cent time on their delivery speed. Every third day there is cargo reaching Delhi from Bengaluru. At Concor, we are trying to keep up with this assured time delivery. Concor has one train scheduled to Delhi every week.
On the pricing front, we are yet to be as competitive as road movement. Truck prices have fallen considerably where a 16 tonne truck for a door-todoor delivery costs only Rs 60,000. A similar movement by rail costs more than 70,000 including GST.
 Q How well connected are you to other ports in South India?
We have three trains connecting to Chennai every week. This has helped us increase our volume by six per cent in the last financial year. Our scheduled services to Krishnapatnam Port thrice a week connects to cargo areas on the east coast as well. The scheduled connection between Bangalore- Kochi-Tuticorin will further enhance our connectivity to all the southern states. Once the Chennai-Bengaluru expressway is operational, we should be able to see more traction.