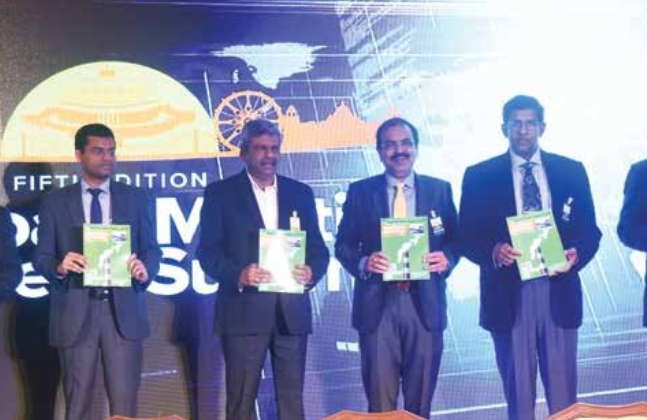 Growing industrialisation in the eastern states, spruced up infrastructure leading to better connectivity and upswing in exim activity make it evident that maritime growth has taken off on the east coast
Established five years ago, ECMBS has become the single largest platform for promoting growth on the east coast. The intention is to improve the business connect with South East Asian business partners and so this year the event has participants from Bangladesh, Myanmar, Sri Lanka, Nepal and Dubai which makes the event truly international.
Publications Director of Maritime Gateway, Ramprasad, welcomed the august gathering as he pointed at the key growth indicators in the east coast such as growing industrialisation in the eastern states, infrastructure has spruced up leading to better connectivity and upswing in exim activity. These elements make it evident that maritime growth has taken off on the east coast. The region has maintained its growth curve braving against the slump in coal and steel imports. In FY 2016, total cargo volume of major and private ports combined on the east coast was 393 million tonnes where installed capacity is about 696 million tonnes. This denotes that the capacity utilisation is about 50 per cent and hence there is still scope to grow the cargo volumes.
During April-December 2016, cargo volume growth at major ports in the east coast against the same period last year was around 4.28 per cent. Two major ports – Paradip at 17.75 per cent and Visakhapatnam at 8.80 per cent – have registered impressive growth. Similarly, growth in container volumes at the major ports on this coast registered 5.44 per cent against the same period last year. Both Visakhapatnam Container Terminal and Krishnapatnam Container Terminal have shown impressive volumes.
The Gross State Domestic Product (GSDP) in Andhra Pradesh, Telangana and Odisha is likely to grow at a rate of 9-11 per cent CAGR and Madhya Pradesh, Chhattisgarh and Bihar are expected to grow at 6-8 per cent CAGR. This growth will intensify industrial activity giving fillip to exim volumes.
The Asian Development Bank has approved the first part of the grant to develop the first 800 km of East Coast Economic Corridor which will seamlessly connect to South and Southeast Asia. Other key infrastructure projects like the Vizag Chennai Industrial Corridor and Chennai Bengaluru Industrial Corridor will spur industrial activity in the region. But to promote multimodal transport in its true sense movement of goods through waterways and coastal shipping needs to catch up.
The potential in coastal shipping is yet to be explored. All the schemes and policies for pushing forward the sector have created awareness about this mode of transport but diverting cargo volumes to coastal shipping still remains a challenge. Moving thermal coal through coastal shipping can save `20,000 crore annually, while promoting steel and cement can save `5500 crore and `4000 crore respectively. Automotive manufacturers are experimenting with this mode of transport and it's only a matter of time before coastal shipping and inland waterways pick up as a predominant mode of transport.
To ensure seamless connectivity at optimum cost, multimodal transport is essential. But to sustain future growth in these difficult times, ports will have to diversify and maintain better cargo mix.
Taking further the discussion on multimodal logistics, V Kalyanarama, Chairman and Managing Director, Concor, presented a brief account on their initiatives to make the modal shift in logistics happen and improve logistics on the east coast. Lot of efforts are being made to make logistics efficient by using ports, inland waterways, coastal shipping. More effort is needed to push containerisation in India as it is the future of logistics, he said. Handling of cargo in containers is quick and easy when compared to handling in break bulk form. Efficient logistics is not just about transportation cost, it is about seamless movement using multimodal forms of logistics.
A sea change in the way business is done and logistics happen will be brought about with the implementation of GST exclaimed Kalyanarama. There is more container movement (65-70 per cent of total India) on the west coast. This is supported by the industries developed in the north and western part of India. But there is significant distance between the industries and the ports. On the contrary, in the east coast industrialisation is now coming up so the planners can do a better job here locating the industries closer to the ports.
"Concor is looking towards east with great interest. MMLPs are planned at Krishnapatnam, Kakinada and Paradip. MMLPs are already functional in Kolkata and Balasore. Concor is present at every port on the east coast. An ideal MMLP will be built on 100 acres land and will house processing and warehousing facilities. The basic idea for setting up these MMLPs is to make the modal shift in logistics happen." Single mode of transport between ports and hinterland is not effective, so Concor is developing MMLPs in the hinterland as well.
Concor has planned 15 MMLPs in the hinterland and another 12 are on the drawing board. At the portbased MMLPs the modal shift will be towards rail to sea and vice versa.
"When transport of goods is transformed into logistics, India will become competitive." "Almost three decades back Information Technology industry was referred to as the sunrise industry, but today the sunrise industry is logistics."