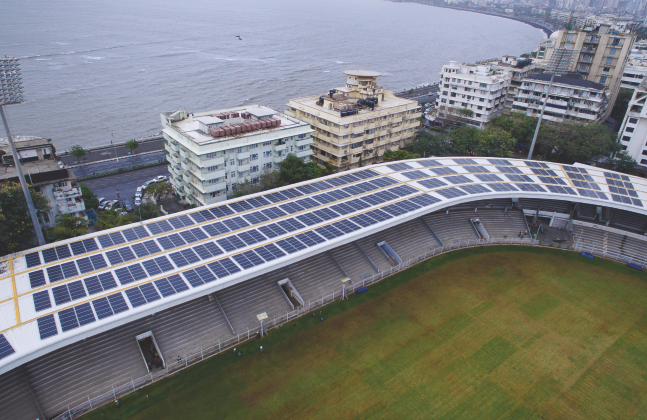 Positioned among the pioneers in solar manufacturing and riding on advanced technology enables Tata Power Solar to remain nimble as it leads in renewable energy generation
TATA Power Solar, a giant in the Indian solar energy sector with three decades of expertise, is growing much faster than the industry average growth to become the largest solar power company in the country. From the legacy of TATA Group, TATA Power Solar, is one of the pioneering solar manufacturers in the world and India's largest specialized EPC player. The company has virtually grown four times in the past four years in the solar domain.
The company manufactures solar power modules at its plant in Bengaluru, where it has an annual manufacturing capacity of 300 megawatts (MW) of solar cells and 400MW of modules. During 2017- 18, the company exported about 47 MW of PV modules and cells, making it one of the largest solar power equipment exporters from India
TATA Power Solar Managing Director and CEO, Ashish Khanna attributed the success and profitability to four key differentiators, namely technology and innovation, quality service offerings, customer centricity and commitment of the workforce to provide top-notch solutions. He believes in providing best in class quality, excellence and total commitment towards the work and towards consumer requirements.
"We consider nurturing long-term relationships with our customers and partners across India. In India, solar power is available in abundance, hence we have inclined our business portfolio towards solar as we realized we needed to get into a business that was scalable and would ensure profitability. We wanted to enhance our strengths rather than just try to counter the competition of the commodity. We assessed our value proposition and its impact on forth-coming business opportunities", he said.
TATA Power Solar is engaged in the portfolio of PV modules catering to multiple segments including large projects, industrial solutions, and standard power packs with a vision to become the leading solar solutions provider in the country, delivering high quality and sustainable results to its consumers. India's renewable energy sector has been growing at CAGR of 19.78 per cent during 2014-18 and currently the country has a total installed capacity of 77.64 GW, as per IBEF report. The renewable energy sources can help India to meet 40 per cent of its total energy demand by 2030, it said.
The Ministry of New and Renewable Energy has set a target of having 225 GW renewable energy capacity by 2022 and the efforts are on to achieve the same. In fact, due to the contributions of companies like TATA Power Solar, the government's target is not only achievable but, also can be exceeded.
According to CRISIL Research, the Indian Solar power capacity addition during the next five years – 2019-2023 – is estimated at 50 GW compared to the previous five years – 2014-2018 – which saw a capacity addition of about 20 GW. Thanks to the central and state government's ambitious targets of having more and more renewable energy sources, the assumption goes on to reality. PSUs such as NTPC are also actively pursuing solar energy projects in support of the nation's solar mission. TATA Power Solar is fully equipped to tap these opportunities and expects the various government initiatives would help further growth of the company in the future. "The government's announcement of a subsidy for 12GW of projects, which requires the deployment of indigenous modules, the country seems poised to reap the benefits, and Tata Power Solar is eager to play its part in this transformation journey," Khanna explained.
All India Player Specialized in installing roof top solar projects, TATA Power Solar has spread its wings all over the country by expanding into over 100 cities including Delhi, Mumbai, Ajmer, Ahmedabad, Jamshedpur, Dhanbad, Hyderabad, Bengaluru, Chennai, Pune, Nagpur, Guwahati, Chandigarh, Cochin, Varanasi, Kolkata and Jaipur to name a few. The company's residential rooftop solution decreases the use of diesel generators, leading to more fuel savings. Tata Power Solar executed some of the marvellous projects such as world's largest Rooftop at a single location and India's largest carport at Cochin International Airport. Recently, Tata Power Solar joined hands with Cricket Club of India and installed the world's largest solar powered Cricket Stadium in Mumbai, in a record period of 100 days.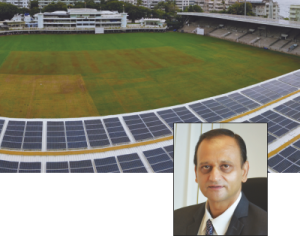 India's Solar Exports witnessed a growth of 223 per cent in Q3 2018 compared to Q2 CY 2018. India exported solar cells and modules worth $56.23 million and in Q2 CY 2018, India had exported solar cells and modules worth $17.4 million ASHISH KHANNA Managing Director and CEO, TATA Power Solar
"We have also commissioned few challenging projects like we commissioned a 30MWp Solar Power Plant in Lapanga, Odisha. It is one of the largest Solar Power Projects in India which is built on an Ash Dyke area that has 60 per cent (19 MWp) in Ash Dyke area and 40 per cent (11 MWp) in normal land. The unique thing about the project is that the construction of the CMCS building has been done with fibre cement board, along with placing DC cable through HDPE railway crossing without any damage to railway line by Horizontal Directional Drilling. We have commissioned a 100MW solar park in Anantapur, Andhra Pradesh. It is the first project commissioned in solar park segment which got clearance from Solar Energy Corporation of India (SECI) in one go," Khanna added.
Realizing the fact that the PPAs are crucial to maintain cash flows, the renewable energy major, is also in the forefront securing power purchasing agreements with its group companies. It has signed a PPA with Tata Steel on installing solar rooftop solution to Tata Steel Processing Limited plants across India. The overall capacity of the project is expected to be between 3-4 MW.
Ashish Khanna foresees a bright future for Indian solar power industry not only in India in terms of installation but, also for exports from the country to the world over. "India's Solar Exports witnessed a growth of 223 per cent in Q3 2018 compared to Q2 CY 2018. India exported solar cells and modules worth $56.23 million and in Q2 CY 2018, India had exported solar cells and modules worth $17.4 million", he said. Having manufacturing unit in Bengaluru, TATA Power Solar currently exports and imports the materials from Chennai port through ICD – Bengaluru.
Challenges made the company tough
Installation of solar power projects at remote locations pose many threats and challenges to the EPC players as the vendors and even the workers do to want to go work from that project locations. However, the company, with a vast experience in the sector passed through all of them by learning lessons from each of the project it works for.
"Each commissioning project comes with its own unique challenges and learnings. Like tough terrains -hard Rock on the surface, access road to solar park, remote locations, unwillingness of vendors to work at location and infrastructure challenges etc.
Our home-grown competencies helped us to execute our first project in about 18 months. Today, we take less than 6 months to execute a project. Technology and automation have enabled us to be nimbler, allowing us to save our working capital and use the same team to work on two projects," Ashish Khanna explained. Advancements in technology have also entrenched Tata Power Solar at the forefront of new power generation, especially solar. For instance, drones help the company to survey rooftops in search of minute cracks that are not visible to the naked eye, and to rectify them; this technology-assisted capability is invaluable at both rooftops and on ground-mounted solar assets. A software developed in-house enables the company to process the bill of materials using basic parameters like solar potential, rooftop contours, and so on, recorded by the drones. With the aid of technology, the requirement gathering is completed in a few hours, thereby saving hundreds of person-hours.