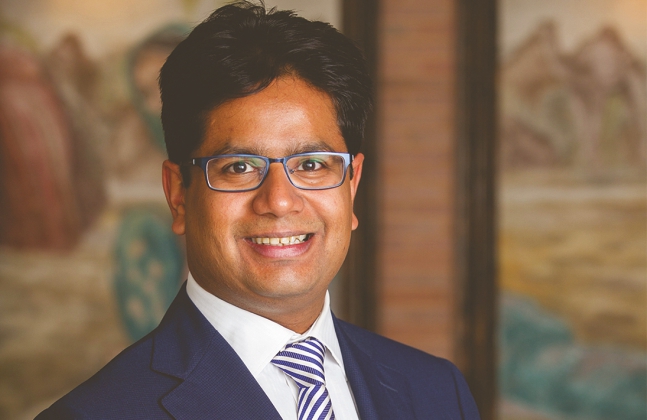 In a candid talk with Maritime Gateway, Rubal Jain, Managing Director, Safexpress shares his vision for the company and transformation of logistics industry in current time
Q How would you describe the current portfolio of logistics services of Safexpress?
 Safexpress offers solutions through its fully-integrated surface, air and multimodal infrastructure, and allied facilities. We cover all 707 districts through distribution network of over 620 destinations. A fleet of over 5,500 GPS-enabled vehicles operates round the year on more than 1,000 defined routes across India delivering around 80 million packages to over 5,000 corporates. 3PL solutions supported by a total warehousing space of over 13 million sqft across India range from designing, implementing to operating the complete supply chain of companies resulting in reduced cost, streamlining of delivery schedules and enabling organizations to focus on core competencies. SafeAir is the air cargo service which provides multimodal connectivity in association with air taxi operators like Jet Airways, IndiGo, Air India and SpiceJet.
 Q What are some of the challenges and expectations of customers in the supply chain & logistics space?
 Major challenges faced by customers include inadequate communication, slow supply chain velocity and low rate of technology adoption by the industry. Customers seek real-time information of movement and storage of their cargo. GST triggered the consolidation of warehouses, alongside streamlining various processes. It has also encouraged companies to invest in technology and align services to the widely changing logistics needs of customers.
 Q What are the specific needs of automobile logistics? Has there been any impact of RO-RO coastal shipping?
Automotive industry ranks high on supply chain maturity. It requires round the clock monitoring of parts stock, planned replenishment of the stocks and effective coordination with the OEMs. Supplier location, product volume, packaging, transportation costs, lead time, etc., are the factors which must be considered to effectively manage automotive logistics. Government's initiative to encourage RO-RO shipping is favorable and will lead to lesser congestion on roads.
However, roadways provide more extensive reach than waterways, making them first choice for the last mile delivery. Meanwhile, RO-RO shipping will take time to make a bigger business impact in India.
Q Share some details about your partnership with Tata Motors, and what is your plan for fleet expansion?
Safexpress has been providing an entire gamut of innovative services to major auto companies including Tata Motors. Being top players of their respective industries, both the firms have worked together to effectively streamline logistics process and finding optimized solutions for automotive logistics. A significant portion of our fleet consists of Tata vehicles. Safexpress plans to add 500 heavy duty trucks very soon. Going forward, our major focus while increasing the fleet size would be on the inclusion of hybrid and fully electric trucks owing to the firm's commitment to reduce carbon footprints.
 Q What are the company's existing and future investment plans?
The firm offers value-added logistics services for 8 verticals such as Apparel & Lifestyle, Healthcare, Hi-Tech, Publishing, Automotive, Engineering & Electrical Hardware, FMCG & Consumer Electronics and Institutional. We have invested close to `800 crores in setting up country's largest network of 32 logistics parks. We are investing heavily to reduce skill gap in the industry and is providing education and training through its skilling arm, Safeducate. An organized retail food sector is surfacing up, creating opportunities in domestic market for perishable goods logistics. Time-bound deliveries are imperative for this segment. Air freight is helping to lower the transit times. Due to boom in e-commerce, prominent players are already seeing a massive growth in traffic and orders. Time definitive deliveries have played important role in shaping e-commerce market. There is a new emerging trend of same day and next day delivery, which can only be fulfilled with the help of air express.