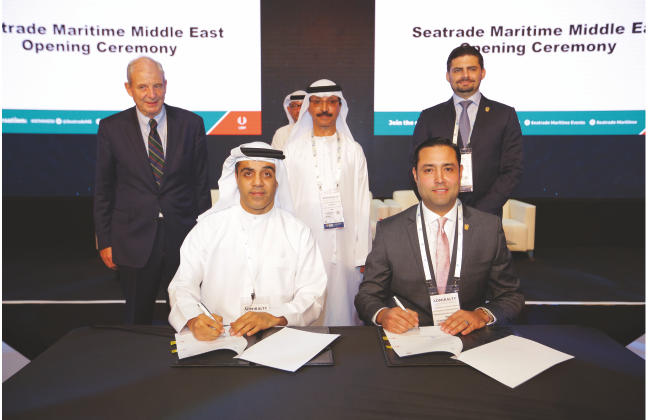 The three day event saw maritime professionals network, engage in business, strengthen existing ties and nurture new relationships
The 9th chapter of Seatrade Maritime Middle East in Dubai closed in October after successfully bringing together more than 7500 attendees from 86 countries.
The biennial event, which attracts ship owners and managers, port operators and cargo owners, C-Suite stakeholders, financiers, and other maritime professionals under one roof to network, engage in business, strengthen existing ties and to nurture new relationships, was an integral part of the UAE Maritime Week and was held under the patronage of His Highness Sheikh Hamdan bin Mohammed bin Rashid Al Maktoum, Crown Prince of Dubai, UAE.
The exhibition opened with an announcement of a bilateral agreement between The Dubai Maritime Cluster Office of the Dubai Maritime City Authority and the Maritime Cluster of the Panama Maritime Authority and led the way for a busy few days which included a high level conference programme, which included seminars, panel discussions, and roundtables.
The seminars on the first day focused on the optimisation of the digital ecosystem for the supply chain and hosted the much-awaited Seatrade Parliamentary Debate on the readiness of regional shipping industry in embracing smart shipping.
The Debate – Motion: 'This House believes that the shipping industry is not ready to embrace smart shipping' emerged as the most important highlight of the event, as it explored the potential of smart shipping in redefining the fundamentals of ship operation. Debating the question were two teams of leading industry figures, one led by Precious Shipping's Managing Director Khalid Hashim and the other by René Kofod-Olsen, CEO of Topaz Energy and Marine. With Jasamin Fichte, Managing Partner, Fichte & Co, as the Debate Chairman, the session examined the industry's readiness to embrace emerging technologies and the efficiencies they offer, while also taking into consideration the regulatory framework.
The other seminars included a session titled 'Original Intelligence: Maritime's Human Backbone,' which examined the importance of the human element in maritime safety, security and environmental protection. As the International Maritime Organization (IMO) continues to ramp up its sustainability efforts to regulate merchant shipping, a panel deliberated shipping's ability to continue to provide a dependable, low-cost means of transporting goods globally during the session titled 'Can Going Green Save the Green.'
A highlight of the last day of seminars was the 'Power of Gender Diversity,' endorsed by HRH Princess Sarah Al Saud, WISTA UAE's Ambassador. The session featured several highprofile speakers, who examined whether the shipping industry is still reluctant to give jobs to women, in what has largely been a male-dominated industry. It also discussed ways to empower women in the maritime sector.
Chris Hayman, Chairman of Seatrade, said: "Government authorities in the UAE are constantly renewing their efforts to improve the nation's maritime industry, with a focus on its future. These efforts are in line with the UAE's Maritime Vision 2030, which aims to further enhance the country's reputation as the region's foremost maritime hub. Increased footfall we are witnessing at SMME this year reflects the success of these efforts. The seminar sessions in particular, are garnering tremendous appreciation. Through engaging the participants in meaningful dialogues, we seek to collectively contribute to the sector's progress by addressing challenges within the shipping industry with an aim to develop more efficient and modern solutions to mitigate their impacts."