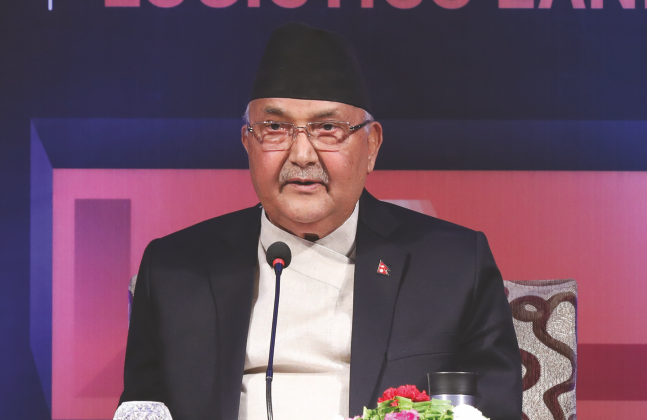 Mr Khadga Prasad Sharma Oli (KP Oli), the Hon'ble Prime Minister of Nepal, who graced the occasion as Chief Guest, invited the global community to invest in Nepal. He said, Nepal and India have tremendous trade, investment, tourism and people to people connections. We are good neighbours and we should be good neighbours. India is Nepal's largest trade partner, both in terms of import and exports. However, Nepal's trade deficit with India is very high. Nepalese exports are at 48.45 billion Nepali Rupee while the total bilateral trade stands at 862 billion Nepali Rupee. We are inviting investments from India and other countries as Nepal has liberal and attractive investment options with very limited negative list. Uncertainty and political instability has confined Nepal in the past, but, now it is replaced by certainty and clarity.
'Prosperous Nepal… Happy Nepali' is our national aspiration. Our goal is to emerge as middle income group country by 2030. Despite various challenges, we have been able to witness 7% economic growth in the country. Inflation is under control and macro-economic conditions remain sound. Abundant natural resources, demographic dividend provide opportunities for industrial progress. Seize the opportunity and invest in Nepal.
Connectivity remains a top most agenda in our bilateral cooperation framework. When I met Prime Minister Narendra Modi in April 2018 in New SEIZE THE OPPORTUNITY AND INVEST IN NEPAL PRIME MINISTER'S ADDRESS Delhi, we have inaugurated Motihari – Amlekhgunj petroleum pipeline which is going to be operational soon. Connecting Kathmandu with border city of Raxaul by railway line and developing inland waterways through rivers from Nepal to India. A shipping office has already been established in Nepal to study and implement the inland waterways possible in these two countries. It will be a game changer in our transport transit system. It will not only reduce the cost but also provides another channel of transport transit.
Route connects between India and Nepal today is much better than the years ago. Thanks to the massive infrastructure drive in India in the past few years, the routes in Uttar Pradesh where we are connected are being upgraded while the routes from our side also been widened. Hence, the travel time of trucks has been reduced. However, there are still a few bottlenecks in the routes which connect the border points of Nepal. Cargo trucks are in big queues for long periods making transportation hard. It will be ideal to have dedicated and un-interrupted freight corridor between Indian ports and Nepal. I am of the view that trilateral trade agreements involving India – Nepal and Bangladesh can change the logistics landscape of this region. We can utilize the inland waterways in this sub-region.
Our logistics sector is facing enormous challenges. Ensuring international standards, it requires lots of legal and infrastructural upgradations incurring financial costs as well. Adaptation of newer technologies like automation, digitisation is another factor. We can come out with a solution as to how effectively the logistics cost could be reduced to the best level possible. Upgrading of roads and railways, reforms in Customs administration and procedures are must in order to facilitate smooth and fast movement of cargo. Hassles at border points need to be totally eliminated. Bilateral treaties require timely changes to accommodate requirements of the sector. Delivery of cargo at doorstep in Nepal from Indian ports can phenomenally help the country to reduce cost. Use of modern technology, digitisation is equally important. It will help movement of traffic, cargo seamlessly with less cost and time saving manner. Smart certification, services to ensure qualitative and hygienic products delivery is essential.