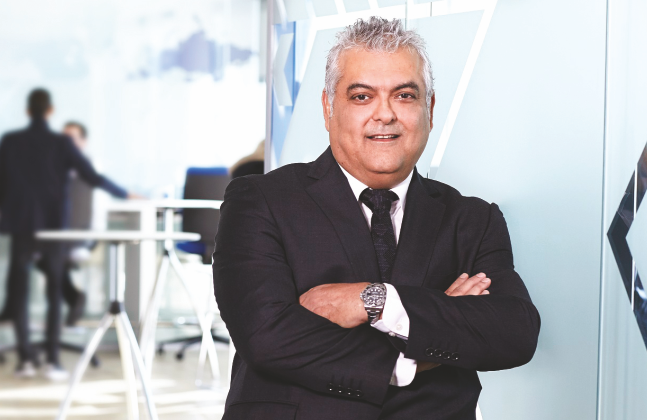 "We strongly believe in the India growth story and will continue to innovate our services around the evolving needs of Indian customers," assures Steve Felder, Maersk Managing Director for India, Sri Lanka, Bangladesh, Nepal, Bhutan and Maldives, as he touches upon India's strong containerised trade in the first half of 2018 and the impact of cabotage relaxation
Indian government has come up with a new Cabotage policy. What opportunities do you see here?
We welcome the relaxation of cabotage legislation in India. Currently, around 30 per cent of Indian container traffic is transhipped at ports outside India, and 78 per cent of cargo originating from or destined to the East Coast of India is transhipped at ports outside India. The relaxation of cabotage regulations will help to attract more containerized cargo by reducing time and cost for mainline vessels, thereby ensuring that Indian ports can compete equitably for transhipment cargo. This will also aid in freeing up rail and road related congestion.
How has been your service connectivity to the east coast of India? How is the cargo growth on this coast?
The port network on the east coast is more dynamic than on the west coast. The network on the west coast is fairly settled as the major ports are quite clear. On the east coast, there is a trend away from Chennai -which has become congested due to the city expanding around it – into Ennore, Kattupalli and Krishnapatnam. Similarly, there is another trend away from Kolkata towards Vizag. In addition, Paradip and Dhamra are also emerging and there is a transhipment port being developed at Vizhinjam to compete with Colombo. With the new cabotage relaxation law, we will see an increase in the import export trade in the eastern and southern region of the country. As the market grows, it will make sense to deploy more direct services to the east coast. It is all going to be market-led and it will take time.
You have come up with store door service across India? How has been the response?
Our customers have indicated to us that they prefer to deal with fewer actors in the supply chain, thereby simplifying their businesses. We are well equipped to extend our offering to include inland deliveries, which has been well received by our customers. As an example, we have recently launched an end-to-end service offering in Kakinada, which is strategically located close to Amaravati. This will add to our hinterland coverage for regions such as Rajahmundry, Bhimavaram, and Hyderabad. This will have a direct bearing on rice farmers and growers in the region that would benefit from the ease that it brings and makes customers compete successfully in key export markets like Europe, Mediterranean, Middle East and the United States.
Indian trade with North America has registered double-digit growth in 2017. What are the reasons for this growth?
India's robust trade performance in 2017 reflects the equity the country enjoys with its trade partners globally. As the local market stabilizes further, we expect to see more of such wins in near future, and are looking forward to participating in – and indeed enabling – the India growth story. Also, as per our Trade Report Q1 2018, India's overall reefer cargo trade growth witnessed a strong increase by exports of pharmaceuticals to North America.
Maersk has been very proactive in reaching out to Nepal? What are your plans for the Nepal market?
We have opened our new commercial office in Nepal to facilitate the ease of doing business there. The establishment of a fullfledged office serves as a great opportunity to cater better to our customers by improving supply chain efficiency and expanding our footprint in the market. We have also introduced the Kathmandu Express – a block train to Birgunj (Nepal), which has departures every other day. The Nepal economy has tremendous potential and we will continue to invest in this market.
What are the plans for investments in the land-side infrastructure?
India is blessed with impressive demographics both in terms of the large young population and the upcoming workforce. The focus that the current administration has on infrastructure is very important. We are as a company, a very significant global player in container shipping, in logistics and ports. We recently inaugurated our first state-of-the-art cold storage warehouse in Chennai, which will ensure reliable and stable transport of cargo, including goods such as fish, fruits, medicines, and specialty chemicals, which require strict temperature control throughout the supply chain. Apart from that, we own stakes in 76 ports around the world which includes two in India. We believe infrastructure is key to economic growth and we will do what we can to develop infrastructure in India by investing in ports, in inland ports, and inland container depots (ICD) to facilitate the development of logistics infrastructure
A lot of reefer services have been introduced by Maersk, connecting India to Middle East, Russia and even Africa. How is the market response?
In India alone, the demand for refrigerated products has been growing at 18 per cent in the past years, and a similar trend is expected in the time to come. The cold chain industry in India is expected to double over the next 5 years. Maersk is well ahead in understanding and offering specialized cold chain services and thus catering for the growing market demand. The last few quarters have been quite interesting. We have had the first ever export of Kinnows from Sonepat, Haryana to Novorossiysk in Russia; the first-ever shipment of bananas and pomegranates from Krishnapatnam in Andhra Pradesh to Dammam and Jeddah in Saudi Arabia; and debut shipments of papayas from Mangalore in Karnataka to Jebel Ali, UAE. Our Remote Container Management (RCM) for reefers has taken off well in India, with almost 100 customers signing up. It provides real time visibility of the temperature, ventilation and air flow. One can say that the last few months have seen quite a few milestones for us in serving customers in India.
Recently we have been witnessing tariff wars among big countries like USA and China. Does this affect trade in this region in anyway?
Enabling and promoting trade is an integral part of our business and it contributes to prosperity and development, globally and locally. While the scope of the proposed tariffs will possibly impact a few percent of US imports, there is no doubt that the introduction of further as well as countervailing measures will harm global trade and increase production costs in impacted countries. Hence, we caution any such development.
How have been the freight rates in first-half of this year? What are your expectations for the remaining part of the year?
If you look at the developments that have taken place in the last 6-8 months, the fundamentals are much healthier than they have been in a long time for the industry. The wave of consolidation is enabling lines to reduce their unit costs, expand port coverage and harness synergies with the available capacity. Secondly, demand has been much stronger than in the previous years. The global economy is looking up, with the growth being widespread and not just in pockets.
Global container demand is said to have slowed down in Q1 2018 as compared to the strong growth rates recorded in 2017. How do you analyse this drop-in demand?
India's containerized trade with the world has enjoyed a spirited uptick in the first quarter of 2018, as it beat the country's past performance in export-import growth over eight quarters. Imports witnessed a material increase of 16 per cent, with exports also growing at a healthy pace of 7 per cent. Together, they led India's trade to a strong start this 2018. These numbers become more relevant when viewed through a global lens. They are significantly higher than estimated global containerized demand growth of 3-4 per cent. The first quarter has been a fairly constructive period for export growth as well. As the effect of policy shifts faded and the inflow of GST refunds began, it created surplus capital in the hands of local manufacturers. The market was further buoyed by a weaker rupee, which in turn increased India's exports to the world.
The Maersk interim report mentions that "focus will over the coming years be on growing the non-Ocean part of the business disproportionally to the Ocean business." Could you please explain this strategy?
It is our goal that we as a focused transport and logistics company can grow. At the same time, we want to be a diverse company. We will achieve that by increasing and growing the part of the transport and logistics business which are independent of freight rate developments. Therefore, at the same time as growing earnings in the revenue segment, we need to grow earnings in logistics and services disproportionally more. We have already launched many good initiatives, which we can be proud of, for example Trade Finance and Twill (our digital forwarding company).
Maersk has announced to implement several short-term initiatives to improve profitability. Your comments?
In general, there are two trends. One is to continue to digitise the customer experience. That means a customer can get a relevant quote online, book online, submit shipping instructions online, print Bill of Lading in his office, get delivery order online, download invoices, make payments. So today there is the possibility to interact digitally throughout the process. We will continue to evolve that. The second part is global trade digitisation. This is more at a macro level. We have started a division called global trade digitisation where we are looking to partner with supply chain actors, including authorities, on how to digitise supply chain interactions. Today we still have paper documents floating around, the need for stamps, etc. The aim is to digitise as much of that as possible. It is a broader plan because it involves working with not just customers but also with the authorities. Here a thing like blockchain becomes relevant in terms of security and an orderly trail.