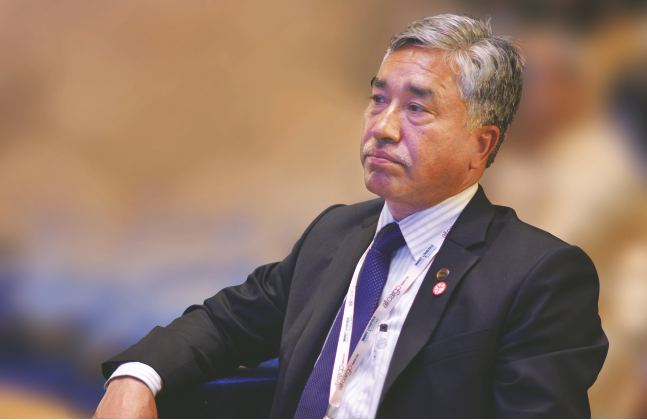 Implementation of ECTS and access to Vizag Port in addition to Kolkata Port has brought a lot of relief to Nepal trade, expediting cargo movement. Now the trade community is looking forward to improvement in road infrastructure, better rail connectivity, addition of more ICDs, ICPs, warehouses and streamlining of Customs procedures, shares Prakash Singh Karki, President, Nepal Freight Forwarders Association
Q As the head of NEFFA what is the agenda before you?
First of all, I have to protect the interest of our members, keeping them informed of the changes if any on taxation, procedure, legal compliance, capacity building and to put forward our members demand with concerned authority and department to ease doing business. Besides these, other agenda are to suggest and provide feedback on trade facilitation, connectivity, transit treaty, rail service agreement and waterways etc. including formulation of legal provision relating to logistics sector to create conducive environment. The foremost agenda is to have developed logistics infrastructure in the country and ensure our participation.
Q Following the introduction of transhipment for Nepal cargo at Kolkata and Vizag Ports and the introduction of ECTS, how is the Nepal trade benefitting in terms of time and cost of logistics?
Long ago NEFFA had suggested for transhipment modality for Nepal bound cargo. After the introduction of ECTS on rail bound cargo to Nepal which works on a type of transhipment modality, it has been made easy especially in submitting all commercial documents with Kolkata Customs. Now the shipment by rail can be moved directly to ICD Birgunj by shipping line without submitting original commercial documents. However, it has not resulted in cost benefit. Rather the cost has increased to a great extent.
Q Off late, there have been certain issues relating to pendency in movement of Nepal cargo, availability of rakes, congestion at land ports and documentation issues. How far have these been resolved?
Recently, there is no pendency at Kolkata Port. However this needs to be seen in peak season about the effectiveness of measures taken whether the issue has been resolved permanently. There are few other factors for not having pendency currently and availability of rakes i.e. with the introduction of ECTS, the rail bound cargo from Kolkata Port has been moved to Vizag Port and by road too. Since there are only few liners who provide direct service from Kolkata Port to ICD Birgunj. There is news that there is congestion at Vizag Port and in near future congestion may be shifted to ICD Birgunj with the transhipment modality. We need to enhance the capacity of ICD Birgunj and to develop infrastructure to cope with the upcoming challenges.
Q When GST was introduced in India, even the Nepal trade was impacted. Have those issues relating to GST been sorted out?
Nepal trade was impacted since the regime of Service Tax. We were making our representation to waive the Service Tax. When the GST was introduced, it has more impacted the Nepal logistics trade. There were series of meeting between GOI and GON with private participation. NEFFA too had participated in these meetings. Finally, GOI has agreed to waive the GST on transit cargo but still liners are charging GST on export cargo which also needs to be addressed.
Q How is the infrastructure at the land ports on Indo-Nepal border? What improvements are required?
Currently, the infrastructure at Indo Nepal border in major points is satisfactory. However there is need for further improvements basically the railway connectivity of all major points and earliest completion of proposed ICPs. At the same time, the capacity of ICD Birgunj needs to be increased. The road infrastructure at border on both sides needs to be improved and the development of private warehouses and CFS at border is also much needed. More ICDs are required and Government of Nepal has plans of having at least one ICD in all seven states. Construction of ICD in Kathmandu is in progress.
Q What challenges the freight forwarding community in Nepal faces while moving cargo from Indian seaports/land ports to Nepal?
The freight forwarding companies face a lot of challenges while moving cargo from seaports to land ports in Nepal. As per the treaty the custodian right is given to CHA's whereas we are the main player to provide end to end logistics service. There are almost 18 signatures required to pass a CTD (Custom Transit Declaration) and to provide all original documents though the duties are paid in Nepal. Now, with the introduction of ECTS on rail bound cargo CONCOR and shipping lines can only file transhipment bond which means we do not have any role in this part of movement whereas we should also be given the authority to file transhipment bond which would help to reduce cost and monopoly of few liners. The change in Customs officer at border (which takes time to understand the procedure) and different laws of Indian states also sometime is a challenge for seamless movement. The high rate of detention and demurrage charges, syndicate of truck operators, only one rail operator are few of the challenges faced by freight forwarders.
"The road infrastructure on both sides needs to be improved and there is need for earliest completion of proposed ICPs. Development of private warehouses and CFS at border is also much needed. Government of Nepal has plans of having at least one ICD in all seven states."
Q How the shipping lines are responding to the logistics needs of Nepal trade?
Nepal is having almost 30 per cent share in total volume of Kolkata Port which means Nepal market is a good business for shipping lines. Earlier, we had movement through Kolkata Port alone but with the opening of Vizag Port as another gateway port, the response has enormously increased and now shipping lines from Kolkata have concentrated more on Nepal market but absence of shipping lines own office or agency in Nepal is a major hurdle.
Q What is the mind-set of traders in Nepal for using inland waterways?
We are eagerly waiting to use inland waterways. To use the Indian inland waterways, this provision needs to be made a part of transit treaty. At the same time development of waterways, terminals and harbour in Nepal is a must.
Q How can the government help freight forwarding community to improve Nepal trade and logistics?
The government can help to improve Nepal trade and logistics by ensuring more participation of domestic freight forwarders in ICDs and ICPs terminal management, ensuring routing of cargo through us, providing soft loan to establish warehouses and CFS, duty exemption on vehicle to ply on international transit route to compete with Indian transporter, since duties on vehicle are too high in Nepal. Enactment of Logistics Act, Goods Carrier Act, Cargo legal Liability Insurance, review of MTO Acts, Private CFS & Warehousing Act are also required to improve Nepal trade and logistics.