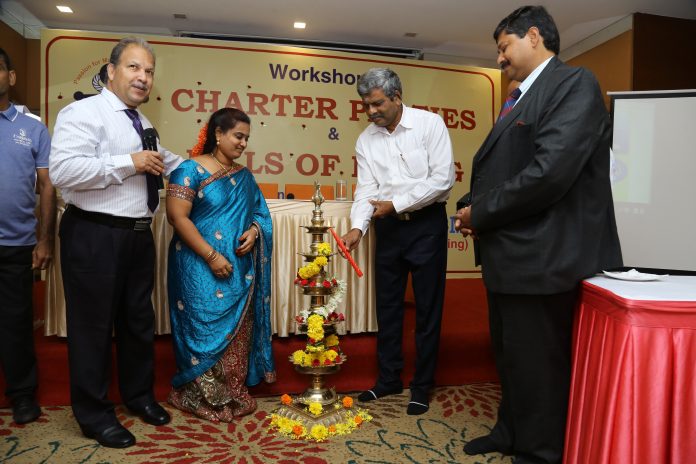 East Coast Maritime Academy, the shipping services vocational training  Institution has conducted one day Workshop on Charter Parties and Bills of Lading, at the Port city of Visakhapatnam on 8th July, 2017.
T.Balasubramanian, faculty from Chennai has elucidated various procedures of the Charter party perspectives, and the types of Bills of Lading, to the participants representing different organizations. Inaugurating the day long workshop, Sri G.Sambasiva Rao, Chairman, Sravan Shipping services, and President, AP Chamber of Commerce, stressed the importance of such training and awareness camps frequently at Visakhapatnam. And hoped that the good spade work being put in by the East Coast Maritime Academy will raise the seminar/workshop standards to those conducted at Mumbai and Chennai International  maritime environment.
Participants in their interaction have raised many questions suggested different methods of imparting training in such critical subjects and expressed that one day is not sufficient to cover the subject matter completely. Adding case studies has been suggested. The interesting deliberations comprising feedback from the participants gave the Academy also, insights to as to how to conduct the future programmes.
In the Valedictory session, Sri Harnath, Dy.Chairman, VPT, as the Chief Guest, outlined the present scenario of public and private ports. Time and utilization of vessel being of maximum importance, the logistics and supply chain, has to be augmented with the customer benefit in focus, and such efficiency, to know the subject very thoroughly helps us every one involved and  connected the service execution, whether  it is a port as a mother  platform, or many important agencies which work with the common goal of effective execution of services with increased efficiency. He lauded the Academy for the good educational support backdrop being created by them, and assured support from the Port in furthering the cause, before giving away the certificates to the participants.  Sri J.Srinivasa Rao, Director, Ms. V.Gayatri, Director & Smt. Jaggadhatri, Dean on behalf of the ECMA, has expressed their gratitude, and proposed vote of thanks with a promise to hold similar programmes in the near future also.