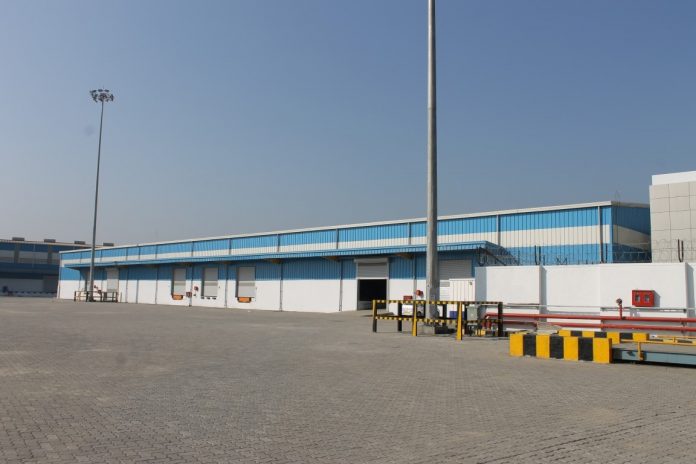 A brand new Cargo Terminal at Nava Sheva and a first green cargo facility in India
In what can be termed as a turning point in the history of Indian logistics industry, Globicon Terminals, the first Green Cargo Terminal with a CFS has commenced its operations at Nava Sheva.
Nava Sheva is a premium port in India and handles close to 55% container volume of India. Port of Nava Sheva is all set to catapult into the future with major boost in infrastructure through 12 lane road connectivity to major highways, Dedicated Freight Corridor by Rail and the 4th Container Terminal. Combine this with a DPD initiative of Nava Sheva Customs drastically brings down the cost and time required to handle the containers thus making a it a winning combination to be the Port of the Future.
The futuristic port requires futuristic cargo handling facility to complete that perfect Logistics solution which the Customers are looking for.
Identifying the growing need of an environment friendly cargo handling facility, Teamglobal has conceptualized, built and commissioned the first Green cargo terminal in India with an inbuilt CFS.
The facility has many firsts to its account:
1. First Green Cargo terminal in the country under IGBC norms
2. First terminal to have it captive solar plant to from  Day One
3. First Terminal to have a dedicated Haz Warehouse with heat reflecting  exteriors
4. First terminal to have a 100% natural light and ventilation as per Green norms
5. First terminal to have Green admin building with heat Protection facade, 100% water recycling, sewage treatment plant, induction technology in the kitchen and more
6. First terminal to apply for Total Quality Management Systems of ISO 9000-2015, ISO 18000 and ISO 27000 which together cover its operations, Data security and health and occupational Safety Standards
7. First terminal to work towards paperless work environment with advanced IT systems
The Cargo terminal has a well-designed layout with marked vehicle movement, Signage's, green areas, parking zones, security systems.
The facility will be offering international standard value added services of Cargo and Container handling, Open and closed Bonded storage, transit warehousing, reefer plugs, Haz cargo storage, packing, labeling, GOH, palletization, bagging and many more,
Salient Features of Globicon Terminal
1. Total area of 32 acers with 1st phase of 18 acres.
2. Import Cargo handling warehouse of 4500 Sqm. with an height of 11 mtrs. with proposed high stack racking system and bonded zone.
3. Export warehouse of 4500 sqm. with FM-2 grade flooring
4. An exclusive RCC Haz cargo warehouse of 700 Sq mtrs compliant with Customs norms.
5. Container yard of 52,000 sqm. with 470 TEUs ground slots and  27 reefer plug points which can be doubled to 54 nos.
6. Automatic dock-levellers at warehouse gates for ease of operations
7. 24 x 7 CCTV monitoring facility, RCC pre-stressed compound wall and concertina fencing.
8. A State of the Art Fire fighting system with sprinklers in warehouses, fire alarm and hydrant system with a back up of diesel pump and DG sets.
9. Warehouse and Buildiings with LED light system and 100% DG Power Back up and a green transformer.
10. Modern electronic weigh bridge of 100 MT
11. Floating Gate Complex designed for the driver to transact without alighting from the vehicle for better turn around time
12. Hygienic canteen facility with most modern kitchen and dining area.
As a Green initiative, the facility has been built using most eco-friendly material which is either recycled or recyclable. The facility has been planned with a very good landscaping with the native plants. The treated water from the STP will be recycled for the toilet flushing as well as for the green belt.
Teamglobal has partnered with leading warehousing and real estate Cheddas Group to set up this facility.
Speaking on the occasion Mr Nityam Khosla, director Teamglobal Logistics said that we are all set to create a history in the Indian logistics space with a launch of this facility. Mr. Vivek Kele a board member spoke about how this facility will give an opportunity to its Customers to contribute towards conserving our environment.
Mr Rubin Chedda of Chedda group mentioned that he was extremely excited to launch this worldclass facility in the vicinity of the pioneering and the largest container port of Nava Sheva in India.
This terminal will be operated by a subsidiary of Teamglobal Logistics ICTPL (International Cargo Terminals PVT LTD.) and the day to day operations will be overseen by the CEO Mr. Jacob Thomas who has more than 30 years of experience in this industry.