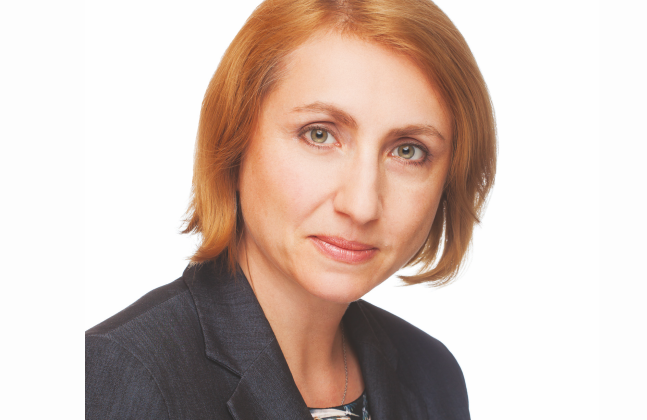 INTTRA, a name associated with technology platforms widely used in the maritime industry, is making rapid inroads in the Asian market with its just-in-time solutions. Inna Kuznetsova, President and Chief Operating Officer of INTTRA, in a one-to-one with Ramprasad, Editor-in- Chief, Maritime Gateway, details how technology has today become the life blood of businesses, enabling them to be lean and better serve their customers.
Q What are the apprehensions of stakeholders today in adopting technology?
 The concerns are very real. Logistics companies operate on very thin margins, which means making the right decisions about allocating resources available for digitization is very important. Compare that to the financial services industry where margins are higher and there is greater capital available for pilot projects. In the shipping industry customers do not have the luxury of running many proof of concepts or trials and have to be selective in allocating resources. The industry looks at targeted solutions, one that offers quick analysis of specific problems with the ability to solve them cost effectively. Our approach is to package products taking into account the ability to quickly deliver a return on investment for customers.
In the past three years, the need for technology-driven innovation in the shipping industry has increased. Flat demand and the growing use of megaships led to overcapacity on the carrier side. It brought the volatility of prices and huge pressure on financials resulting in mergers and new alliances. When an industry is under pressure business models need to be re-evaluated. Replacing traditional methods with newer ones based on technology, innovative and cost efficient, while improving revenue traction and upgrading customer service–are key parameters to consider. In a time of lower prices, differentiation shifts to better customer service, which drives the need for innovation and better technology. Technology is now being adopted as a necessity. With tight profit margins, shipping companies make pragmatic decisions when allocating their investments. Decision makers have to choose from a number of options, such as buying a new truck, moving to a new office, hiring more people or investing in resources or tools that increase business and revenue while substantially cutting cost. This is where technology steps in to play an integral role.
Q Technology brings transparency in operations, but the stakeholders may not be interested in disclosing certain crucial business data. How do you deal with such scenario?
 Use of technology and controlling the disclosure of business information are two different things. Technology can be used to automate operations, reduce business cost, data analytics and improve applications. Technology can improve the selection of suppliers and track containers. Transparency, on the other hand, is just one area discussed by the industry. To me it is a business decision unrelated to technology. I do understand why the carriers and shippers are very careful about it because traditionally this is the element that represents the business.
Q INTTRA has been growing fast in the Asian region. What is driving this growth?
 There is a combination of reasons: INTTRA helps customers to shift from manual booking and shipping instructions to electronic submissions as the industry accelerates the adoption of technology and moves towards digitisation. Customers are able to reduce costs by up to 40 per cent when they migrate from manual to digital. INTTRA constantly enhances its products to improve user experience, functionality and regional compliance.
Q We have recently seen cybersecurity issues hitting the shipping industry as well. How does INTTRA ensure these operations are secure?
The philosophy of cyber security has changed significantly over the last few years. In the past firewalls were sufficient to safeguard business operations, but today cyber security is a very complex issue that involves a systematic and holistic approach. It starts with training the staff. Approximately 60 per cent of attacks are carried out by insiders, mainly inadvertent actors. For instance, one of our account executives received a phishing email from what appeared to be my email account asking for payslips. We prevented a cyber security problem because at INTTRA we preach a culture of security, and train our staff to deal with such scenarios. The second important step is to constantly improve security perimeters by repeated break-in testing. One cannot assume that you will not be hit. Companies today are divided into two groups: companies that have had a security breach and companies that will. The only way to remain safe is to ensure very high level of monitoring and strict access rights to the system. So even if someone successfully breaks into the system the damage is curbed. This is where we implement a very systematic approach looking at every single application and element. Finally, another important step is to keep software constantly updated, because many cyber attacks target security gaps in out dated and unsupported versions of products.
Q How do you see INTTRA as a company today? From being an electronic platform, releasing new applications on Cloud, to bringing together partners, associations and stakeholders. Do you see change of role as an enabler?
INTTRA's mission is to drive innovation in shipping through IT solutions and better use of data. For example, INTTRA Decision Support Dashboards enable shippers to optimize planning by leveraging key performance data and shipping behaviors in multiple scenarios. Our recently launched INTTRA C-FAST provides an automated, intuitive method for freight forwarders to guide shipments through an efficient and contract-aware allocation process. INTTRA C-FAST reduces manual effort nearly 40 per cent by matching customer forecast and carrier capacity using predictive, controlled workflow. Our new Ocean Schedules Solution, is equipped with enhanced data, a new web interface and the latest API technology for advanced integration with our customers' systems. Our enhanced data offers the best-in-class user experience for advanced ocean shipment planning with transhipment and search for cut-off dates.
Q How do you see 2018? Which direction is the industry moving?
The year 2018 will see growth of our networks, further acceleration in IT adoption, powered by the launch of new products and solutions. I am excited about the new directions digitisation will take, such as greater adoption of blockchain, better conversion of data across operational and financial streams, optimisation of shipping processes, as well as others. We hope to see better coordination between land and ocean carriers.
 Q Which are the new regions you are targeting for expansion?
INTTRA has representatives in all regions. Our clients ship goods to and from over 100 countries. In 2017 we added people on the ground in countries such as Vietnam, Indonesia and Dubai. The focus is on bringing new products to market to help clients achieve operational efficiency. There is a growing convergence between land and ocean container movements as customers want to optimize costs along the entire supply chain; technology offers this opportunity. As a part of this strategy, in March 2017 we acquired Avantida, a company that offers innovative products related to the reuse of empty containers. For example, it allows drivers to search for a container nearby to avoid a trip to port and secure carrier's permission to pick up. This reduces the delivery time, with very positive sustainability benefits by reducing CO2 emissions and road congestion. Since the acquisition, we successfully expanded the service to two more countries in Europe. In 2018, we expect Avantida's solutions will be available in more countries.