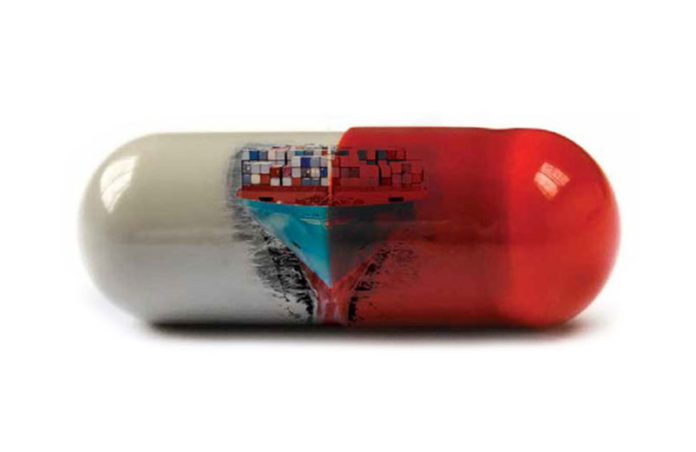 Pharma cargo is both temperature-and time-sensitive, therefore shipping companies handling pharmaceutical products need to understand the business before they move the cargo. The transporter should be aware of the best possible route factoring all logistics costs to be able to handle a shipment end to end
The size of the life-saving, pill making pharmaceutical industry in India is said to quadruple by 2020 from the current $55 billion, opening up many opportunities for logistics players in this industry. A Mc Kinsey report that put forth the size of this market says five new opportunities will capture 45 per cent of the country's drug market in the next four years. They are patented products, consumer healthcare, biologics, vaccines and public health. And to handle the requirements of these varied segments, pharma logistics companies should tighten their belts.
This is because supply chain and logistics in the pharma industry is very critical for providing the right medicine to the right patient in the right time at the right price and most importantly in the right dosage. The logistics needs of this sector are demanding and require greater attention to detail because cargo is both temperature-and time-sensitive. A small slip in temperature even by a few degrees in a shipment can lead to a loss in thousands of dollars, pharma companies say. Currently 32 per cent of total pharmaceutical exports need ambient temperature storage (15-25 degrees) and 10 per cent need cold storage (2-8 degrees). To prevent these losses, shippers and their service providers have developed some sophisticated techniques for maintaining the cold chain. To maintain consistent shipment temperature in transit, companies use equipment such as refrigerated trailers, insulated packaging, thermal blankets, and dry ice.
"Shipping companies that are handling pharmaceutical products therefore need to understand our business before they move our cargo. The transporter should be aware of the best route possible factoring all logistics costs to be able to handle a shipment end to end," says CV Narayan Rao, Executive Vice President- Supply Chain Management for Natco Pharma. Depending on the urgency of requirement, a single mode or multi-modal requirement is necessary to transport medicines within the stipulated period. Natco's exports each year amount to Rs.600 crore and about the same value of drugs are consumed domestically.
Pharmaceutical products manufactured in India are exported to the United States, Europe, Latin America, Russia and a few South Asian countries. Drugs, intermediates and active pharmaceutical ingredients, unlike other cargo, are low volume and high value. Most shipments are carried out through air and sea in case of export and by road if drugs have to reach different destinations in India. Imports of raw materials coming from China arrive at the Chennai Port and are shipped off to far off destinations in the West from the Jawaharlal Nehru Port Trust's Nhava Sheva once they become finished goods. For air transport, Mumbai and Hyderabad airports are used where temperature controlled warehouses are used to preserve the product.
The Indian pharma logistics segment is dotted with a large number of unorganised players. Five years earlier, the Indian pharma industry preferred to outsource logistics activities entirely to third parties. But today, supply chain heads prefer managing them in-house outsourcing only complex functions and transport to logistics players. A double dose of technology and a wider net of players to choose from have helped the industry in picking companies that understand international shipping and domestic handling.
In comparison with other industries such as retail, fast moving consumer goods and electronics, medicine makers have specific requirements that need careful study by the logistics operator. The pharma logistics segment requires retaining the temperature at transshipment hubs, real time track and trace, qualified persons to handle pharma cargo, special packaging solutions that are cost effective, immediate custom clearance, and compliance to regulatory requirements at the origin and destination. Maintaining just the right temperature is a challenge for anyone who ships or stores pharmaceuticals, but it's an even larger obstacle for companies shipping from the warmer climates where many drugs are made today.
A logistics manager from Natco Pharma who handles domestic shipments of medicines said the temperature difference is most noticeable in long distance shipments because air gets arrested in the vehicle. On certain routes when temperature-sensitive drugs are moved from South India to North India by road, the trucks were fitted with ventilators and windows to make sure air is not trapped. This helped the temperature drop by six to seven degrees to maintain their quality.
When cargo needs to be dispatched quickly, surface transport is used where drugs loaded from the central warehouse of the pharma companies are re-distributed to different state hubs where the clearing and forwarding take delivery and dispatch it to multiple distributors and pharmacists. However, poor road connectivity to remote locations in India makes aggregation of cargo a difficult task besides the want list of permits from each state at the check posts delaying cargo delivery substantially. Rail, the next alternative for domestic transport, is a strict no-no for pharma companies as the incidence of pilferage is very high and cargo seldom reaches on time despite several follow ups. "The cost difference between moving cargo between railways and roadways is about 25 per cent, yet we cannot move cargo by rail because many cartons of drugs get stolen for resale by moonlighters," the official from Natco says.
This makes road movement the safest and quickest option for inbound logistics. For some companies, the raw materials that come from different countries are received through JNPT as there are no direct calls to Visakhapatnam or Krishnapatnam Port, officials from Dr.Reddy's Laboratories say. Reefer containers are used while transporting medicines by road from Mumbai to Hyderabad as temperature needs to be maintained at the particular levels. "GPS enabled data loggers are built in that help us monitor the performance and movement of the container. Thermal blankets, white breathable covers and pre-cold reefer trucks are used to bring the APIs to the factory," Dr.Ravi Prakash Mathur, Senior Director, Supply Chain at Dr Reddy's Laboratories said. Its exports also go through JNPT in about 400 containers every year. The company is looking at a way of receiving all shipments at the inland container depot at Hyderabad instead of Mumbai as all cargo can be cleared by customs authorities locally as well.
But the most preferred mode is airways for outbound logistics, the company's supply chain head says. Systematic procedures and dedicated warehouses make air transport the most preferred mode. All drugs are sent from the factory to the airport where they are loaded on to the tarmac and then in to the aircraft and change hands only once at the transshipment airport before they are transported to the final destination. Dr Mathur, however, sees the need for a standard operating procedure for all stakeholders in the supply chain to make sure clearance and movement of goods happens smoothly. The company sends about 7,000 tonnes of cargo by air each year and has simplified its entire logistics process to have an oversight on the entire movement. The turnaround time for each activity to be completed is fixed and all service providers are also presented with standard operating procedures. "A streamlined supply chain means a significant cut in our scope 3 emissions and a sizable saving in transportation cost for our suppliers and vendors," Dr.Mathur said. We also help spread safety management practices among contractors and confirm that they are adhering to them. Dr.Reddy's has constantly re-invented many processes to make logistics more efficient and cost effective. Some of their initiatives are:
a) Usage of slip sheets: The first innovation is the usage of slip sheets instead of wooden pallets for US and other markets. Slip sheets are thin pallet-sized sheets made of plastic, heavy laminated kraft paperboard, or corrugated fibre board used in commercial shipping. Often, these replace the use of traditional wooden pallets. The unit load is usually stretch wrapped or shrink wrapped for stability. A slip sheet weighs just one-thirtieth of a wooden pallet and this leads to a significant reduction in material handling costs, especially on air shipments. This usage was introduced about two years ago and the firm currently ships 80 per cent of its cargo to the US using slip sheets. This has led to a ten per cent reduction in overall freight.
b) Dr.Reddy's Laboratories has integrated the logistics process with supply chain management and used technology to synergise the two processes. An Advance Planner and Optimser, or APO has been employed to help in plan production based on shipping. A truck load builder is one of the features and it enables to optimise load on a truck. It matches space available and load required besides recommending the size of truck required depending on the shipment load.
c) Sea movement of cargo: Moving products by sea rather than air reduces emissions and fuel usage per product shipped. Hence, the company continued to schedule its manufacturing and dispatch in order to shift more cargo from air to ocean freight. Over 50 to 60 per cent of its products are shipped by sea that helps them save on freight cost, lead time and plan inventory requirement well ahead.
"The crux of success in this business lies in follow-up and constant vigil. Managing supply chain process innovation through capacity is as important as production planning," a senior official MG spoke to said, emphasizing on the importance of a well designed and executed supply chain and logistics process.
"Pharma is a pious business. Its severity should be understood by those that are working in and for the industry. More than the value of goods, it is the value of life that is invaluable. A product that lives past its expiry date can always be recalled, but a person who expires after a drug is administered cannot be," the Natco Pharma official says underscoring the importance of efficiency and efficacy in this business.