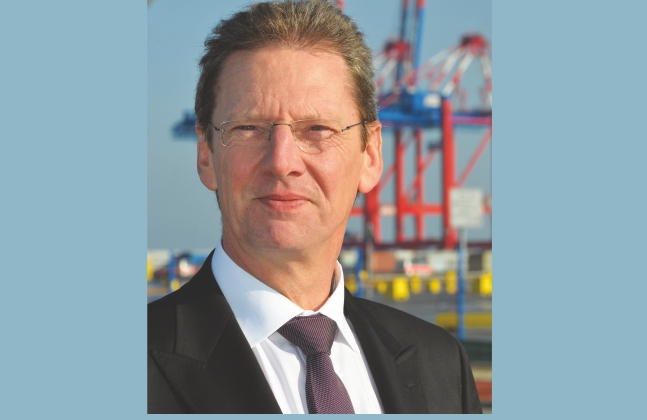 Having the best hinterland connectivity and infrastructure in Germany, Wilhelmshaven Port is now looking forward to increase mainline calls and connect to more destinations across the globe
Q What is unique about Wilhelmshaven Port?
The port of Wilhelmshaven is designed for ultra large container vessels that are longer than 360 meters with a draft of 16.5 meters. We are the only port in Germany able to handle these vessels. This is no competition for Hamburg or Bremerhaven, because we have geographical advantage that these big vessels can enter our port without any problems. This is one of our USPs. OOCL is calling to our port since mid-last year regularly so far with one service and the biggest container ships of the world – "OOCL Hong Kong."
We are a Greenfield port directly connecting to a 160 hectares of freight village which is also very close to the terminal and this is very different compared to our competition ports in Antwerp and Rotterdam, where cargo has to move quite a long way to reach the terminal area.
 The fairway is 800 meters wide, it's just 23 nautical miles – the approach from open sea to the berth is one and half hour sailing time only and this is also one of our USPs. We are extremely well connected to the hinterland, we have marshalling yards that can accommodate 6 full length cargo trains at any given time. These trains can simultaneously connect to the terminal, which means there is no stopping or waiting time for trains. We have superb road connectivity with the highway ending 900 meters in front of the port. These features make us the best connected port to the hinterland in Germany.
 Q Tell us about the terminal infrastructure?
 We have 30 hectares of terminal area, 1,725 meters pier length, currently operating eight gantry cranes. We are of the opinion that the terminal operator Eurogate has to increase the number of gantry cranes as more shipping lines are asking for it. Eurogate has a very fast operational system for swift handling of containers. They operate five lanes in the backyard and five lanes directly under the gantry crane. So our move counts are very high compared to other ports.
 Q What is the current draft at the terminals?
 We have minimum 18 meters draft which is unique at the German coast at low tide and at high tide we have 21 meters. Wilhelmshaven has been handling dry bulk, liquid bulk, coal, oil and chemicals. Container business is relatively new. Excluding the container business Wilhelmshaven is the third biggest port in Germany. The port has posted 12 per cent Y-O-Y growth.
Q What is driving this growth and what is the container cargo handled at the port?
 The total capacity of this port is 2.7- 3 million teus and last year we made about 550,000 teus. Last year the number of rail connections has dramatically increased and we gained 25 new regular rail connections into the German, Australian and Switzerland hinterland. Our main customers come from agriculture, chemicals and automotive industry. At Rotterdam they have some advantages like the connection to River Rhine into the hinterland, which is difficult for the German ports in total.
Q Tell us about your India connection?
Maersk visits our port regularly and we are trying to increase the number of bookings. The ME1 service of Safmarine calls on weekly basis to our port. Effective January 2018, we also have our representative in India to better understand the Indian market, making contacts.
 Q What kind of cargo moves between India and Wilhelmshaven?
 Main exports coming from India are automotives, automobile accessories and imports include chemical products. We are in talks with Volkswagen to develop a warehousing and consolidation centre in our port and this way they can save a lot of money in FOB cost. The idea is to have the warehouse close to the terminal that will save a lot of cost for them and the cargo will move to China, their biggest market. The second step would be to move Indian cargo via this warehouse. This will improve our volume to India tremendously. The third step will be to increase our volumes from Mexico.
Q What are your plans for the open space at the port?
A customer is planning a container storage area as shipping lines have been asking for it. We are also planning storage space for chemicals, dangerous goods and break bulk for packing and trucking. We have also planned a container repair service.
A train connection between Western Germany and Wilhelmshaven is planned to move chemicals. An investor will develop warehouse that will be used by small companies. Small slots of 500 sq. mts will be available for them. A parking area for more than 300 trucks is developed. We are about to double the area for handling reefer cargo. About 30 per cent of the space available at the port has already been booked, another 30 per cent is under negotiation and the rest is on offer.
 Q Since you don't have much of manufacturing hinterland, how do you intend to grow?
 We intend to grow by making our land more attractive for companies to settle down in our freight village by setting up production units, warehouses and distribution centres.
 Q Have you been able to divert cargo traffic from Hamburg or any other German Port?
We are not doing it actively, but it happens because we offer better services. Further if the cargo origin or destination is closer to Wilhelmshaven Port than any other German port, then it's a natural reflex that customers change their port of choice.
 Sometimes our fellow ports in Hamburg or Bremerhaven have problems such as congestion or infrastructure issues. This causes the ships to divert to our port and here they experience their business happening quick and at a cheaper cost.
Q Antwerp and Rotterdam boast of excellent connectivity to hinterland in Germany. Are you getting any cargo from them?
We have solicited some accounts from Antwerp and Rotterdam. Both these ports have excellent hinterland connections and when it comes to barge transport via river Rhine, we are lost. You cannot compete against them. What we are lacking is more shipping lines calling our port and we need a much wider offer on the destinations. Then we could easily attract a second Indian service and another service to and from the western hemisphere. Our connectivity to China is really good, but to India we have one service and we could do another easily. Big shippers like chemical and automotive industry when they build a warehouse, they look for a solution to all their destinations. So ports that have multiple connectivity will be in business and this is the advantage that ports in Antwerp and Rotterdam have. They have the whole world on offer, while we are in the beginning and mainly have India, China and little transhipment via Singapore to other Asian destinations.
 We are strengthening the existing service of Safmarine, trying to attract our port to Safmarine. Our advantage is due to the three slots on the rail available so the cargo can move on any time requested. This facility is sometimes not available in other ports because they are too crowded. The rakes are heavily booked, so sometimes customers have to wait. Moving cargo through River Rhine is a good alternative, but when the river runs shallow or too high, it is difficult to move cargo. In such scenario our volumes will increase and this is a chance for us to get a grip on these cargoes.