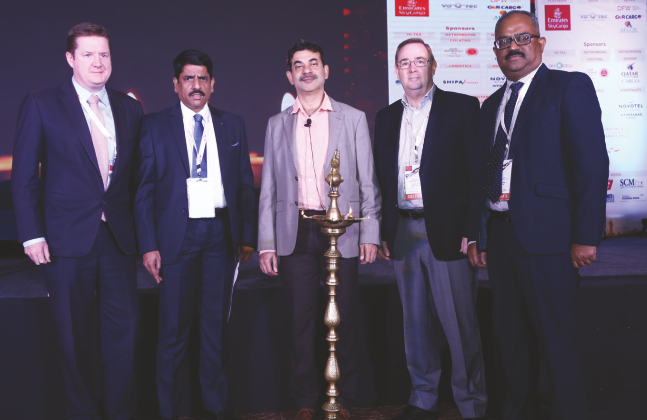 At the second edition of Agility's logistics initiative – The unbroken cold chain, pharmaceutical manufacturers and logistics service providers came together to identify gaps in logistics of temperature sensitive cargo that cause temperature excursions, compromising quality of the products
"Given the challenges we face in transporting the cargo to various places in the world and the excursion in temperature that happens due to issues at the ground level, at the packaging side, at airports or at the transhipment hubs. This is the first series that tries to address specific issues at India level, at airports specifically those related to the transhipment hubs," revealed Satish Lakkaraju, Chief Commercial Officer, Agility Logistics, setting the tone for day-long deliberations. The different session tracks through the day focused on what happens behind the scene during logistics of temperature sensitive cargo, IT integration in supply chain, need for quality compliance and training.
 Jayesh Ranjan, IAS, Principal Secretary, Industries & Commerce (I&C) and IT Departments, Government of Telangana, Keynote Speaker for the event, detailed on the initiatives of the Telangana government to support the pharmaceutical industry. He detailed on the state's perspective on logistics. While the central government is encouraging manufacturing in India through the 'Make in India' initiative that has seen import substitution happening in industries such as electronics, the state governments are designing their own programmes such as the 'Make in Telangana' initiative which has become a success story. Coming to the theme of the conference Jayesh Ranjan said Hyderabad is the pharma capital of India and 25 per cent of world's vaccines are produced in Hyderabad. In fact, all the vaccines supplied in Africa are exported from Hyderabad. One third of Indian bulk drugs and pharma are manufactured in the state where companies from 23 different nations are operational. The dedicated industrial park for pharma – Hyderabad Pharma City being built on 20,000 acres of land will be ready by 2020-21. It will have quality control, trading facility, medical devices park where more than 15 companies have expressed plans to invest.
Food for Thought – Cherish the Perishables
The first discussion track of the day saw Dr Rakesh Singh, Chairman, Institute of Supply Chain and Management, focus on the issues with the Agriculture supply chain in India which drastically needs a change in policy structure. "Scale, time and distance are the three important parameters of a supply chain and time and distance matter the most for farmers as they deal with perishables," remarked Dr Rakesh Singh. He raised the need for farm produce aggregators and physical infrastructure for long distance transport of agri-produce.
A major problem with Indian agriculture sector is fragmented land holdings, lack of information with farmers to cater to demand and connect to the markets, as a result farmers are cheated in Mandis' by cartels. The cold chain sector in India has grown in length but not in depth. The new Agri Trade Policy should focus on facilitating movement of agri produce and vertical integration of the supply chain. Dr Rakesh Singh gave an example of small farmers business consortium developed by Pepsi Company and insisted that many more such models need to be replicated. The results of research being conducted in universities should be provided to the farmers. Seamless integration of logistics into food zones and clusters is need of the hour.
Speaking on how to improve the shelf life of products, Samit Jain, Managing Director, Pluss Advanced Technologies said, "Compared to the amount of money spent on pharma logistics, not even a fraction of it is spent on food logistics, as a result 25 per cent of the farm produce is wasted. The reason being knowledge generated from about 63 institutes on food research in our country does not reach the farmers." Standard packaging needs to be developed for agriculture products and the logistics needs of food products are completely different from the pharma products. Logistics companies need to focus on temperature aspects required by individual fruits and vegetables. Farmers need to be educated on the aspects of cold chain and a cooperative model needs to be developed by the government. Pradeep Panicker, Dy. CEO, GMR Hyderabad International Airport focused on what airports can do for the perishables industry? How silos can be reduced from farm to airport? "India is the largest producer of fruits and vegetables but our total share of world market is less than one per cent because our efforts are fragmented," remarked Pradeep. He detailed on the perishable facility being set up in Hyderabad airport which will include a packaging house. Mentioning about freight rates and packaging errors of perishables, Laurence Jacobi, Cargo Manager – Telengana and Andhra Pradesh, Emirates SkyCargo said, in the past years perishables were separately rated by airlines. Low rates were charged for perishables as compared to other cargo. Agricultural commodities need to be properly packed if their freshness and flavour need to be maintained.
Vipul Bhalla, Senior Regional Manager Cargo – Indian Subcontinent, Oman Air, discussed the need for standardisation in containers for use in narrow body aircrafts. 60 per cent of commodities carried by Oman Air from India are perishables. The airline is engaging with packaging companies to develop narrow containers for fitting in narrow body aircrafts. Delmonte is currently providing babycorn and chillies in India and is looking to expand to more products, informed Sriram Venkateswaran, Senior Vice President – Supply Chain, Bharati Del Monte (FieldFresh Foods Pvt. Ltd). Meeting the expectations of consumers and maintaining competitiveness in Europe is a challenge. In India due to marginal farming it is difficult to maintain quality of products and also to aggregate farmers and cluster them. He referred to Thailand and Kenya where the land under agriculture is less than India, but quality of produce is superior. In India, end-to-end logistics accounts for 37 per cent of total cost of the product. Processing and packaging of products away from airports effects the quality of products, hence there is need to set up farms near airports. If technology is used in farming and processing a lot of produce that gets wasted can be saved.
Behind The Scenes – Ocean Port Operations
While ocean freight is more reliable than air freight, but once the cargo reaches the port, from there on the visibility needs to improve, averred Krishnakumar .V, Chief Operating Officer, Agility Global Integrated Logistics – India. When cargo is loaded onto a ship certain gaps happen in terms of temperature integrity. A Standard Operating Procedure needs to be made to ensure temperature is maintained with data loggers. "in the past 10-15 years with the use of technology and infrastructure both ships and ports are well equipped for temperature controlled business," shared Anurag Mehta, Deputy General Manager- Exports-Sales & Marketing, MSC. "This is one commodity that keeps us on our toes as it is high value commodity. 20-25 per cent of all temperature controlled business is pharma."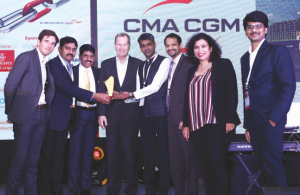 Detailing on facilities offered by BATCO CFS for reefer containers, Iqbal Patni, Founder Director, BATCO CFS said, BATCO CFS has 40-45 reefer points and during summer extra reefer points are made available. 100 per cent temperature backup and a cold pharma zone with 3 temperature zones is available. The CFS is GDP and AEO compliant. At present there is shortage of reefer containers in Hyderabad and CFS cannot check the quality of reefer containers being supplied. Emphasising on the need for end-to-end solution Krishnakumar raised critical issues: If a reefer fails enroute to port then a backup plan needs to be in place and this should be the part of SOP. In such scenario the tolerance level of cargo should be known. Data loggers should be used to ensure temperature is maintained during transit and pharma companies should collaborate with shipping lines to integrate tracking solutions.
Capt. Swaminathan Rajagopalan, Commercial Director, CMA CGM Agencies India Pvt Ltd, brought to the attention of the gathering the implications of IMO emission norms that will be effective from January 1, 2020. Clean fuels need to be used which will come at a cost that will be transferred to the customer.
Adding further, Nikhil D'Lima, Western Region Head, Maersk said, an engineering team is always available on board ships to check any malfunctioning of reefer containers. New breed of reefer containers being developed by shipping lines are better equipped to prevent malfunctioning. Presenting Port of Antwerp perspective, Malini Dutt, Representative from the port said, A Customs Attache is present at global locations to ensure cargo is properly managed at the ports and GDP compliance is ensured.
Air Freight – Transhipment Hub Challenges
Bringing out temperature fluctuation challenges with air cargo, Vilas Rebello, Associate Director, Tevapharm India P Ltd said, once cargo is handed over to logistics companies, how they maintain temperature during transit is a concern. Will temperature be maintained while cargo is moved from terminal to the aircraft is another concern? Elaborating on processes airlines have in place for transit cargo, Rashmi Gurung, Manager Climate Control Product, Qatar Airways Cargo said, transhipment is a complex process and most of the business happening in the Middle East is transhipment. While airlines assure customers on temperature maintenance, Qatar Airways has invested in infrastructure with growing size of business. Pharma is 5-10 per cent of Qatar Airways cargo that is focusing on skilling of people and automation.
Giving a perspective of airports in the US, Milto De la Paz, Vice President Airline Relations and Cargo Business Development, Dallas Fort Worth International Airport said, in most of the US airports infrastructure is 25-30 years old. Infrastructure for moving cargo is not updated. New York, Chicago, Miami and Los Angeles have choke points due to paucity of land. Most of these airports focus on passenger traffic.
Sharing perspective of his airline, Christopher Dehio, Sr. Product Manager, Lufthansa Cargo AG said, air cargo is only 2 per cent of all freight moving from Europe in volume terms but it is 28 per cent in value terms. 2.2 billion tonnes were moved from Frankfurt airport last year, which is largest in Europe. The landing position of aircraft in relation to the air cargo terminal decides the impact on air cargo.
IT and supply chain integration
"Data is the new oil and the next level of differentiation among services by different companies will come from data," commented Adarsh Kumar, Co-founder and CEO, TagBox Solutions. The focus should be on how to get fast and accurate data. Kalyana C Chejarla, Assistant Professor & Area Chairperson (Operations), Chairperson (Placements), IMT Hyderabad revealed the need to think customer and act digital. Going digital should be defined by customer needs. Digitisation is followed by digitalisation. Aðalheiður Pálmadóttir, Regional Manager, Controlant, voiced the need to provide customers with insights of their business which they did not have. Technology combined with services can give seamless experience to customers where and when it is needed. Roland Rappl, Managing Director, va-Q-tec, shared similar views as he said, data collected should be transformed into information to make it useful to customers. Foster McDonald, President & CEO, Cold Box Express, hinted at the inroads IT is making in logistics and expressed the need for all devices to communicate with each other. Need to identify devices that are not smart and replace them.
Quality compliance and training
Manjunath M S, Advisor, Cold Chain Innovation, expressed the need to train workers for compliance so that quality can be achieved. Compliance in cold chain depends on Product, Process and Packaging. Compliance is a mix of discipline and attitude. Amrinder Singh, Associate Director – Supply Chain Management, Dr.Reddys Laboratories Ltd, described it as shared responsibility of manufacturer and logistics service provider to transport drugs in required condition to the destionation. Terry Fedurko, Regional Life Sciences Compliance and Quality Manager, Agility US & Canada, insisted on keeping the shipper aware of what happens to his cargo along the route. Logistics service providers should support pharma industry by adopting standards. Marrie Groeneveld, CCO, SkyCell AG said, being responsible is about designing solutions for compliance with product standards. Technology should be used to capture data and make it transparent. Balasubramanian. P, Founder & CEO, Air Cargo Consultancy International Service, called for communication to happen at the grass root level and human error should be addressed.