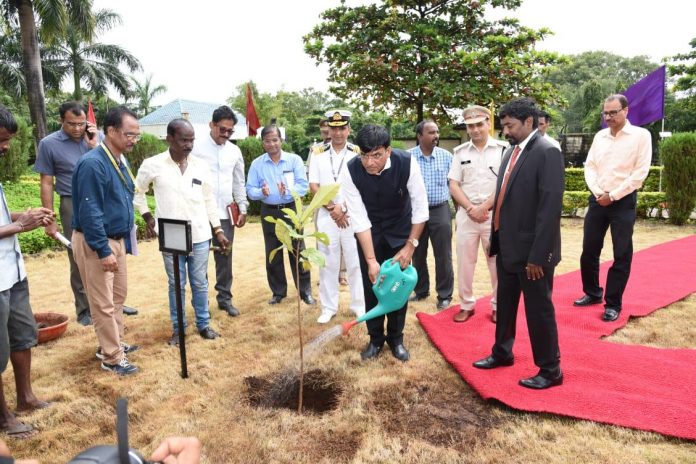 Hon'ble Minister of State for Shipping (Independent Charge), Chemical & Fertilisers, Shri Mansukh Mandaviya, was accompanied by Shri Anilkumar Radadiya, Addl. PS to Hon'ble Minister, and was received at the Dabolim Airport on 26.09.2019 by Dr. E. Ramesh Kumar IAS, Chairman, MPT along with Dy. Chairman and Secretary.
Other dignitaries present at the airport to receive the Hon'ble Minister was Shri Mauvin Godinho, Minister for Transport, Protocol & Panchayat Raj, Govt. of Goa.
On 26.9.2019 at 09:30 hrs the Hon'ble Minister along with the Chairman, Dy.Chairman, Secretary and Traffic Manager visited the wharf area starting from Berth No.10, and proceeded towards  finger berths,  POL berth, JSW and Adani areas, WISL area and finally the Cruise Berth Terminal. While on the visit in the above areas the Chairman/MPT   Dr. E. Ramesh Kumar, IAS, appraised the Hon'ble Minister with the functioning of the Port.
Thereafter, the Hon'ble Minister was taken on a cruise on the tug 'M.V. Ocean Spirit' from the Cruise Terminal and was appraised of the handling of vessels along the different berths.
On his arrival at the Main Administrative Bldg., the CISF welcomed the Minister by giving a Guard of Honour. The Hon'ble Minister and Chairman thereafter planted two saplings in presence of other officials of the port.
The Hon'ble Minister later had a meeting with the stakeholders, thereafter meeting with Port HOD's was held wherein Chairman explained through a power point presentation about  the port operations and explained in detail the cruise terminal complex which is proposed to be constructed at the berth no.1&2.
The Hon'ble Minister also had a brief meeting with both major Unions of the Port and SC/ST representatives of the Port and representatives of Officers Association of our Port over different issues related to the Port employees and functioning of the Port.