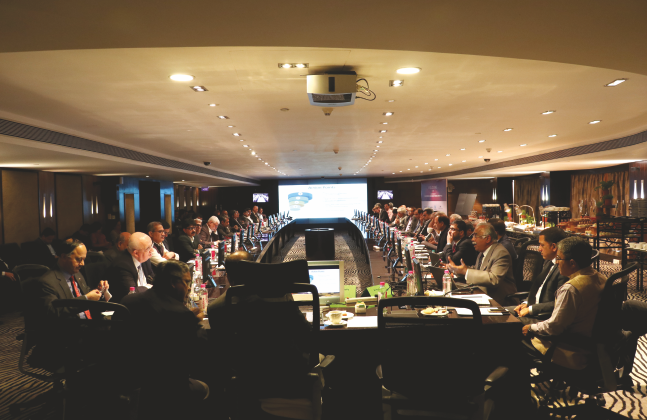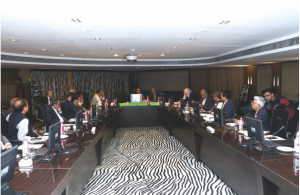 A coherent strategy for promoting the growth of India's buoyant logistics industry through optimum and efficient utilisation of waterways and DFCs as part of multimodal transport is required
Multimodal logistics is the way forward if the complete potential of developing inland waterways and the soon to be operational dedicated freight corridors is to be explored to make logistics efficient. Flashing a concern to protect inland waterways from getting into monopolistic control, N Sivasailam, Special Secretary (Logistics), Ministry of Commerce, Government of India suggested a smart strategy for insulating cargo movement through inland waterways from becoming a monopoly of powerful logistics players, by encouraging all companies to move maximum cargo in huge numbers at inland terminals of their choices located at favourable and multiple locations.
Adding further to Sivasailam's views, Julian Bevis, Senior Director, Maersk Group suggested that IWAI should focus on price competitiveness, competition, infrastructure development and best regulatory procedures to allow all stakeholders to take the maximum advantage of India's inland waterways sector.
Advocating the need for "trimodal hubs," Shantanu Bhadkamkar, President, AMTOI said, "Tri-modal hubs should be developed across India. Such a smart logistics strategy that capitalises on rail, road and waterways networks is essential to lower the congestion on roads in the years to come." He was addressing at a symposium 'Waterways Bridging Indian Logistics – Opportunities Galore' in Mumbai.
"Inland waterways can complement and also compete with rail transport in India. Only through the creation of tri-modal hubs, it will be possible to carry faster the goods moving through DFCs beyond the multi-modal transport infrastructure. Both, IWT and rail transport will become viable only when the cargo movement is over long distances across the country. Such opportunities may certainly emerge with the time. However, currently DFC complementing the IWT is minimal," added Bhadkamkar. Currently, cargo revenue subsidises the passenger rail traffic. Unless this policy is changed, the cost of movement of cargo using DFC is unlikely to reduce significantly, he noted.
Adarsh Hegde, Joint Managing Director, Allcargo Logistics, said: "There exists a synergy between inland waterways network and logistics in India. Growth and opportunities in both the areas need to be identified by Indian logistics industry in the interest of the nation, India's freight movement through inland waterways is merely 0.5 per cent when compared to 20 per cent in Germany, 32 per cent in Bangladesh, 8.3 per cent in USA, 7 per cent in Europe and 8.7 per cent in China. I foresee a huge growth of Indian logistics sector as IWAI has envisaged a massive development and expansion of waterways in India."
Pointing at the potential for hinterland connectivity, Jalaj Shrivastava, Chairman, IWAI said, "The philosophy of IWAI is to enable private sector players of the Indian logistics industry strengthen their hinterland connectivity in an efficient and an economical manner."
Pravir Pandey, Vice Chairman, IWAI, outlined an array of challenges faced in developing infrastructure. He said, "IWAI had consulted a British consultancy firm HR Wallingford. Its report reveals that over 253 million tonnes of silt settles in Ganges every year. Around 80 per cent of the silt flows in suspension and over 20 per cent accumulate as bed-load. Hence, rejuvenating the Ganges and all other waterways is a major challenge for IWAI. Our aim is to move not less than 150 million tonnes of cargo per annum through inland waterways in India."