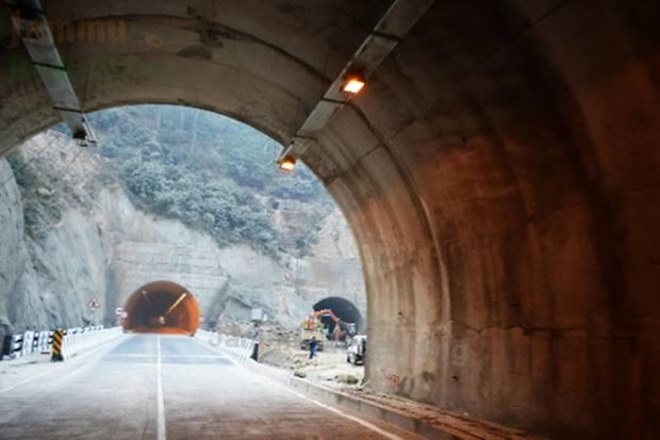 India approved a strategic road transport project to boost all-weather connectivity between key sectors of Srinagar, Kargil and Leh in a bid to better secure its borders in Jammu and Kashmir.
The cabinet committee on economic affairs (CCEA), at a meeting chaired by Prime Minister Narendra Modi, approved the construction, operation and maintenance of the two-lane, bi-directional Zoji La tunnel in engineering, procurement and construction (EPC) mode.
Security experts say that the new project will provide year-round access to the Leh region, which gets cut off due to bad weather in winter, allowing Indian security forces to check infiltration and stock up on crucial supplies and ammunition.
"The main objective of the project is to provide all-whether connectivity to the strategically important Leh region in Jammu and Kashmir which at the moment is limited to at best six months because of snow on the passes and threat of avalanches," said a CCEA statement.
Minister for road transport and highways Nitin Gadkari said the project was crucial for two reasons—"for the defence personnel who can easily commute to Leh all year round" and "for connecting J&K with Leh which remains cut off from the country for six months in a year. Had the Zoji La Tunnel been constructed (earlier), India could have evaded the Kargil War," he said, referring to the May-July 1999 conflict between India and Pakistan.
"Currently, Leh is connected to mainland India by two roads—first through the Zoji La pass from Srinagar and second through the Rohtang Pass from Manali. Both roads provide fragile connectivity," he added.
"The provision of all-weather connectivity between Lima (Leh) sector and the rest of India… will enable an optimization of resources and spare crucial air transport effort for other sectors," Hasnain explained.
The project will be implemented by the ministry of road transport and highways through the National Highways and Infrastructure Development Corp. Ltd.
The move also underlines New Delhi's effort to bring restive Kashmir closer to the rest of the country. "The project has strategic and socioeconomic importance and shall be an instrument for the development of the economically backward districts in Jammu & Kashmir," CCEA said in a statement.
The project will be built over a seven-year period at a cost of Rs6,808.69 crore. This includes the cost of land acquisition, resettlement and rehabilitation of the displaced and other pre-construction activities as well as maintenance and operational costs of the tunnel for four years, the CCEA said.