The past year was more colourful for the apparel industry as both local and FDI increased, exports to traditional and new markets got robust growth and a lot of new product range for export markets was developed
Another year has been passed with many expectations, achievements and failures. The year 2018 was very significant for Bangladesh apparel industry that is contributing to 84 per cent of annual exports with a contribution of about $33 billion to the economy and generating employment for almost 4.5 million people. In the year, the Committee for Development Policy, a UN panel, announced Bangladesh's eligibility for the developing country category that was possible mainly for the big contribution of apparel and textile industry to the country's economy. Many positive initiatives were taken to develop the industry including workers wage hike, huge investment in compliance maintenance, training activities towards skilled workforces, making value added products etc. these provided a great panorama for the sector amidst several challenges the industry was facing.
We see that in 2018, local investment and Foreign Direct Investment (FDI) have increased in a notable way, apparel exports to traditional and new markets got robust growth and new product range was developed to export.
RMG export sees a great momentum
1250 apparel factories have been shut after Rana Plaza disaster to till date, however, 300 to 350 new factories have also been started, and most of them are compliant factory including 80 environmentally friendly & LEED certified factories. There are a staggering total of 4560 garments.
factories in Bangladesh exporting apparel products in the global market. Bangladesh's apparel exports earnings have registered a strident rise to $32.92 billion in the calendar year 2018, which was $29.2 billion in 2017. Of the total figure of 2018 export, the knitwear constituted $16.24 billion and woven products $16.24 billion.
Table 1 and figure 1 are showing the comparative revenue generation from 2014 to 2018. Apparel exports saw a constant rise throughout those years. However, the earnings of 2017 were very dissatisfactory as the export increased only $0.6 billion whereas the earning of 2018 is greater to $3.72 billion than the preceding year.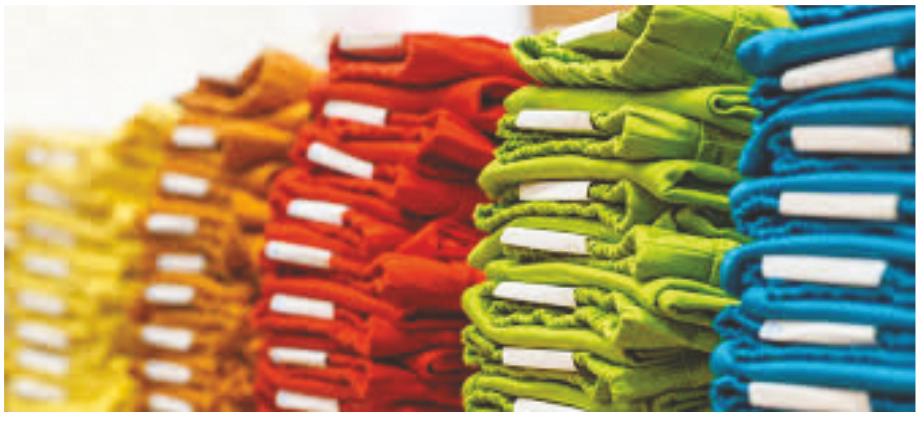 According to figure 1, the calendar year 2018's apparel export sustained an average value. From January to December in 2018, the average earnings of each month were $2.74 billion. Of the twelve months, the earnings of July and October were crossed $3.0 billion's margin. The earnings were respectively $3.01 billion and $3.14 billion.
Bangladeshi apparel manufacturers have amended the safety standard, which enhanced the buyer's confidence, another thing is, buyers were concerned about the new minimum wage for the garments workers which has been increased from December 2018 and it was announced a few months ago. So, buyers increased order throughout the year.
BANGLADESH RMG EXPORTS RISE
In July-December period of the current fiscal year, export earnings from the readymade garments went up by 15.65per cent to $17.08 billion, which was $14.77 billion in the same period last year. The sector has exceeded the export target set for the period. Earnings from the sector were 8.51 per cent higher than the target of $15.74 billion set for the period. Of the total amount, Knitwear products fetched $8.65 billion, which is 13.92 per cent higher than the $7.59 billion in the same period a year ago. Woven products earned $8.43 billion, up by 17.48 per cent, compared to $7.17 billion a year ago. On the other hand, export earnings from the Jute & Jute goods declined by 26.66 per cent to $0.421 billion, which was $0.574 billion in the same period last year. So the jute sector could not catch the export target set for the period. The earnings from the sector were 19.44 per cent lower than the target of 0.522 billion set for the period.
While product quality and verity of products were also an imperative factor in gaining growth as Bangladeshi entrepreneurs were making an investment to elevate the quality of products. Export in new markets Bangladesh's traditional markets for garment exports are Europe and the United States. While non-traditional markets include Australia, Brazil, Chile, China, India, Japan, Korea, Mexico, Russia, South Africa, Turkey and other countries. (figure-3) Bangladesh's apparel exports earnings have recorded a sharp rise by 16.52 per cent to $5.4 billion in 2018 to non-traditional export markets, which was $4.2 billion in 2017, according to the latest data of the Export Promotion Bureau (EPB). In the last six months of 2018, apparel exports to Japan hoisted at $547 million, the highest in the non-traditional category, up by 50.62 per cent, which was $363.31 million in the same period preceding year. Australia contributed the second highest with a growth of 18.46 per cent to $360 million. India was the third largest which imported good worth $270 million, up by 143 per cent compared to $111.33 million in the same period last year. Bangladesh government is providing policy support including cash incentives to upsurge earnings from the nontraditional markets. As part of its policy support, the government is providing 4 per cent cash incentives against export to non-traditional export markets, which was 3 per cent in the previous fiscal year.
Meanwhile, private sector initiatives to explore market also helped Bangladesh to reach more export destinations pushing the exports earnings up. BGMEA is aiding manufacturers to partake in international expositions to establish a network with buyers.
Key exported products
The buying pattern of the western world and consumer behavior are fluctuating rapidly and to trail the rhythm Bangladesh manufacturers are also trying to diversify their products. Bangladesh produced mostly cottonbased items and the country exported 80 per cent product in five key items including trousers, shirt, sweater etc. But the textile and apparel sector people are giving more attention on producing other items like lingerie, swimwear, sportswear, functional fabric, functional textile etc.
In 2018, apparel manufacturers expanded their capacity significantly to produce items from manmade fiber as it is getting more and more reputation in the world. Value-added items are being exported that is really imperative to get a healthier price, which ultimately would support the sector to sustain. H.E. Peter Fahrenhollz, German Ambassador to Bangladesh, recently said that if Bangladeshi manufacturers offer a value-added product, which could be of higher quality, ecologically sustainable then German buyers will purchase the product with the higher price.
Conclusion
According to a recent estimate of textile and jute ministry, Bangladesh's export earnings from the apparel sector in the FY 2020-21 would be $11b less from the US$ 50b goal set by the govt. Bangladesh apparel industry has the huge potentiality to accomplish the target, however, lack of suitable policy support, insufficient infrastructural development, deficient gas and energy supply, underprivileged port condition, unskilled manpower, low value added product etc. are hindering the industry's growth to show its tangible performance. If these problems are resolved then to accomplish the target will not be a utopian thing.