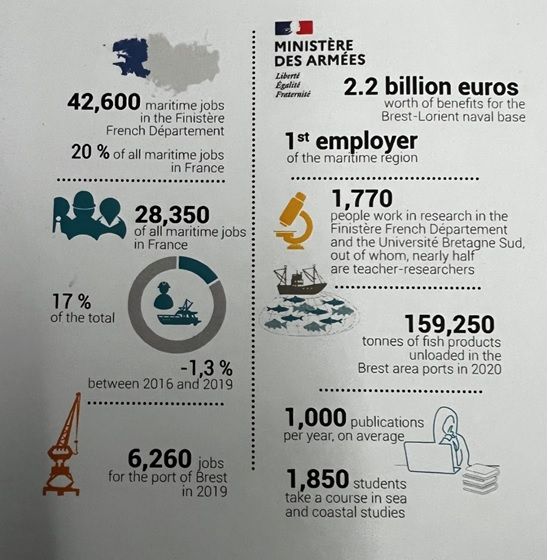 New propulsion systems, maritime transport training and professions, the place of women in the field of marine science and technology, underwater noise, cybersecurity –  the thirteenth edition of Sea Tech Week, an international meeting for science players and marine technologies, was a power packed weeklong event at the Penfeld exhibition center in the city Brest on France's Atlantic coast
From 26th to 30th September, a thousand scientists and private and institutional stakeholders met over conference sessions and debated with the main theme being the future of maritime transport and its decarbonization. Maritime Gateway was part of a small international press group invited by Business France to attend Sea Tech Week.
India and France recently adopted a shared roadmap on the blue economy and ocean governance. India being featured country; this year's Sea Tech Week event provided a tangible contribution to working both countries jointly.
R&D Agreement for Underwater surveillance
One such significant development was Paris-based defence firm Naval Group and Indian Institute of Technology (IIT) Goa extending R&D deal for underwater surveillance and submarine imaging. This agreement will act as catalyst for improving analysis of data collected by underwater sensors through application of neural systems & AI.
The usage of neural systems and AI will increase the resolution of underwater imagery for the needs of offshore applications or for the installation, maintenance, detection of any submerged structure among others.
In addition to the Conference and Expo, the invited editors' team was taken on tour to select maritime institutions which are into education, training, research and innovation.
One such institution, ENSTA Bretagne is providing graduate level academy training to upcoming set of maritime and naval engineers, architects, and computer specialists, graduating about 350 students per year. Research and innovation at ENSTA focus on digitalized modelling, manufacturing and vessel construction covering a range of specialties, from hydro graphics to robotics to security to architecture to renewable energy.
Day one ended with a dinner hosted by CAMPUS MONDIAL DE LA MER where interactions with Brest's expansive maritime network happened. CAMPUS MONDIAL DE LA MER has a network of academic, scientific, economic and institutional stakeholders working on: marine biotechnology, aquaculture and seaweeds, sustainable fishing, marine drones, maritime cybersecurity, sustainable maritime transport, maritime special planning and marine renewable energies.
Day Two: Innovation is the key at Brest
Our press trip on Day two started with a visit to Ifremer which is a big French research institute for exploitation of Sea. Under Ifremer, Bluefins, a startup inspired by whale fins is working on how to decarbonize ships. The hydrofoil, designed by Bluefins to propel large ships through the swell and reduce their fuel consumption, is inspired by the movements of the fins of cetaceans.
Mr Vincent COQUEN, Head of sustainability and Shipping institutional Relations made a presentation on how innovation is driving Brittany Ferries into sustainable transition.
iXblue, is a high-tech company recognised worldwide for the design and manufacturing of high tech components and systems in the fields of navigation, autonomy and photonics. Its expertise includes innovative systems and solutions for inertial navigation, subsea positioning, and underwater imaging as well as construction of autonomous vehicles.
eOdyn has been developing a breakthrough technology since 2016 called omni-situ to observe ocean surface currents by analysing the movements of ships. This technology a world premiere, based on the smart use of maritime traffic data and proprietary algorithm.
This company uses its technology to develop innovative services for the maritime community. One of the innovations is "seawaze" – the very first collaborative routing service makes it possible to select the best routes with favourable sea currents.
India's presence at the event India being the featured country this year, Federation of Indian Chambers of Commerce and Industry (FIICI) led an Indian Delegation to Sea Tech Week. Indian Ministry of Ports, Shipping and Waterways showcased Indian Maritime capabilities at the exhibition. Speakers from premier institutions like NIOT (National Institute of Oceanography) and IIT Goa presented papers at the sessions.