A decade after China delivered surface-to-air missile systems to Bangladesh, the country is set to get a maintenance and overhaul facility that could also serve as a production line for the same missile and its upgraded variants, reported The Tribune.
A Chinese Company, Vanguard, has reportedly been chosen as a partner for the FM-90 missile maintenance center to be established in Bangladesh.
At the moment, Bangladesh's Air Force, Navy, and Army are all armed with this missile. China's People's Liberation Army also possesses the same missile system.
The facility is being set up even as the missile ran into a controversy in Bangladesh last year. Due to some technical concerns, the FM-90 had come under the scanner, alongside other arms exports from China. Questions were then raised about the longevity of Chinese arms.
According to those in the know, the system component CV-102 of the FM-90 was found to be malfunctioning due to a rapid power surge, causing damage to the klystron sparking and filament.
China is making inroads into South Asia with its access to the Indian Ocean. This move is aimed at enhancing its presence in the Indian Ocean so as to reduce its dependence on the Malacca Strait, counted among the world's busiest shipping lanes.
Bangladesh is surrounded by India on three sides and by the Bay of Bengal on the fourth side.
Although seen as an all-weather ally of India, Bangladesh maintains close trade and military ties with China. The two countries had signed a Defense Cooperation Pact in 2002, which also covers weapons production.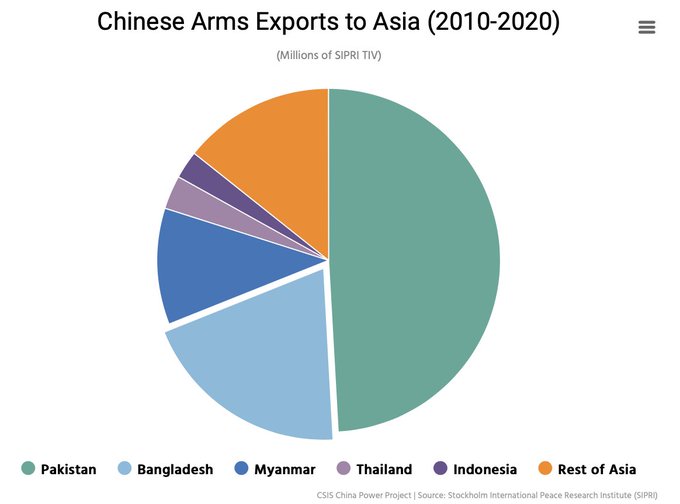 Warships, naval artillery, anti-ship missiles, and surface-to-air missile systems are among the Chinese military investments and supplies to Bangladesh.
Bangladesh is China's second-largest arms buyer after Pakistan. According to the Stockholm International Peace Research Institute (SIPRI), Bangladesh bought almost 17% of all Chinese military exports between 2016 and 2020.
What Is FM-90?
The FM-90 system, mounted on a truck, is an enhanced version of the "Hong Qi," a missile developed by China National Precision Machinery Import and Export (CNPMIEC) in 1998. In 2011, it was delivered to Bangladesh. The air defense weapon is capable of shooting down aircraft, missiles, and drones in all weather conditions.
It features radar with a range of 25 kilometers and can launch simultaneous offensives against several targets, including ultra-low-altitude cruise missiles, air-to-surface missiles, and anti-radiation missiles at a range of more than 16 kilometers.
For greater capabilities against active/passive jamming, the ground-based air defense weapon system includes a VLSI-based computer, two-waveband tracking radar, an infrared camera, and digital electronic technologies.
Bangladesh's location is a strategic asset for the country's military. Since it is flanked on one side by a friendly country that helped it attain freedom from Pakistan and on the other by a large ocean, it confronts fewer conventional security challenges than its South Asian neighbors.
Its strategic location and the pace of its development have also put it in a position where it is being wooed by both China and India.
The China-Bangladesh-India Triangle
China's growing influence in the South Asian and Indian Ocean states is perceived as a natural threat to India as it seeks to play the role of a net security provider.
The bonhomie and military cooperation between China and Pakistan, two of India's adversaries, is already a headache to its military. China has made steady inroads into Bangladesh over the past two decades, despite the latter's proximity and close cultural ties with India.
In 2016, Bangladesh joined the Chinese Belt and Road Initiative. However, it did not allow Chinese investment in deep-sea ports which could prove suitable for a future Chinese Navy presence.
Dhaka canceled the Sonadia deep-sea project, and instead agreed to one in Payra, which is "accessible only through a 75-kilometer-long canal, a very unlikely place for a naval base", Sudha Ramachandran wrote in The Diplomat.
Source : Eurasian Times