The 2nd Annual Smart Logistics Summit 2018-Bhubaneswar shared an insight on how cargo moves between hinterland and ports in the state of Odisha. The summit was an effort to highlight the logistics bottlenecks in the region and explore how service providers could offer better solutions to facilitate business growth.
The second edition of SLS Bhubaneswar found traction among some of the tallest industrial leaders from Odisha, and stalwarts from port, shipping and logistics sector. The business leaders joined together to discuss logistics scenario in the region, and in a dynamic trade environment how logistics can play a decisive role to achieve manufacturing and business efficiency.
The summit started with the welcome and keynote address by R. Ramprasad, Editor-in-Chief, Maritime Gateway, followed by facilitation of Guest of Honor Sanjeev G. Dewalkar, IRS, Commissioner, Customs, GST, Service Tax and Audit, Bhubaneswar Zone.
"Odisha can be the numero uno state in terms of untapped possibility," remarked Santosh Kumar Mohapatra, IAS(Retd), moderator of the session. At the time of initiating the Dhamra Port project in 2005, we could foresee Odisha with a very promising future and over a period of time the region has lived upto the expectation. Odisha growth story is not yet over and it is yet to reach its peak. Steel and power are considered as the core industries in any country, and Odisha has the largest base of these industries in India. About 1/3 of country's iron ore, a quarter of coal resources, 50 per cent of bauxite reserve, and 90 per cent of nickel and chromite reserves are present in Odisha. While neighboring states too have mineral resources but Odisha has the strategic advantage of a seafront, and it is this combination that an investor would look for in a region.
Mukesh Oza, Group President & CEO, Samsara Group: Samsara has been operating from Paradip Port for several years handling bulk and break bulk cargo but with the new container terminal been set up at the port, it is the right time to start serving container trade from the region as well. Like China propagates One Belt and One Road Initiative, it is time for the investors in Odisha to join hands for Odisha Cargo for Odisha Ports initiative. Overall growth of the region, port and a region's economy will take place when all stakeholders are in sync with each other. Odisha is expected to produce about 100 million tonnes of steel, and it will require for daily vessel calls out of Paradip Port to serve the demand.
Capt BVJK Sharma, Joint MD & CEO, JSW Infrastructure: A cargo traffic growth is noticed in the region lead by Paradip Port, but still it is looking at a growth of about 15 per cent in the coming 5 years. Soon JSW is planning to start iron ore terminal of 18 million tonne at the port which can cater to cape vessels. JSW is also entitled with the project of mechanisation of a coal handling berth which can cater to cape vessels. JSW is looking at creating 50 million tonne capacity at Paradip Port and the group has also got approval to set up a steel production unit nearby which will contribute 20 million tonne of traffic. The company aims to create 100 million tonne capacity on the east coast. The only concern is connectivity, especially the Haridaspur-Paradip rail project has taken too long to complete and the fresh target for the project completion is June 2019, and completion of this project will help faster evacuation of iron ore and other cargo. A cord line which will provide last mile connectivity to Paradip Port to tap coal from the mines of MCL is another important linkage. While fund has been allocated for the project but delay in land acquisition on part of the state government has delayed the project. JSW is also looking into wagon investment schemes for iron ore and coal rakes. The Sagarmala offers lot of opportunity, and one example is NTPC can save `900 crore on logistics cost annually, if it moves coal from MCL mines through Paradip Port-Jaigarh Port to its power plant in Maharashtra as compared to rail movement. JSW is investing about `4,000 crore in ports in Odisha and about `20,000 in the steel plant in the state, and the group looks for a steady growth of the region.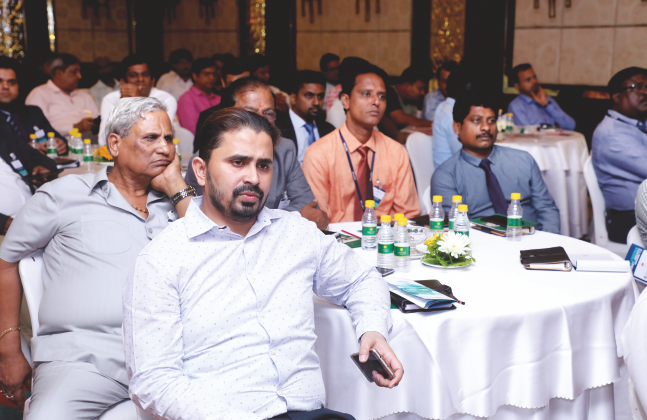 Arun Misra, VP (Project Gopalpur), and MD, Tata Steel SEZ: The location of Tata steel plants in Jamshedpur was decided keeping in mind the proximity to the mines and water resources, but later there was a realisation that in modern times it is ideal to set up a steel plant close to ports. If the manufacturing units move closer to the ports, the means of freight movement by road or rail becomes irrelevant. As per current trend, more and more manufacturing zones will be located around the ports and the port operators would be less dependent on the hinterland. China is an example, which during the Beijing Olympics relocated its steel plants closer to ports to bring down logistics cost. Considering these aspects, Tata Steel SEZ is a perfectly placed location for manufacturing activity closer to Gopalpur port. Though initially Tata Steel plant was planned near Gopalpur way back in 1996 but due to lack of fresh water and high cost of desalination during those times the plant idea was shelved. Following which the steel unit was set up in Kalinganagar. Tata Steel SEZ at Gopalpur is multi-product economic zone and the project is poised for environmental clearance upto red category which will allow location of hazardous industries there. The SEZ is well connected by rail, road and port. There is monopoly in tariff offered by road and rail, and the logistics companies feel that they shouldn't be paid as per the value they add rather as per the value of the cargo they carry. These issues, including the transport union related challenges have been raised by industrial associations on various forums. Even in Gopalpur, ferrochrome movement by container is shipped through Visakhapatnam due to lack of container handling facility at Gopalpur. Industries in the region are exposed to the monopolistic service by logistics players in the name of transport union. These issues need to be sorted out and as industries shift near to the port, they will be trusted suppliers of cargo to the port.
Dhruv K. Kotak, Joint MD, J M Baxi Group: There has been an impression in the region that logistics companies are opportunistic but soon the image would change. A major milestone is the progress in digitalisation, especially in the port sector. With the initiative by the government there will be a comprehensive Port Community System in place within the next 6 months. It will offer single window solution for all document exchange. It will allow the manufacturers, shippers as well as the service providers to carry out documentation on the go. JM Baxi led Portall is in the forefront of developing this technology for the Indian government. PICT will play the role of a container terminal as well as a clean cargo handling facility. Coming to the issue of transport unions, the bigger eco-system will take some time to be developed in the state to make things fall into places. Even due to the issues with road transport union, there is also opportunity for private rail operators to serve short distance cargo. The relaxation of cabotage will have huge impact on container trade, because places like Kolkata, Chennai and Chittagong have surplus of empty 20" inventory which can be delivered at Paradip instead of Singapore or Colombo which will enable creation of a supply chain for major exporters in the region.