Maersk and CMA CGM have decided to make some adjustments in their joint Samba/SAFRAN and BossaNova/SIRIUS services, which link Europe with the East Coast of South America.
Firstly, Samba/SAFRAN will call the port of Rio Grande in Brazil with the 9,669 TEU vessel Cap San Marco being the first boxship to call the Brazilian port with an estimated time of arrival (ETA) on 4 April 2023.
The new service's port rotation will be London (UK), Rotterdam (Netherlands), Hamburg (Germany), Antwerp (Belgium), Tanger (Morocco), Santos (Brazil), Paranagua (Brazil), Buenos Aires (Argentina), Montevideo (Uruguay), Rio Grande (Brazil), Paranagua, Santos, Tanger, and London.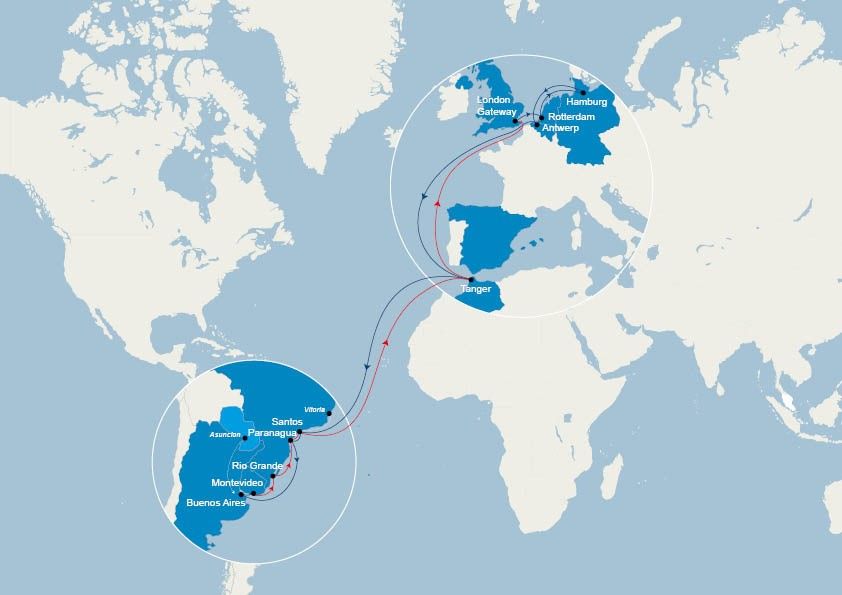 At the same time, the Mediterranean service to/from East Coast South America (BossaNova/SIRIUS) will no longer call the Rio Grande port.
The last vessel to call at the Rio Grande port will be the 8,700 TEU Maersk Lota, which will depart Tanger on 10 March 2023 and is expected to arrive in Rio Grande on 27 March 2023.
The updated port rotation of the service will be Algeciras (Spain), Tanger (Morocco), Salvador (Brazil), Santos (Brazil), Paranagua (Brazil), Itapoa (Brazil), Santos (Brazil), Itaguai (Brazil), Tanger, Algeciras.