Held under the patronage of the UAE Ministry of Energy and Infrastructure (MOEI UAE), Seatrade Maritime Logistics Middle East, the region's leading shipping and maritime supply chain event, commenced today at the Dubai World Trade Centre. Placed at the heart of the UAE Maritime Week, the conference and exhibition witnessed the participation of renowned industry leaders, experts, and policymakers from around the world, who discussed and showcased the most recent advancements and best practices in the industry.
Marking the opening of the event, H.E. Eng. Hassan Mohammed Juma Al Mansouri, Undersecretary for Infrastructure and Transport Affairs at the Ministry of Energy and Infrastructure, delivered an inspiring address on the UAE's vision and strategic plan to advance its maritime and logistics sectors' growth and development. During his speech, H.E. Eng. Al Mansouri highlighted the UAE's significant progress in expanding and modernising its ports, increasing cargo volumes, and strengthening its position as a global trade hub.
H.E. Eng. Hassan Mohammed Juma Al Mansouri, Undersecretary for Infrastructure and Transport Affairs at the Ministry of Energy and Infrastructure said: "Through strategic investments in infrastructure, technology, and talent development, the UAE has established itself as one of the most dynamic and innovative maritime hubs across the globe. Capitalising on the capabilities of our state-of-the-art ports, several of which rank amongst the top 10 globally, we have been able to handle over 25,000 port calls, and more than 19 million TEUs annually, cementing our position as a preferred destination for international trade. Despite achieving these significant numbers, we are dedicated to further development and progress. In this regard, we are constantly pushing our limits through ground-breaking initiatives to foster an environment conducive to growth and expansion, attracting massive foreign investments from global leading maritime organisations looking to establish their headquarters in the country. As a result, we will be able to add significantly to the AED 90 billion the sector has been contributing to the national economy, and enhance the industry's role in the country's success."
The Ministerial and Government address was followed by an exclusive video address by Kitack Lim, Secretary-General, International Maritime Organization (IMO). During his virtual address, Lim stressed on the importance of cooperation and collaboration to drive the maritime sector towards a brighter future. He also emphasised on the need for decarbonisation, digitalisation, and automation for more efficient global supply chains.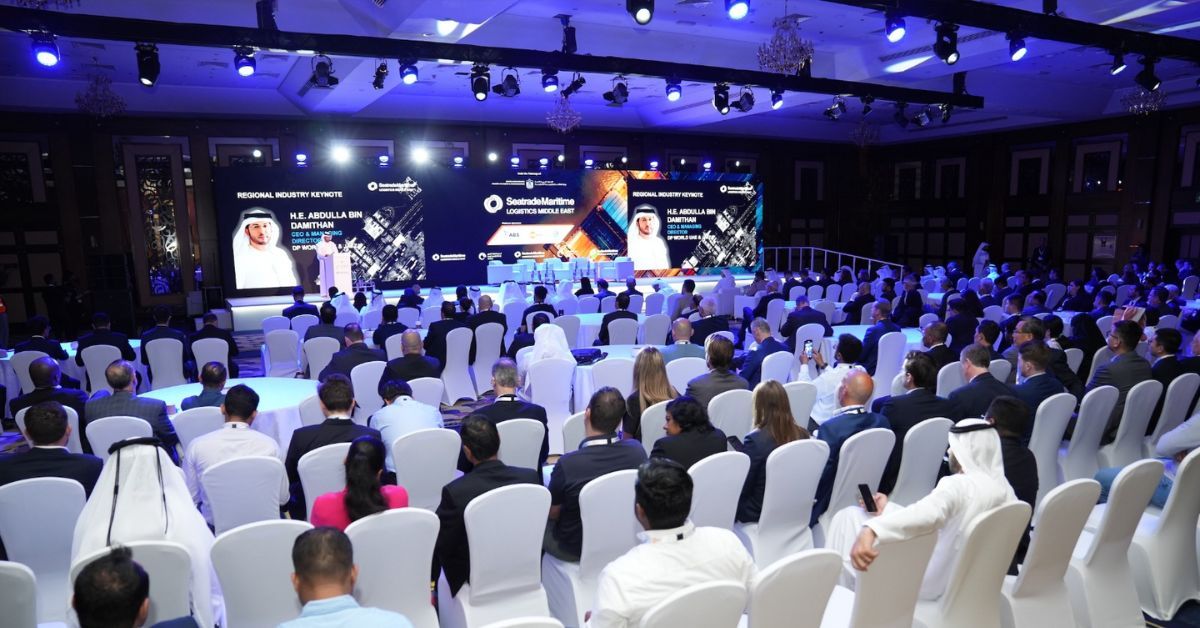 Spotlighting sectoral developments
The day continued on a high note with insightful panel discussions, keynote speeches, and interactive sessions focused on the industry's digital transformation, sustainable development, and supply chain resilience. Attendees also had the opportunity to explore the latest products, services, and technologies showcased by the exhibitors at the event.
Vassilios Kroustallis, ABS Senior Vice President, Global Business Development said: "As a global maritime centre and leader, UAE's hosting of COP 28 represents a golden opportunity to demonstrate how our industry is responding to the siren call for a more sustainable model and is bringing together the extensive roll call of stakeholders we need to drive genuine change. Of course, we in the marine industries are already operating in the midst of a perfect storm of technology disruption and rapid regulatory change triggered by the twin forces of decarbonisation and digitalisation. The last few years have shown how preparing for the unexpected must now be business as usual. I am looking forward to participating in Seatrade Maritime Logistics Middle East, and having some interactive discussions around the energy transition, new technologies trends, and regulatory compliance."
Road to COP28
As the UAE gears up to host the United Nations Climate Change Conference (COP28) in November this year, the country's preparations were a hot topic at the event. "The Road to COP28: Maritime's Responsibilities, Opportunities, and New Projects" session brought together stakeholders from the UAE's COP28 team to discuss the regional maritime and logistics community's plan of action, shed light on the innovation, leadership, and technical prowess of the sector, and how it can be leveraged to drive sustainability and success. It also highlighted the importance of COP28 in raising awareness about sustainable operations and inspiring action at all levels. Chris Hayman, Chairman Emeritus, Seatrade said: "With a significant increase in attendees this year, and the signing of some crucial agreements between the public and private sectors, we can say with a lot of conviction that the 2023 edition of Seatrade Maritime Logistics Middle East witnessed an impressive opening. The strong turnout is a testament to the importance of the event and the industry it serves. As we discover new opportunities in the sector, this event will continue to provide a critical platform for knowledge-sharing, networking, and collaboration to ensure a more sustainable, prosperous, and resilient future for all."